Contemporary Art
21st Century Art Starred in 2021's Sales
Which artists sold the most 21st Century art in 2021—and who was most in demand?
We sifted through our database of auction sales for all of the works made since 2000 that were sold in 2021. That gave us a total market value of $1.76 billion for 21st century art sold at public auction at the major auction houses last year. Then we sorted by artist and calculated the dollar volume for each of the top artists. We then measured that volume against the overall $1.76 billion spend. That gave us market share for the 21st century artists. But that wasn't enough. So we also looked at aggregate hammer price paid for each of those artists and calculated that against the aggregate low estimate. That gave us a list of the artists who were most in demand on the public market.
Taken together, we now have a good overview of the public market for the most contemporary art. Some of what we saw surprised us. The way the art market usually functions, older work becomes more valuable as its significance becomes more widely accepted. Right now in the market, we're seeing something quite different. The advent of NFTs and the need to rectify some of art history's exclusionary practices has created an environment in which recent art is more in demand than art that is even only 20 years old.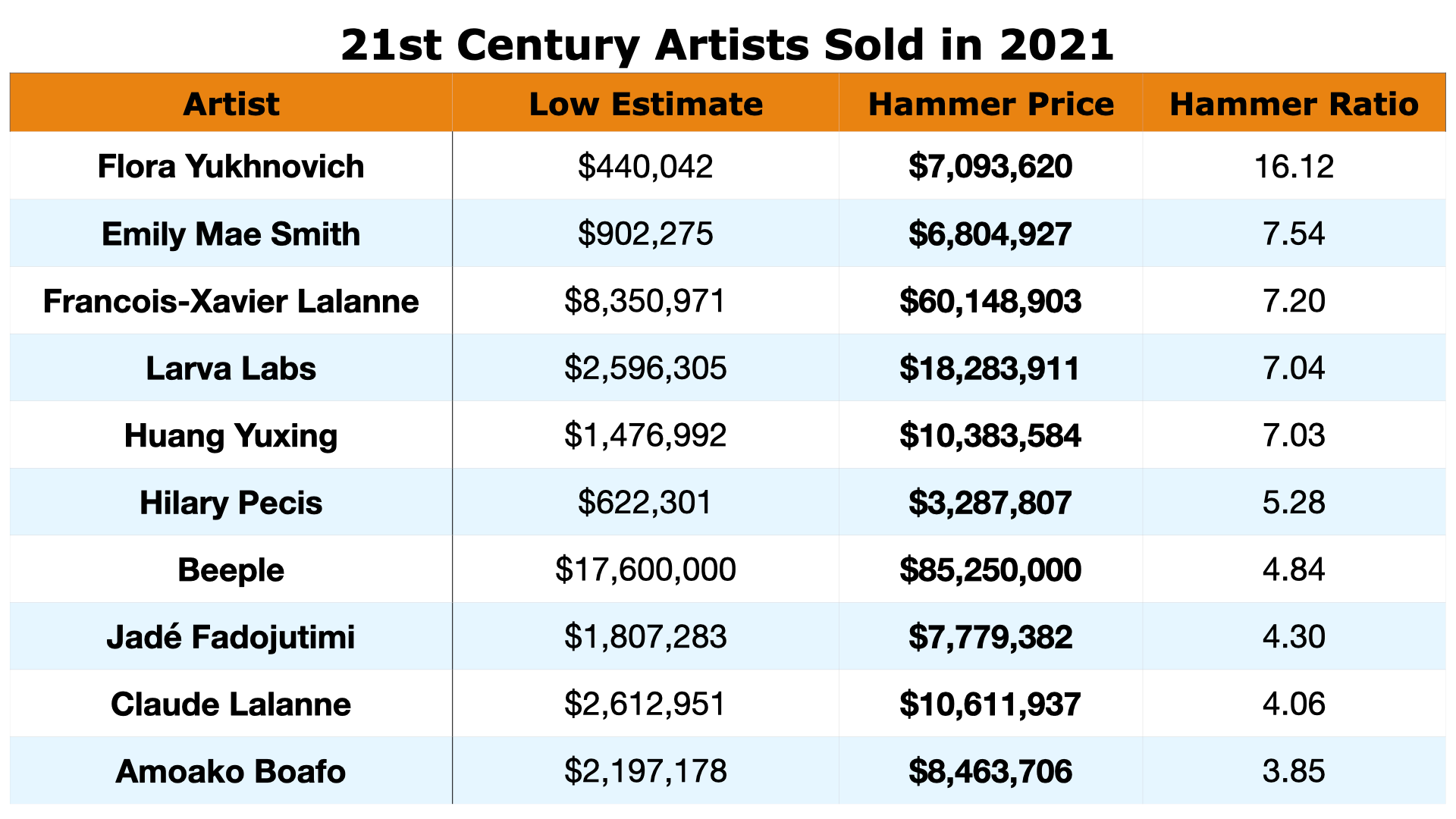 Normally we start with market share, but the list of artists with the most dynamic bidding is perhaps more compelling at this moment. Even though we're relatively deep into the new century, the list of top 10 artists by bidding activity is skewed heavily toward producers of very recent work. The Lalanne were the most mature artists on the list. The sale of their daughter's holdings drove significant bidding and aggregate prices to seven and four times the low estimate for the work of François-Xavier and Claude respectively.
The remaining eight artists all produced work very recently. Flora Yukhnovich and Emily Mae Smith seemed to come out of nowhere this year to post hammer ratios that were 16 and 7.5 times the low estimate, even though the total auction sales for each artist were remarkably close to each other at $6.8 and $7 million.
NFTs were well represented with the strong sales of Larva Labs's Cryptopunk NFTs at the mainstream auction houses, which totaled $18 million, or seven times whatever nominal value that had been forecast. That's nothing to say nothing of their sales on crypto platforms. Non-fungible.com, which tracks NFT sales, records $1.87 billion in nominal value across nearly 20,000 transactions for the 10,000 Cryptopunk NFTs that exist.
Beeple's NFT sales speak for themselves at $85 million in nominal value against expectations that came in under $20 million.
Other painters whose work was fought over at auction include Huang Yuxing, the Chinese painter who has been building a broader audience with increased representation around the world. One massively unexpected sale accounts for much of the excess $10.38 million value over the $1.47 million estimated value; however, that one work was hardly the only work to see aggressive competition in public bidding.
Hilary Pecis ramped up her sales later in 2021. The $3.28 million of art sold was originally shopped with an aggregate price tag of $622,301. That's a mark up of more than five times. Jadé Fadojutimi and Amaoko Boafo are comparative veterans on this list, having seen their markets become exceptionally active well before this calendar year. Nonetheless, Fadojutimi had 4.3 times the demand. Perhaps more intriguing was the fact that Boafo saw his work out perform estimates by 3.85 times even though he had participated in a long, detailed article by Nate Freeman that outlined much of the behind-the-scenes activity in his own market that might have made buyers wary of his prices. It turns out, that only seemed to spark more interest.
Other artists with strong markets and constant collector demand but who ranked just outside the top ten are Aboudia, Amy Sherald, Shara Hughes, Salman Toor, Mr. Doodle and Loie Hollowell. Javier Calleja, and Ayako Rokkaku. Matthew Wong sold a remarkable $33 million worth of art posthumously, and Cecily Brown also accounted for $19.7 million in sales. Both artists' work saw prices that were more than twice the estimates.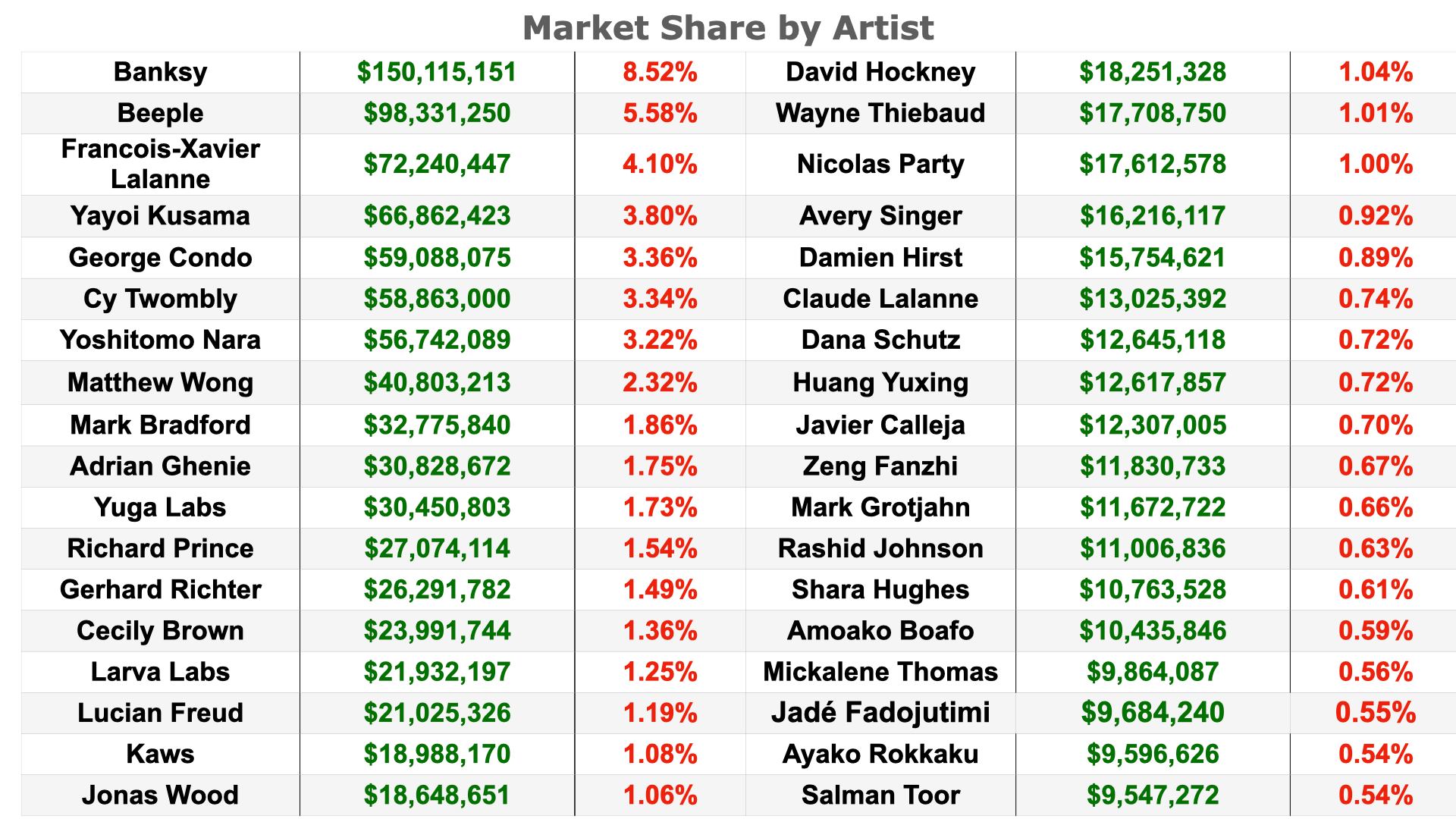 All of these names were able to account for substantial market share even though the value was spread among a greater number of artists. Secondary markets historically concentrate value in a few artists. Banksy was the 21st Century artist with the highest dollar volume in 2021, breaking the $150 million barrier. That's an aggregate of Banksy's premium prices. He was followed by Yayoi Kusama, whose work is shown nearly constantly around the world. Although the record price for her work was set late in 2021, it remains a relatively low $8 million, which makes her aggregate sales of 21st Century work at $66.8 million even more impressive. George Condo was in a strong position with $59 million in sales for his work made post 2000. Yoshitomo Nara clocked in at $56.7 million.
Mark Bradford and Adrian Ghenie posted $32 million and $30 million each. In marketshare terms, Yuga Labs's Bored Ape Yacht Club NFTs were able to sell $30.4 million in nominal value at the auction houses, a far cry from the $1.85 billion in nominal value traded on the exchanges. KAWS was able to stay in the top 20 by market share with $18.9 million, followed by Jonas Wood. Even David Hockney's late work accounted for $18.2 million in sales, which isn't quite the $58.8 million the late Cy Twombly's 21st Century work brought in. Another long-lived artist who worked until the very end was Wayne Thiebaud who saw $17.7 million of his late-career work sold last year. He died just a few weeks after his 100th birthday.
Nicolas Party saw strong sales in 2021 along with Avery Singer and Dana Schutz, all artists who reached their prime in the 21st century. The same is true of Mark Grotjahn, Shara Hughes, Rashid Johnson, Mickalene Thomas, and Salman Toor. The diversity of these artists in backgrounds, identity and artistic styles is significant to the current and future state of the market.