Contemporary Art
Aboudia Builds a Market Out of the Spotlight
After a decade of building a global collector base with the support of several galleries, the Ivoirian artist's public market launched in a big way
Aboudia, the artist from the Cote d'Ivoire who first came to prominence after the 2010 civil war in that country, had a spectacular year on the art market in 2021. His public sales totaled more than $7.45 million over 81 works that made an average price of $92,000. At a time when artists from Africa like Otis Quaicoe, Amoako Boafo and Kwesi Botchway have been in the spotlight, many observers were somewhat puzzled to see Aboudia first receive an exclusive on-line only sale at Christie's that netted more than $1 million only to be followed by successive sales well above price estimates.
That sale in March of 2021 was only a milestone early in what would be a spectacular year for the artist. How did Aboudia, whose full name is Abdoulaye Diarrassouba, break out in 2021? Part of the answer is that he has been building an audience and collector base for more than a decade. He also has the support of a number of galleries in Africa, the US and Europe. Through strong representation and a recognizable, signature style that is open to creative variation and the novel use of materials.
"Gradually he integrated an international market," says Cécile Fakhoury, the gallerist in Abidjan who started showing Aboudia shortly after moving to the Ivory Coast with her husband who was born there. Fakhoury opened her gallery in September 2012 with a show of Aboudia's work alongside that of the now deceased Ivoirian artist Frederique Bruly Bouabré.
"With my gallery," Fakhoury says, "I showed his work at many international fairs in Paris, London, New York, Dubai, Cape Town, Lagos." During that time she also opened galleries in Dakar, Senegal and now Paris. She has a show of Aboudia's work opening on February 17th.
That decade spent building a global collector base—including such influential names as Jean Pigozzi and Charles Saatchi—paid off last March when Christie's Noah Davis noticed the quickening pace of Aboudia's sales. At the same time, the auction house was approached by an intermediary representing the artist. Aboudia had smartly retained a significant amount of work which he was ready to sell.
"It's rare to give someone an entire online sale when they're relatively new to the auction market," says Michael Baptist, Head of First Open for Christie's. But Christie's has a history of taking risks to present a lot of material by a single artist in a sale. In 2018, 22 works by Richard Diebenkorn were sold in a May evening sale super-charging his market. In 2006, the 25 Donald Judd works were sold to build a substantial endowment for the artist's foundation and leveled up his market.
An on-line sale is not an evening sale and Aboudia isn't Judd or Diebenkorn. But his 22 lots selling for $1 million certainly had a similar effect on his market.
"It was a great success," Baptist says. "People responded to the images, the range of sizes and materials and the price points. There's a lot of variation in both technique and line that lends interest to his output. He's not making the same work over and over again."
The combination of curious buyers who might have been tempted by Aboudia works but put off because they were offered by sellers they didn't know, the artist's provenance and Christie's strong reputation and global marketing reach was the magic formula.
"Matching his work with the Christie's brand brought more buyers," Baptist says. "Christie's giving him his own sale was validation."
That validation was more than just a feeling. The prices that followed confirm it. In the chart, above, one can see that the sale in March had tightly organized price points. Two works sold for $187,500; two for $118,750; one for $125,000 and another for $112,500. Another 15 works were sold at prices around $10,000. Although many works sold for multiples of their estimates, the prices did not diverge substantially from the variables of size and medium.
Over the course of the year, Aboudia's work began to sell for a broader range of prices reflecting buyers own taste or collecting preferences. By September, Aboudia's top auction price had reached new highs above $250,000. Two of those prices were achieved in Hong Kong sales and the third in London. Another eight works sold between $120,000 and $220,000 in the Autumn sales.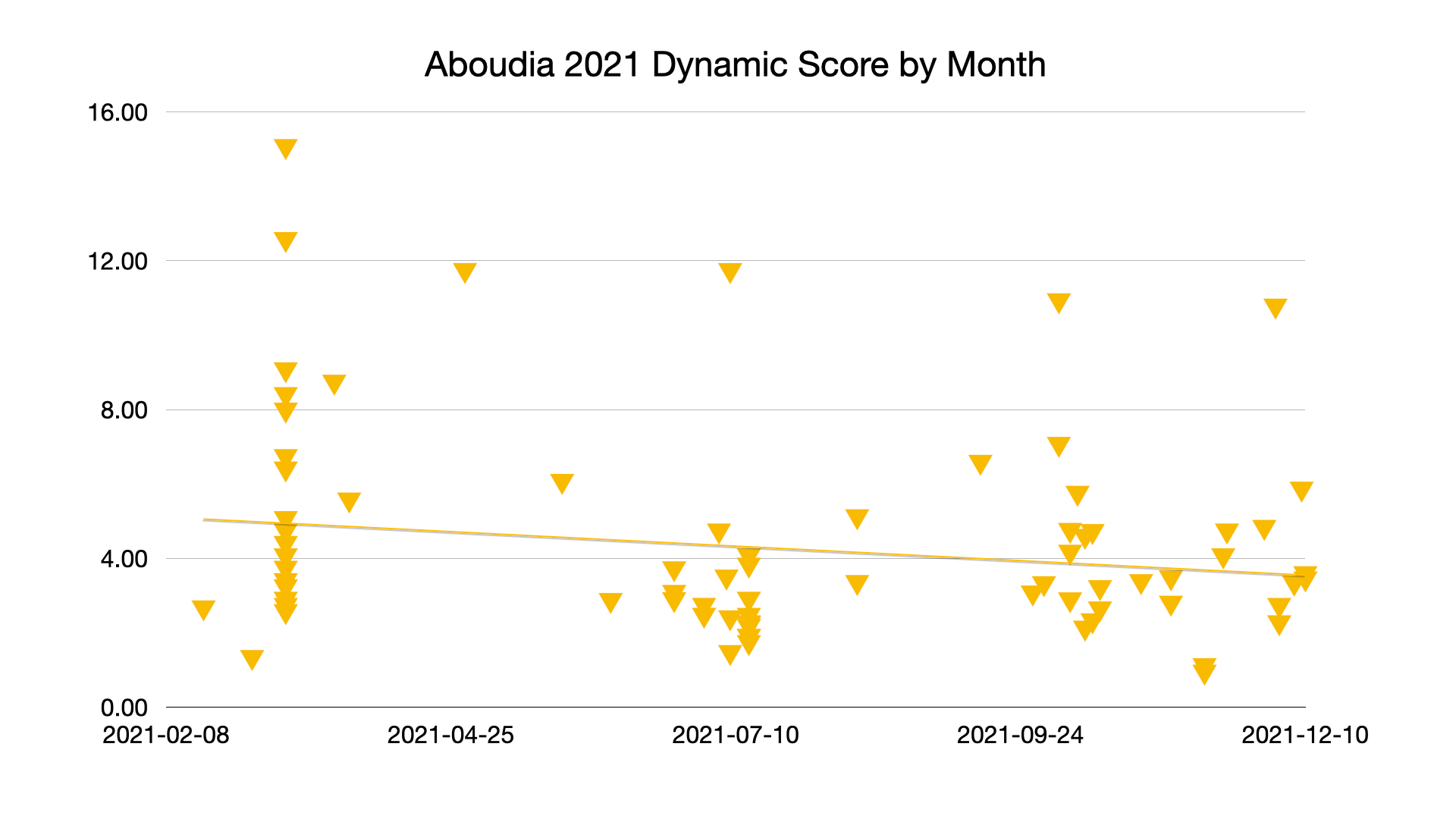 Christie's were admittedly surprised by the success of Aboudia's sale and pleased by the price action over the course of the remaining year. The bidding shows the flip side of a properly functioning market. The chart above shows that the bidding dynamics are slowing over time. This reflects the auction houses having more information to better set estimate levels and the market to coming to a better understanding of what collectors will ultimately pay.
Even though price points were fairly consistent in March, the bidding was across a wide range of multiples of the low estimate. Buyers had to set the appropriate price points through their bidding. By July, the market had a better appreciation of the estimates and the bidding fell to lower multiples and, except for one lower-value lot were, more tightly compressed. Demand was still driving the bidding well above the estimates but in a much tight range.
All of that sales activity seems to have attracted more competition to Aboudia's market as the dynamic range of bidding expanded again in September. This may also reflect the presence of more than one auction house in the market. Multiple specialists were now pricing a range of works. These specialists needed to get their bearings on Aboudia's market. But even with the wider variation in September and continuing aggressive bidding on isolated lots, including one of the top lots sold for $257,535 in December at a multiple 10 times the estimate, through the end of the year, the dynamic score (the hammer price divided by the low estimate) trended lower across all lots over the course of 2021. The data suggests that Aboudia's market is developing a solid foundation.
"We were surprised by how well that the sale did," Michael Baptist reflects on the March online auction. It showed how big Aboudia's market was already and helped make it much bigger. But Baptist cautions against speculators piling into Aboudia's work. "I don't think $100,000 today is $250,000 next year. But I do think, if he's careful about making art, it could double in value in years to come."