Art Fair
Art Basel Miami Beach 2021 Sales Report
We scoured the fair and the press to gather all of the gallery-reported sales in one place (so you don't have to.)
Art Basel Miami Beach re-emerged from its two-year suspended animation seemingly without so much as a cryogenic burn. Like everything else in our pandemic-paused world, the last fair seemed like it had taken place just yesterday or in another era entirely. Of course, this isn't the first time Art Basel has had to pause and improvise a restart in Miami. The very first fair held in the Magic City was slated for December 2001. The unexpected attacks of September 11th that year put the launch on hold until 2002. Since then, it has been an unrelenting build of action and interest. Judging from this year's various sales reports, the art market isn't flagging yet.
An entirely anecdotal survey of the fair suggests dealers believe Alex Katz, Kenny Scharf, David Salle, Carlos Cruz-Diez and Lynda Benglis are in demand—or will be. There were secondary market works by these artists at a smattering of different booths around the fair.
The growth of Miami Art Week has been such that Art Miami is no longer a fair for a different art world. A number of global galleries without access to Art Basel but not appropriate for Untitled or Scope have begun to take space on the opposite side of the causeway where they are getting a fair share of sales.
In many ways, Art Miami caters to a different clientele, their VIP preview on Tuesday evening was more of a dressy or, even, fancy dress affair than the luxury casual seen at Art Basel. The fair can be a mix of knock-off art—there were more than a few Condo-esque works at various booths and an off-brand Vija Celmins at another—and interesting finds. Rosenfeld Gallery had half a dozen Scharfs along with a few more at other booths. Christine Berry of Berry Campbell in Chelsea was at Art Miami with works by American abstract painters like Michael Corrine West ($150,000), Edward Zutrau ($22,000), Dan Christensen ($45,000), and Kikuo Saito ($85,000), all of whom she sold for "close to retail." Kikuo Saito was also featured prominently at Art Basel with two large works at James Fuentes Gallery.
Back at the beach, Valerie Carberry at Richard Gray Gallery was happy with the steady sales and even happier with Art Basel's health protocols which she felt made "collectors could feel confident to fully enjoy the fair." Richard Gray has a clutch of strong sales including Torkwase Dyson ($70,000), two works by McArthur Binion ($160,000), Alex Katz ($550,000), Jean Dubuffet ($300,000), Jaume Plensa ($350,000), Leon Polk Smith ($85,000), Susan Rothenberg ($1.8 million), Max Ernst ($1 million), and—it took a few days to get the deal done—but the gallery closed on a $5 million David Hockney painting.
Sukanya Rajaratnam at Mnuchin Gallery Mnuchin gallery said collectors responded well to the gallery including asking prices on the booth labels. They sold a Basquiat drawing ($2.5 million); a Frank Bowling painting, Noon Light, 1978 ($650,000); an Ed Clark painting, Red Head, 1967 ($1 million); and a Lynda Benglis wall relief, Vauxhall, 1986 ($775,000).
Gagosian's Andrew Fabricant was chuffed, too. "As of Thursday," he said, "sales had totaled upwards of $40 million." That figure comprised works by Mary Weatherford [not yet titled], 2021; Albert Oehlen Untitled, 2021; Rick Lowe, Untitled #071221, 2021; Titus Kaphar, Saints of De-Industry, 2021; Andy Warhol, Flowers, 1965; and Edward Ruscha, OLD, NEW, 2016-2017.
At Thaddaeus Ropac, the big sales were Robert Rauschenberg, Sky Marshal (Spread), 1978 ($1,500,000); Georg Baselitz, Scherbenhaufen, 2018 (€1,350,000); Georg Baselitz, Dienstag Schönwetter, 2020 (€1,200,000); Sturtevant, Warhol Flowers, 1990 (€700,000); Sturtevant, Double Marilyn, 2004, (€400,000); Miquel Barceló, La Nuit de la Nuit, 2018-2019 (€350,000); Miquel Barceló, Dernière pleine lune de l'été, 2018-2019 (€350,000); Daniel Richter, Unterschätzte Objekte, 2019 (€300,000); Alex Katz, Jessica 2, 2016 ($1,000,000); and Gerhard Richter, Fuji, 1996 (€450,000).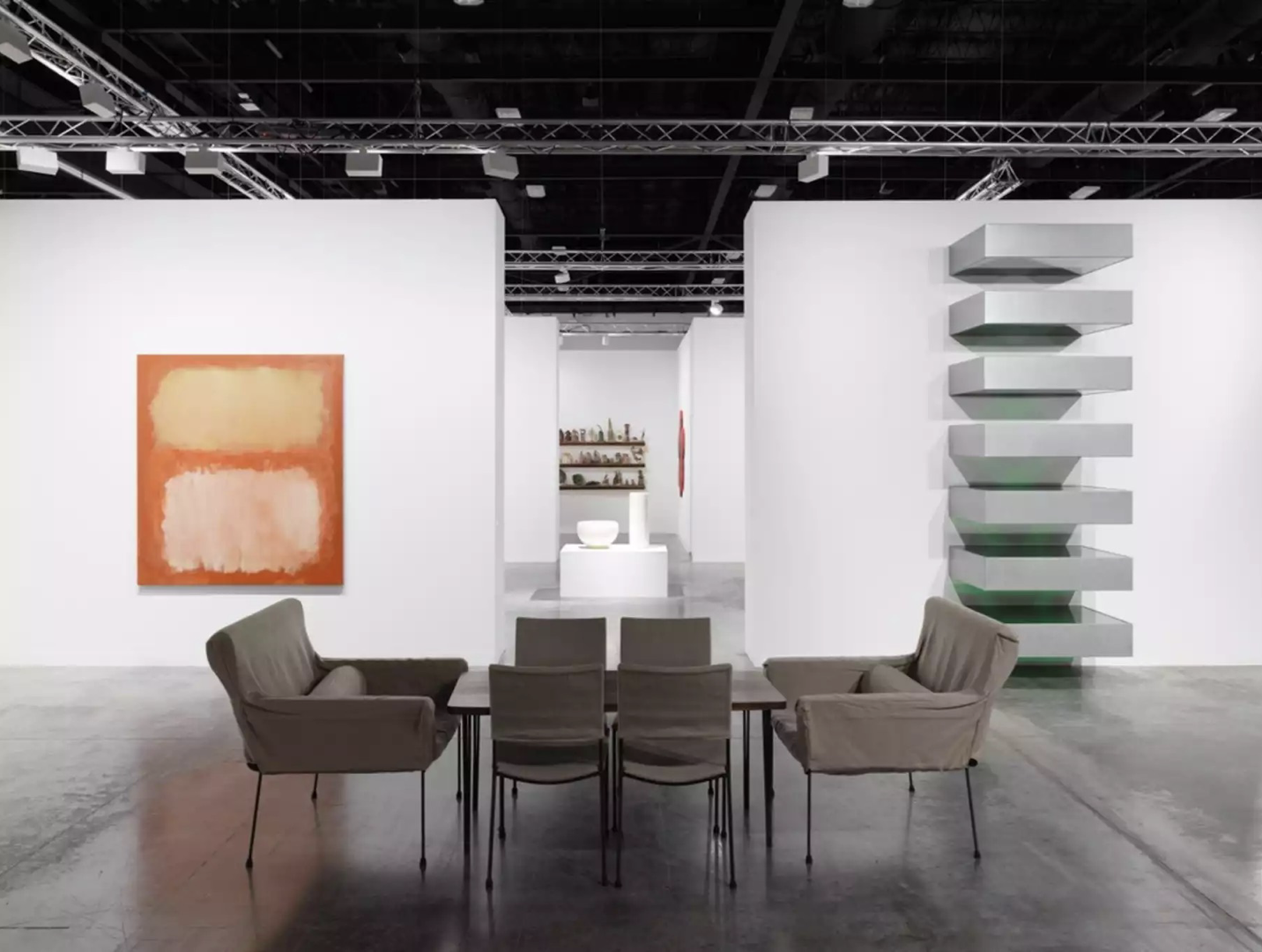 David Zwirner sold works by Noah Davis ($1.4 million); Josef Albers, Study for Homage to the Square: Night Signal, 1964 ($1.3 million); Ad Reinhardt, Abstract Painting, Blue, 1953 ($7 million); Jordan Wolfson, Untitled, 2021 ($350,000); Josh Smith, Untitled, 2013 ($250,000); Rose Wylie, Shop and Garden Flowers (Big Black Wrapper), 2021 ($250,000); Nate Lowman, Carpel/Void (red), 2021; Barbara Kruger, Untitled (Striped 2), 2019 ($600,000); Oscar Murillo, several paintings ($300,000); Katherine Bernhardt, several paintings ($180,000). Later in the week, Vanity Fair's Nate Freeman reported that Zwirner had sold the Rothko on his stand ($20 million).
Sean Kelly sold a sculpture by Antony Gormley (£400,000); Cold Spring, 2021, by Janaina Tschäpe ($125,000); A painting by Callum Innes (£140,000); a painting by Kehinde Wiley to a museum ($425,000); Also sold to a museuma work by Hugo McCloud ($200,000); a chromogenic print by Frank Thiel (€38,000); two works by Jose Dávila ($75,000); and Dawoud Bey's photograph ($35,000).
Lehmann Maupin sold Dominic Chambers' Untitled (Study for Shadow Work) (2021) to prominent collectors who are trustees of the ICA, Miami, and Shadow Work (On Letting Go), 2021, sold to a private museum in China. Helen Pashgian's Lenses sold for a combined total of $250,000; Teresita Fernández's 'Dark Earth' series ($1.3 million); works by Mandy El-Sayegh including the placement of a Net-Grid painting to a prominent collector in San Francisco. Angel Otero Nuestra Victoria, 2013 ($250,000) to an American foundation; OSGEMEOS' painting Next Level (2021); Nari Ward's Breathing Wagon Wheel, 2019 ($450,000) to a prominent collector from Latin America, who has strong museum ties in the US; David Salle's Tree of Life #39, 2021 ($275,000) to a prominent European collector who is a trustee of the Museum für Moderne Kunst, Frankfurt; McArthur Binion's Stuttering: Standing: Still: III, 2013 ($275,000) to prominent collectors based between New York and Miami and affiliated with an important museum in Buffalo.
Kavi Gupta sold two works by an artist new to the program, Tomokazu Matsuyama, Let Him Run Wild Onyx ($65,000) and The Seed Shiver Shine & Bright ($200,000). Also sold were works by Suchitra Mattai made from personal family materials including saris from the artist's mother, entitled The Murmur of a Prayer, ($26,000) to a private family collection; and two works by Allana Clarke ($18,000); and a work by Alisa Sikelianos-Carter, Look at Me #10 (Illustrated Spells) ($11,500).
Jack Shainman Gallery sold a new soundsuit by Nick Cave, Soundsuit 9:29, 2021 ($185,000); Toyin Ojih Odutola's It's Nothing, 2021, a pastel and charcoal on paper, ($250,000); a new ceramic and twine sculpture entitled Considerati A by Rose B. Simpson ($50,000); Cast Away, 2021, a sculpture by Radcliffe Bailey ($35,000); a sepia and charcoal work on paper by its youngest artist Ifeyinwa Joy Chiamonwu with a private American collector.
Marc Payot, President of Hauser & Wirth said, "While outstanding European contemporary art still and always has a dedicated following, it's clear that American art continues to lead the market." Sales include Rita Ackermann Mama, Good Samaritan, 2021 ($475,000); Larry Bell, TRIOLITH-C (Mist) D, 2020 ($75,000); Louise Bourgeois
Untitled, c. 1940 (Range of 1,300,000); Stefan Brüggemann, 19/JAN/2021 American Carnage, 2021 ($165,000); George Condo, Going Out of my Mind 2021 (Range of $1,400,000); Mary Heilmann, Acid Crash 2020 ($60,000); Camille Henrot, What did u say, 2020 ($40,000); Camille Henrot, Wet Job 2020 ($40,000); Jenny Holzer, President's Daily Brief, 2021 (Range of $350,000); Roni Horn, Untitled ("Surprisingly, suddenly the children's voices had gone. It is a thing that happens on summer nights: one moment they are there and then without a call or a warning they are gone but it is difficult to be sure whether they go because they sense the mystery of on-coming night, or whether the on-coming night is mysterious because they are gone."), 2013 - 2017 (Range of $1,200,000); Luchita Hurtado, Untitled 1975 ($200,000); Matthew Day Jackson, Bridal Veil Falls (after Bierstadt), 2021 ($150,000); Rashid Johnson, Bruise Painting "Ask Me Now", 2021 (Range of $1,000,000); Christina Quarles, Ascent, 2021 ($325,000) to a prominent US institution; Cindy Sherman, Untitled, 2016/2018 ($300,000); Gary Simmons, Hold Up, Wait A Minute, 2021 ($375,000); Lorna Simpson, Marked, 2021 ($350,000); and
Henry Taylor, Untitled (Portrait of Jesse Williams), 2020 ($250,000).
White Cube sold works by David Hammons, Untitled, 2007 ($2.35m); David Hockney, Studio Interior #2, 2014 ($6,500,000); Julie Mehretu, Untitled 1, 1999 ($3.95m); Mark Bradford, it took me years to learn the right attitude, 2002 ($3.95m); Takis, Magnetic Relief, 1980 (€145k); David Altmejd, Pyramid, 2019 ($120k); Andreas Gursky, Bahrain l, 2005, Edition 5 / 6 (€1.5m), Purchased by collector Petch Osathanugrah for the Dib Museum and Foundation in Bangkok; Damien Hirst, Adumbration, 2021 ($750k); Theaster Gates, Black Color Study (6724), 2021 ($500k); Bram Bogart, La ferme, 1978 (€425k); Antony Gormley, OPEN STRIP, 2018 (£400k); Fred Tomaselli, Squawm Lake Bug Drop, 1996 (£285k); Harland Miller, Up is a Nice Place to Be, 2021 (£175k); Damien Hirst, Psalm 58: Si vere utique, 2008 ($225,000); Imi Knoebel, Kadmiumrot C C1-C5, 1975/2018 (€400,000); Mona Hatoum, + and -, 2021 (£175k); Gabriel Orozco, Covid 26.7.20, 2020 ($90k); Georg Baselitz, Keine Zukunft, Keine Zeit, 2010 ($70,000); Sara Flores, Untitled (Punté Kené 1, 2021), 2021 ($45,000); Sara Flores, Untitled (Tsitson Maya Kené 1, 2018), 2018 ($38,000); Sara Flores, Untitled (Tsitson Maya Kené 3, 2018), 2018 ($38,000); Sara Flores, Untitled (Tsitson Punte Kené 1, 2018), 2018 ($35,000); Darren Almond, Portrait III, 2018 (£18,000); Doris Salcedo, Disremembered XII 2021; and works on paper by Tracey Emin (£20k).
Over at Blum & Poe, these sales were reported: a bronze Yoshitomo Nara, Auspicious Heavens, 2019/2020 ($650,000); Tomoo Gokita, Wednesday Morning, 2021 ($175,000); Ha Chong-hyun, Conjunction 20-08, 2020 ($110,000); Alvaro Barrington, Legend in the City, 2021 ($90,000); Friedrich Kunath, My Fault Your Fault, 2021 ($80,000); Aaron Garber-Maikovska, Blue Side Avenue, 2021 ($78,000); and Tony Lewis, Shown, 2020 ($45,000).
Gladstone Gallery had sales for these artists: Keith Haring ($1.8 million); Marlene Dumas ($800,000); Elizabeth Murray ($725,000); Carroll Dunham ($600,000); Elizabeth Peyton ($550,000); Sarah Lucas (£350,000); Wangechi Mutu ($300,000); Rosemarie Trockel ($250,000); Arthur Jafa ($220,000); Richard Prince ($100,000); Anicka Yi ($100,000); Richard Aldrich ($85,000); and 10 works on paper by Alex Katz ($36-48,000).
Mitchell Innes-Nash reported sales for these artists: Eddie Martinez ($250,000); Pope L. ($150,000) for two paintings sold to a private museum in Europe; Gideon Appah ($50,000) for two paintings; Gerasimos Floratos ($40,000) and Karl Haendel ($35,000).
Roberts Projects reported: Jeffrey Gibson, She Never Dances Alone, 2021 ($225,000); Otis Kwame Key Quaicoe, The Photographer and his Muse, 2021 ($85,000); and Lenz Geerk, ERP, 2021.
David Kordansky had these sales: Jonas Wood, Bball Orchid with Dots #1, 2021 ($850,000); Mary Weatherford, Candy Throw, 2021 ($300,000); Fred Eversley, Untitled (parabolic lens) (1969), 2021 ($275,000); Tobias Pils, Breastfeeding & Riesting, 2021 ($80,000); Tom of Finland, Untitled (from the "Two Hoods in Hollywood"), 1960 ($35,000); and Evan Holloway, Heavy Framing Pastel Joy, 2021 ($125,000).
Lisson Gallery reported: Carmen Herrera, Untitled (Cadmium #15), 1961 ($1.6m) and Untitled ($150,000) work on paper; Stanley Whitney, Blue Note, 2020 ($700,000); Olga de Amaral, Alquimia Tetra (III & IV), 2006 ($450,000) and Memorias 7, 2015 ($400,000); Shirazeh Houshiary, Pneuma, 2020 (£215,000); Cheyney Thompson, two works (490,000 each); Ryan Gander, I be … (xl) (2021) ($85,000); Lee Ufan, Response, 2021 ($85,000); Hugh Hayden, The Preacher's Wife, 2021, ($75,000) and Pulpit, 2021 ($32,000); Van Hanos, The brain painting … (learning lefty), 2021 ($55,000) and Misfit, 2021 ($35,000).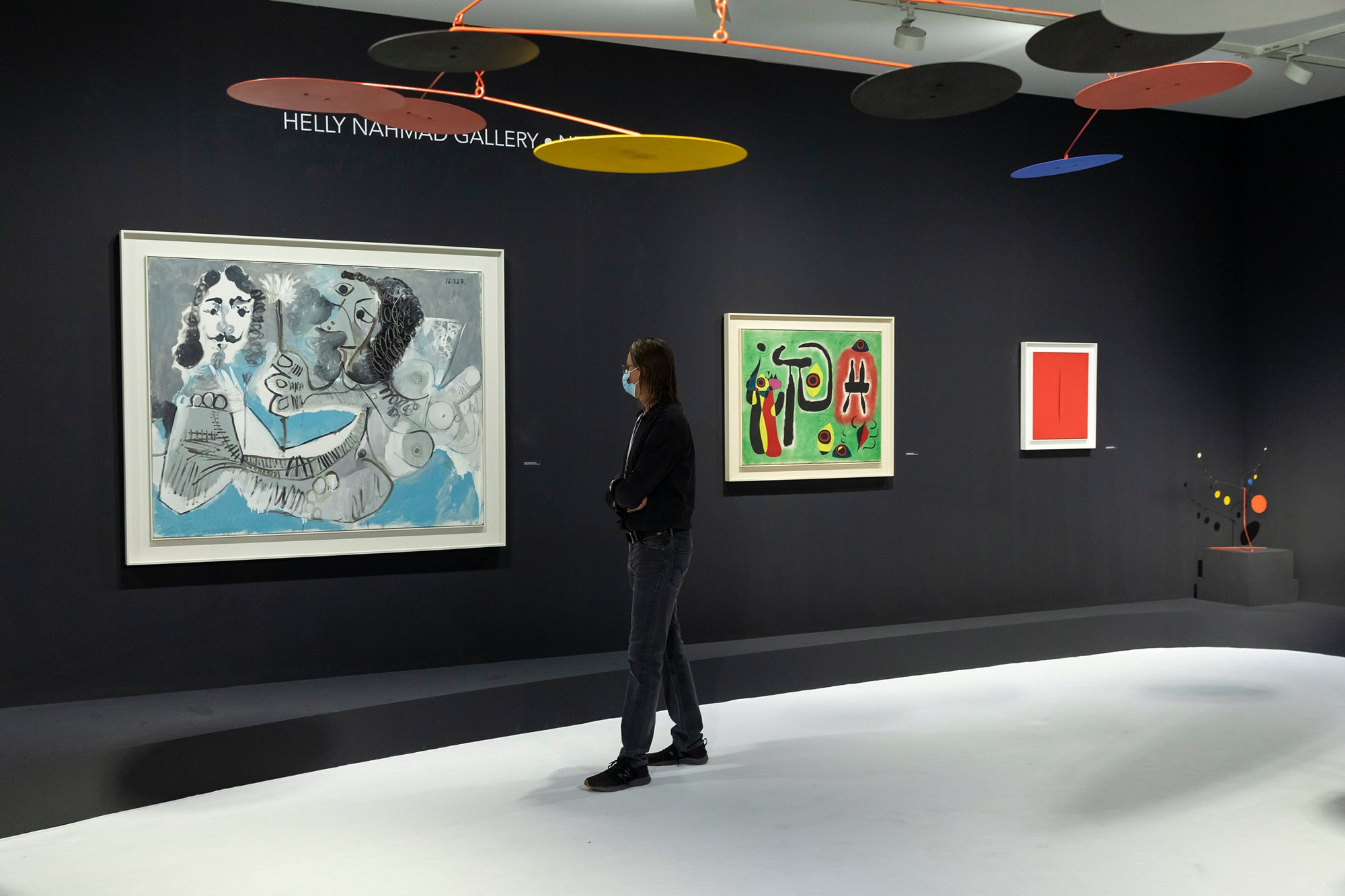 The press also had sales, including Hypebeast which said the Maddox Gallery claims to have sold a Banksy Charlie Brown for $4 million.
In the Financial Times, Melanie Gerlis said "Texas couples Howard and Cindy Rachofsky and John and Jennifer Eagle, who together bought a vast ceramic installation of autumnal leaves by Rebecca Manson from Josh Lilley gallery ($350,000)." Gerlis also pointed out that "Tiwani Contemporary sold out of its booth of 10 works based on an imagined empire by the African-American artist Umar Rashid ($25,000-$65,000)."
The Canvas reporting on Artsy also flagged these sales:
Helly Nahmad Gallery
Picasso

,

Mousquetaire et Femme a la Fleur

, 1967 ($20 million)
Mnuchin
Mary Lovelace O'Neal

, two paintings at $500,000 each to American collectors
Matthew Marks Gallery
Seven Small

Ellsworth Kelly

works on paper

Simone Leigh

sculpture for $400,000
Kasmin
James Rosenquist

,

Mute Transformations,

1985 ($300,000)

Cynthia Daignault

,

Witness Tree

, 2021 ($65,000)

Ian Davenport

,

Turquoise & Yellow (Mirrored)

, 2021 ($95,000)

Diana Al-Hadid

,

Bargaining on a Precipice

, 2021 ($80,0000)

Alma Allen

,

Not Yet Titled

, 2021 ($18,000)
David Castillo Gallery
Sanford Biggers

,

Quandary

, 2021, to a collector in New York ($125,000)

Belkis Ayón

My Vernicle o si yo no te olvido (My Vernicle or I do not forget you)

($100,000) to Ernesto and Cecilia Poma

Vaughn Spann

,

Greyson

, 2021 ($30,000)

Yesiyu Zhao

,

Crossing Over

, 2021 ($35,000) to the

Institute of Contemporary Art, Miami
Casey Kaplan
Jordan Casteel

($300,000)

Sarah Crowner

($160,000)

Caroline Kent (

$50,000)

Kevin Beasley

($125,000)
Roberts Projects
A large mixed media on wood work by

Alexandre Diop

,

Toutes Valeur a son Rythme

, 2021 ($40,000)
Various Small Fires
Two works by

Diedrick Brackens

priced between $55,000 and $85,000, with one selling to a trustee of the ICA Miami as a promised gift to the institution.
Fridman Gallery
A

1975 painting

A Day in the Life of a Black Woman Artist

by

Dingda McCannon

priced at $150,000 to a New York City museum as part of a promised gift