Contemporary Art
Artist Spotlight: Lauren Quin's Momentum Builds
With success on the primary market and institutional backing, is Quin's next stop the auction circuit?
Lauren Quin's journey from graduation to institutional acquisitions was swift. In early 2021, the ICA Miami purchased Quin's 2021 painting Cure for Lucretia not even two years after the artist received her MFA from Yale. Her momentum continued as her works Moiré/Melee and Crutch Letter (both 2021) were acquired by the Walker Art Center in Minneapolis and the High Museum of Art in Atlanta, respectively. Across the globe, the X Museum in Beijing (opened in 2020 and spearheaded by collector Michael Xufu Huang) acquired Quin's Creak, 2021. Art market chatter says one of her works will make it to a mainstream auction in early March.
Quin's rise can, in part, be attributed to the distinctive allure of her large-scale paintings. Bleach, a dizzying work from 2021 that is featured on the opening page on the artist's website, displays many of the best elements of her Maximalist style. The six-foot-by-six-foot canvas is a tangle of tubes, multi-layered gradients, and scraped surfaces. At first glance, the image emits a fast-paced energy resulting from the jumble of quick and slow marks surrounding three-dimensional bands of bright, smooth colors. Close examination reveals that the larger shapes are embedded in a complex ecosystem of fast slashes of paint (later scraped off) and smaller, mutlicolored fields of brushstrokes. High-contrast colors provide visual interest in the composition but also conceal the depth of planning and care embedded in the process of its creation.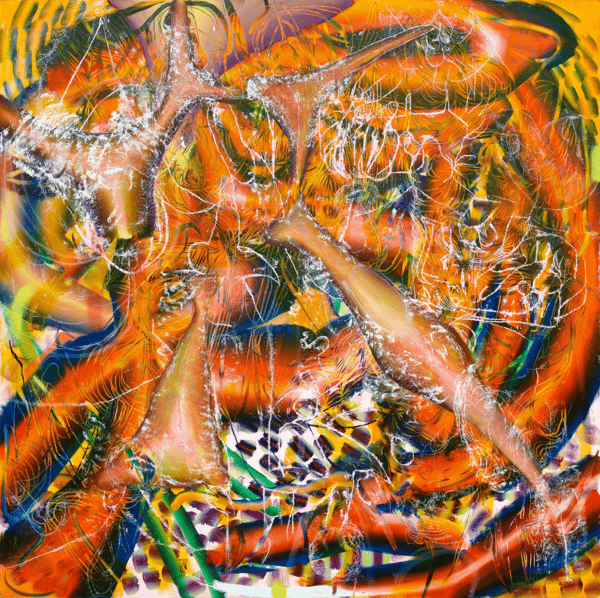 Lauren Quin, Bleach, 2021
"Amongst a break-out group of talented female abstract artists," says LiveArt's Executive Vice President George O'Dell, "the emergence of Lauren Quin in the art market has been absolutely fascinating to watch."
Quin remains dedicated to abstraction even as the contemporary art market focuses on figuration, and her growing collector-base suggests a resurging interest. Drawing from the aesthetics of digital art, Quin has created 3-D forms that mix retro and futuristic styles of abstraction. Her solo exhibition "Vocal Fry," presented at Friends Indeed Gallery in the summer of 2021, drew its concept from the resemblance between Quin's signature patterns and a moiré pattern: the vibrating visual effect of two slightly offset overlapping patterns.
Previous to her stint in New Haven, Quin earned her BFA from the School of the Art Institute of Chicago in 2015 and attended a residency at the Skowhegan School of Painting and Sculpture for the summer of 2017. Since then, Quin has exhibited her paintings in New York, Chicago, Los Angeles, San Francisco, New Haven, and Stockholm. In summer 2021, Loyal Gallery in Stockholm presented Quin's first European solo show "Bat's Belly." The gallery presented eleven of Quin's oil paintings spread over two viewing floors. The array of works were true to Quin's style–colorful, tangled tubes with additive and subtractive marks–displayed simply in the gallery space. The focus was entirely on the dense, abstract worlds of the paintings.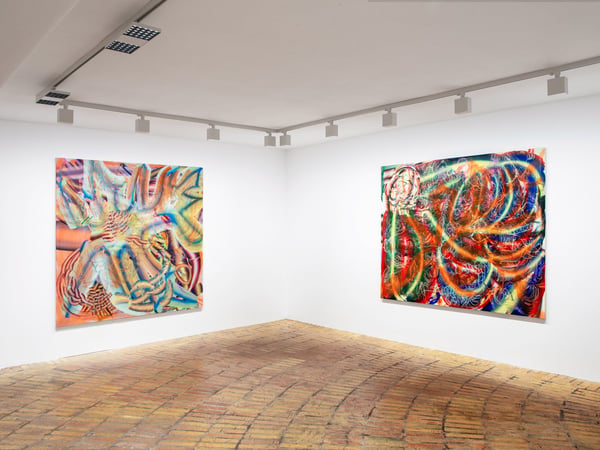 "Bat's Belly" exhibition view, LOYAL, Stockholm
In the winter of 2021, Friends Indeed hosted a solo booth of Quin's work at NADA Miami. The booth sold out completely on day one of the fair. Friends Indeed told artnet news that three large-scale works were sold for $28,000 (two of the works) and $30,000 (for the third).
With the demand for 21st century art at auction (the total market value of 21st century art sold at public auction at the major auction houses last year reached $1.76 billion), it is no surprise that Quin's paintings are already being offered.
Call it a "soft-launch:" Quin's 2021 work CURE FOR SESSILITY was sold at the fall 2021 Two x Two For AIDS and Art auction honoring Yoshitomo Nara. The auction, held in the Rachofsky House in Dallas, benefits the Dallas Museum of Art and amfAR, the Foundation for AIDS Research and was hosted by Sotheby's. Quin's painting, smaller than the previously mentioned works at 36 x 60 inches, was presented with an "estimated retail value" of $14,000. The painting was provided by Friends Indeed Gallery, likely as an attempt to establish a robust public price point for Quin's work.
"The auction at Dallas Two x Two last autumn really cemented the demand for [Quin's] work," O'Dell adds. "It will be interesting to see what the first true secondary market (non charity auction) result is."
In March, Phillips will offer a work that could open Quin's market, the auction house hopes, along the same path as abstract painters like Flora Yuhknovich and Jadé Fadojutimi.