Price Database
Data-Dive: The Whitney Whip
Biennial appearances don't make artists' markets, but they do grow them. We looked at the data to see how Shara Hughes, Dana Schutz, Nicole Eisenman, and Jordan Wolfson saw their markets crack open after Whitney Biennial appearances.
The 2022 Whitney Biennial, "Quiet as It's Kept," opens this week and runs through September 5th, 2022. The biennial's mission is to take stock of American art. When an artist is selected for a Whitney Biennial, it can accelerate the artist's market. With that in mind, we dove into LiveArt's historical price database to answer a question: Which artists are most likely to see secondary market growth after being featured in the Whitney Biennial?
The biennial is known for celebrating a wide range of artistic practices. Works that have appeared in the biennial encompass film, performance, sound, theory, and more, but these mediums are generally inimical to auctions. One of the most important outcomes of the Whitney Biennial is enhanced institutional recognition for many of the artists shown. And it is imperative to point out that the biennial is not a supermarket. Nevertheless, for painters in particular, appearing in a Whitney Biennial can have a significant impact on the prices and sales volume of an artist's work.
Looking at the 240 artists who participated in the last three Whitney Biennials (2019, 2017, and 2014), we sorted for the 14 artists with the highest auction records in the cohort. Most of them turned out to be painters, plus a handful of sculptors, which indicates the selection bias of the secondary art market. Then, we compared their average sale price at auction pre- and post-biennial. We also plotted their secondary sale prices over time. If an artist was featured in more than one biennial, we used their first biennial as the demarcation line. Despite notable auction prices on par with the other artists on the list, Amy Sillman, Jennifer Packer, and Jeffrey Gibson were excluded because they had too few secondary sales at auction before they appeared at the biennial to support meaningful conclusions.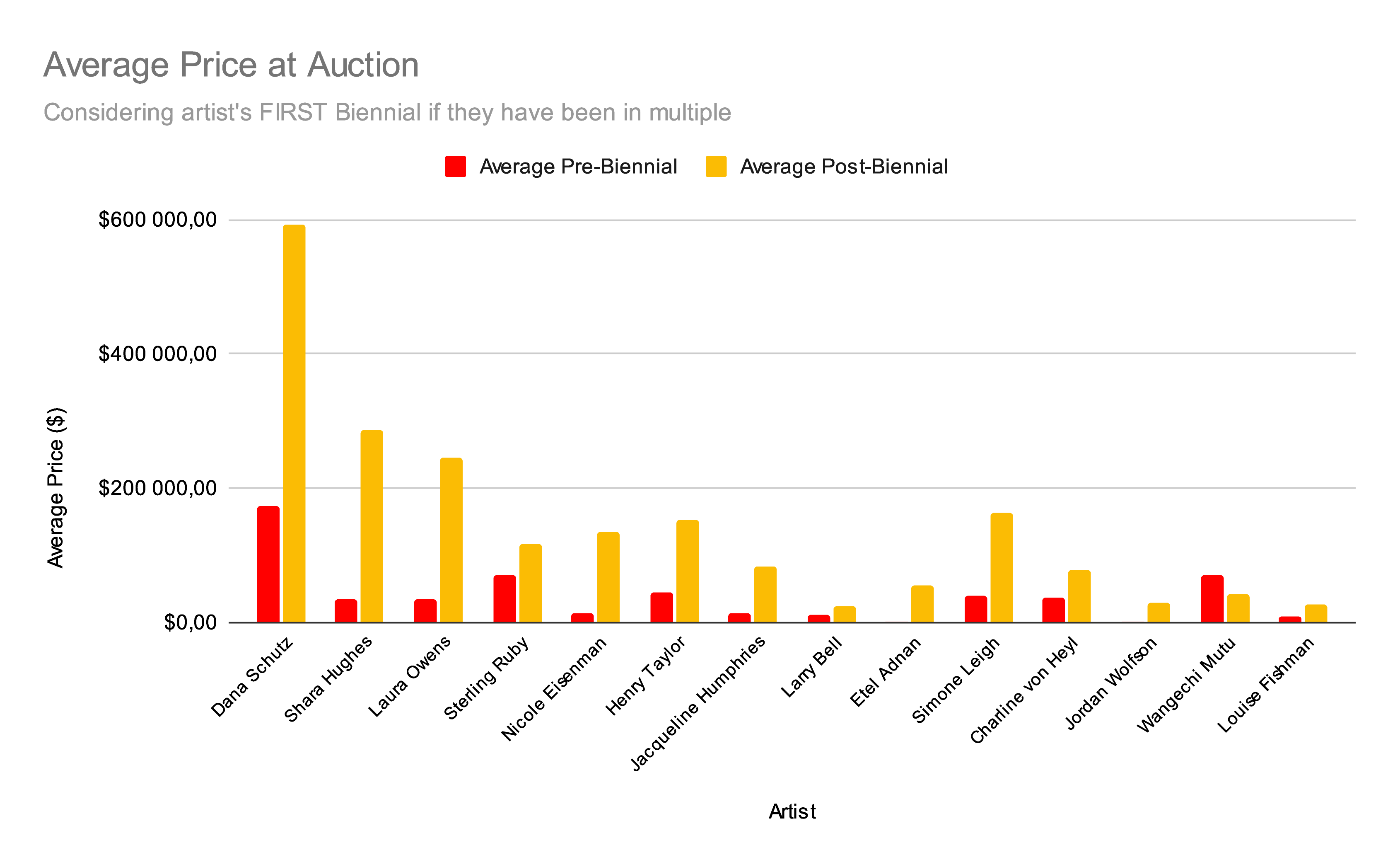 The data suggests that being featured in the Whitney Biennial is most likely to increase the lot volume and lot value for painters and sculptors only if they already had an existing secondary market before the biennial. The biennial doesn't make markets, but it has the potential to grow them.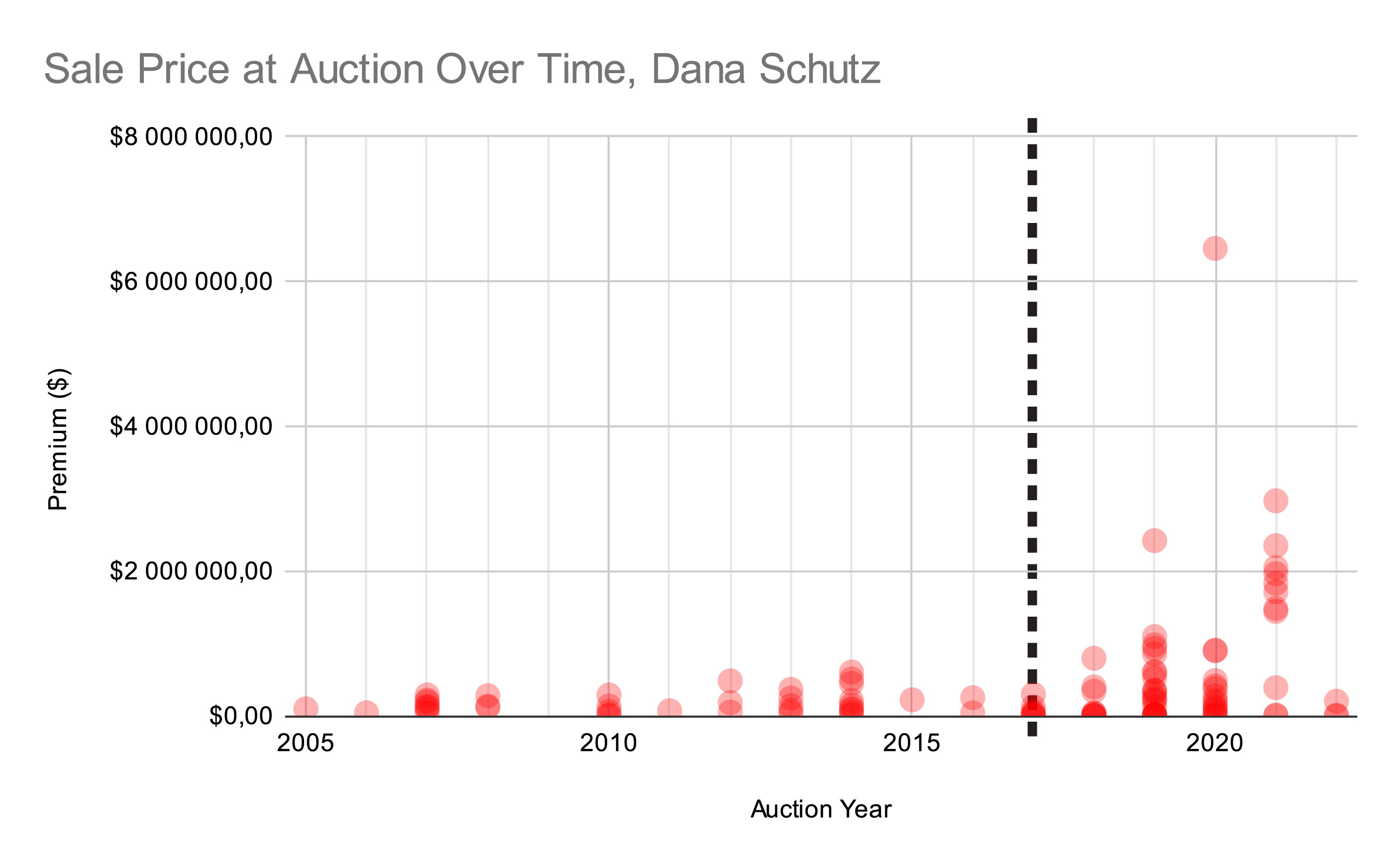 Zooming in on Dana Schutz, the American painter had a robust secondary market prior to her controversial 2017 appearance in the biennial. In 2014, a painting from 2004 called Reformers sold for $605,000 at Phillips. Schutz did have a number of sales near a half a million USD before 2017; however, she did not achieve a seven-figure auction result until afterwards in 2019. Since then, Schutz has had 11 pictures sell for seven-figure sums as you can see in the chart below. In 2020, Schutz's 2017 painting Elevator sold for $6,456,442 at Christie's in Hong Kong.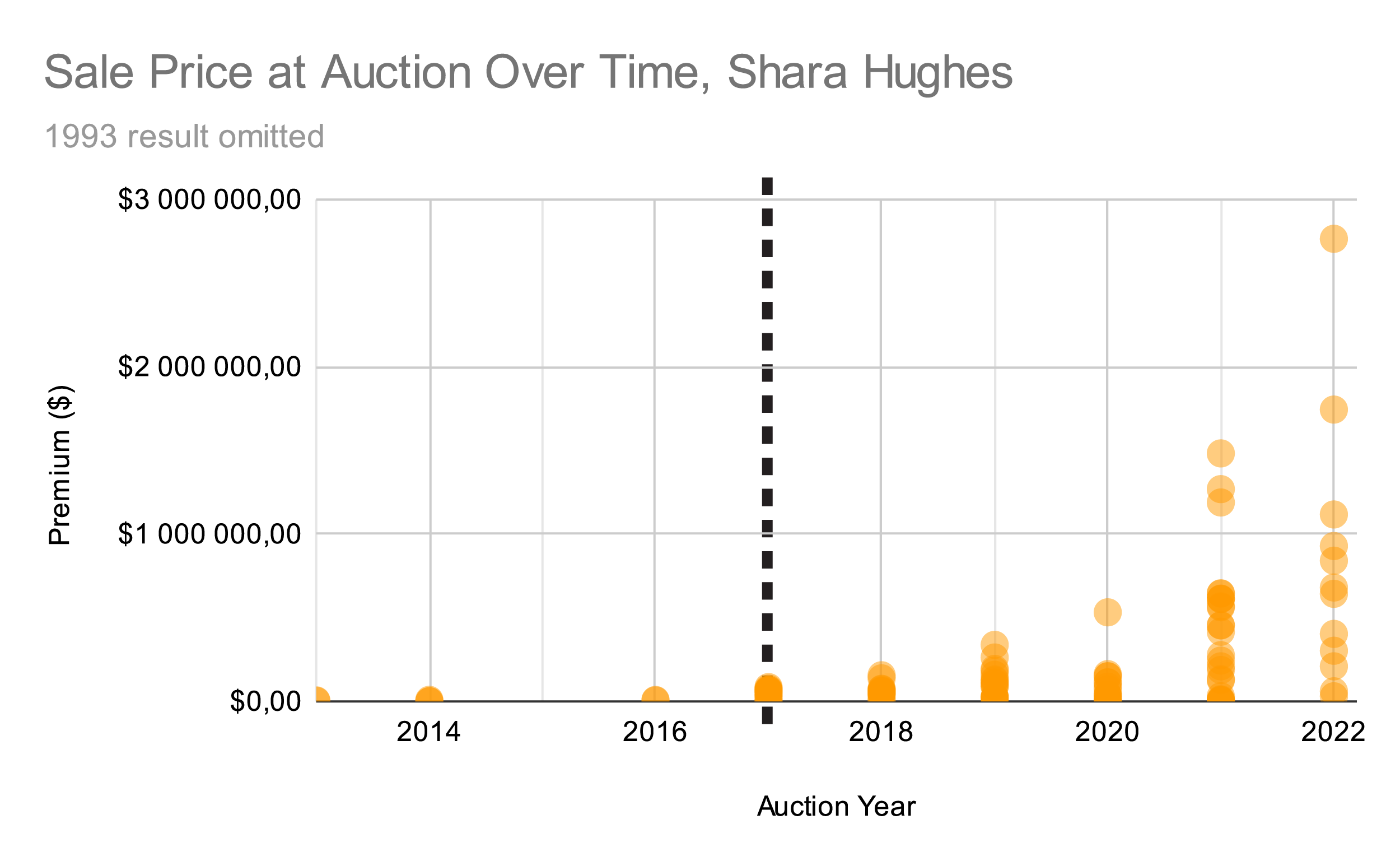 Recent market-darling Shara Hughes made her auction debut in 1993, but she did not have consistent sales at auction until 2013. Prior to the 2017 Biennial, Hughes had eight auction results with a record sale of Two Works: (i) It's My Pot of Gold, 2007; (ii) Fountain, 2008 for $8,793 in 2014. In 2017, Hughes consistently saw high six-figure sums at auction with Sailing from 2006 selling for her then-record of $85,000 at Phillips New York in November of her biennial appearance year according to the chart below. Hughes made her most recent auction record this month with the sale of Naked Lady at Sotheby's for $2,764,837, more than nine times the low estimate.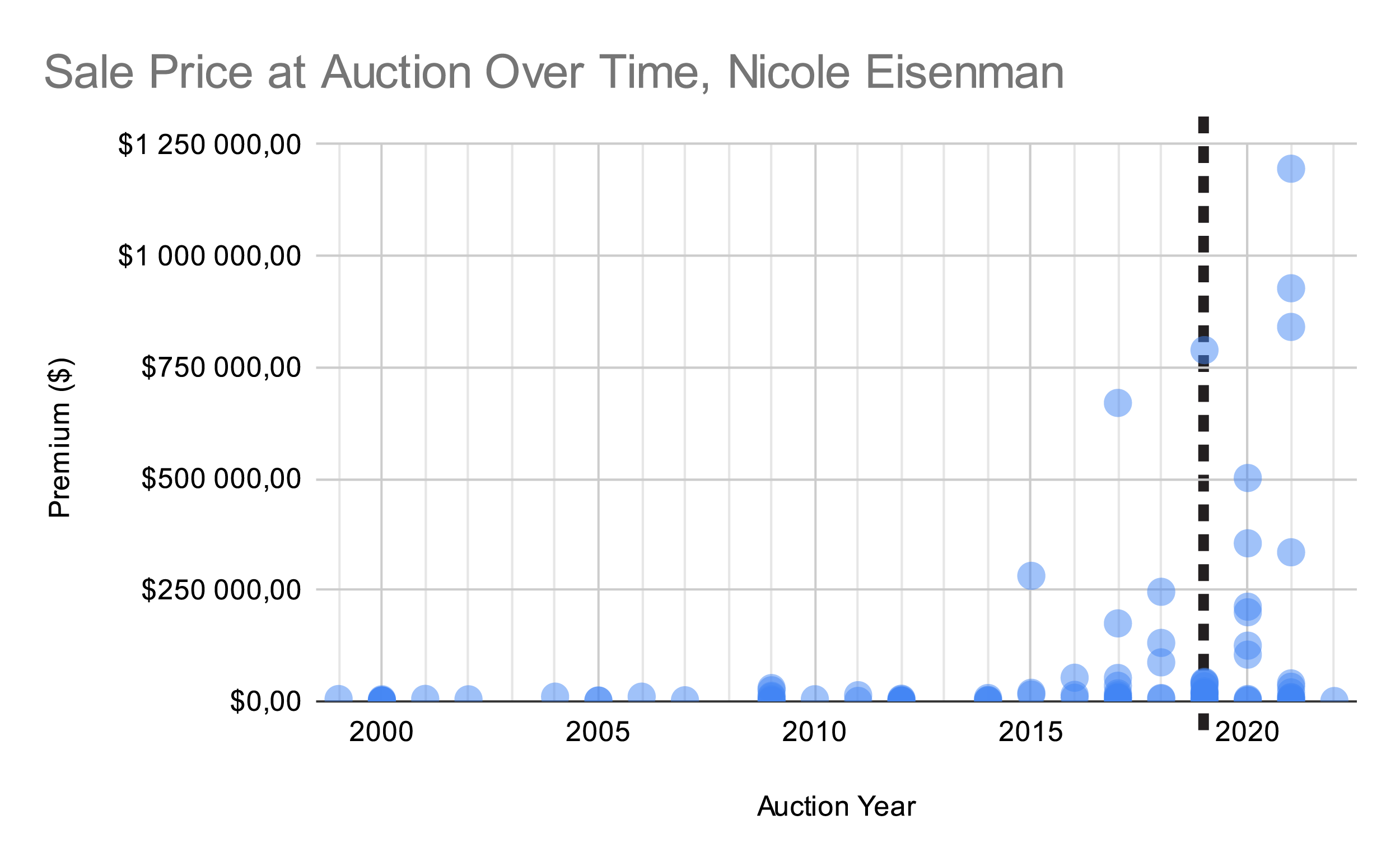 Nicole Eisenman's secondary market trajectory further reinforces that painters with existing secondary markets before the biennial can see significant price jumps in the years following a biennial appearance. Eisenman already held an impressive sale record from 2017 when she was featured in the 2019 Biennial; Winter Solstice 2012 Dinner Party, 2009 sold for almost seven times its low estimate at $670,000. Since 2019, Eisenman has reset that record four times, as can be seen in the chart below. Her current sales record is held by Mermaid Catch which sold for $1,195,852 in 2021. Previously, that same painting had sold for $12,500 in 2009.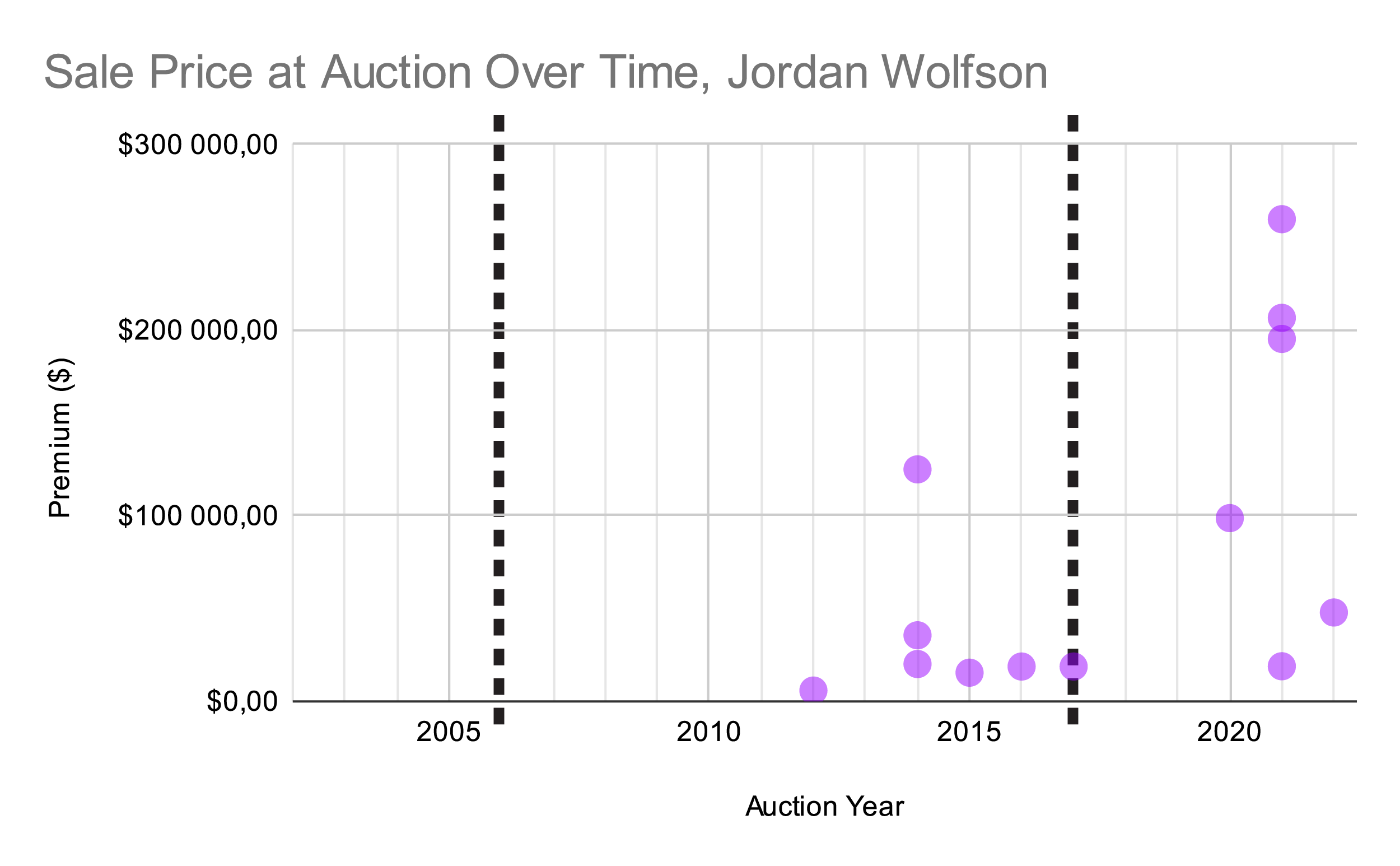 Jordan Wolfson's price history illustrates the limited impact the Whitney Biennial has on the secondary market for artists who work across more diverse and performance-oriented mediums. Wolfson was featured in the 2006 Biennial, but he did not make his auction debut until 2012. He has had only 12 works come up at auction ever, and his volume of lots did not increase significantly on either side of his two biennial appearances. His 2006 presentation was video-based. In 2017, the biennial featured his notorious VR experience
Real Violence
.
Wolfson's 2021
auction record of $259,812
placed him within the top 15 Biennial artists by price, but his market trajectory was not affected in the same way as more traditional painters.
Secondary market growth is only one measure of an artist's success. For some, like Wolfson, the notoriety achieved at the biennial undoubtedly had an effect on his primary market. For others less oriented toward the secondary market, the biennial surely bolsters their practices in ways that are equally important.