Contemporary Art
Forget John Currin
Inspired by Old Masters, a new crop of diverse and inclusive artists are conquering the art market
At this point, there have been so many things written about Anna Weyant, the precocious painter who was the focus of so much attention this Spring, that it would seem odd to suggest that the most important aspect of her emergence seems to have been overlooked. It's not hard to find stories about her prices at auction or her personal life or even comments about her painterly style dismissing it as simply aping the work of John Currin. But no one seems to recognize that she's the most visible face of a broader group of artists whose work is actively and intently engaged with art history.
That John Currin crack, as snarky and facile as it is, is part of the problem. The sneer's fixation on Currin, whose fame seems to have a half life greater than his market appeal (at least for now), ignores the fact that a new wave of artists are quoting influences from painting's long tradition before Modernism.
Flora Yukhnovich, Ewa Juskiewicz, Roby Dwi Antono, Salman Toor, and Jesse Mockrin, among others, mimic compositions and images to repurpose them toward present concerns. Like Weyant, they have all emerged on the market since the pandemic. In many ways, they are a response to the question of what would come next after the explosion of artists for whom their identity was an important part of their appeal.
Figurative painters depicting previously under-represented groups in art have been, since at least 2018, among the most sought after artists. Their styles were unmistakably contemporary. Although artists like Kerry James Marshall or Kehinde Wiley drew ideas, in very different ways, from art history, few artists seemed to be painting using the techniques that might seem familiar to collectors of Old Master works or drawing lessons from their work.
As the new figurative painters became more successful, market observers began to wonder what might succeed these market darlings. Would it be a turn toward abstraction? In many ways, yes. But the market for art has been broadening over the last decade, moving away from a reliance on a few spectacularly valuable names toward a more equitable art market. To be clear, this isn't a conscious effort by any one institution, group or figure. It's a reflection of the broader interests and tastes of myriad collectors, dealers and market makers.
With all of that in mind, looking at the group of classically-informed artists we see that they are not revanchist in the sense of trying to reclaim cultural authority for older art historical forms. Instead, this is a group of women, artists of color and painters unabashed about depicting non-heteronormative romantic scenes.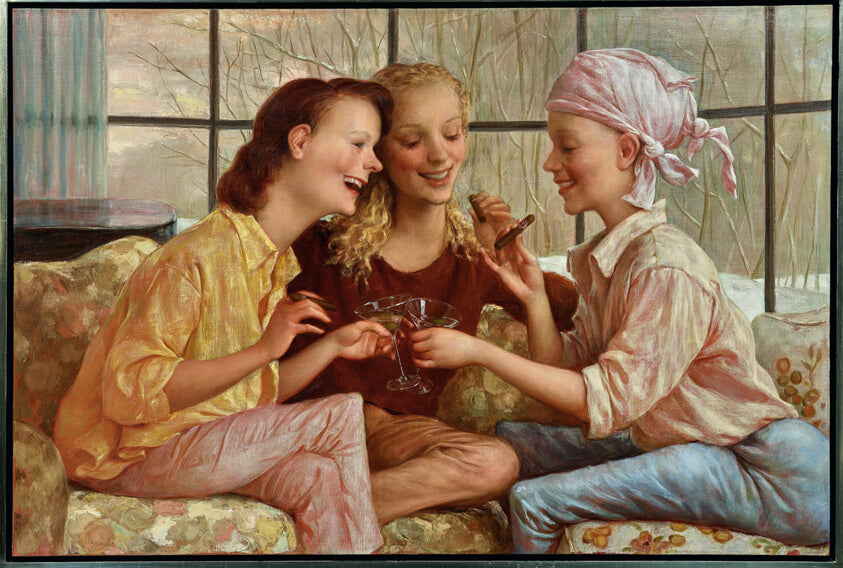 John Currin, Stamford After Brunch (2000) Art Institute of Chicago
Weyant and Jesse Mockrin may be the artists most overtly engaged with updating art history. Weyant's recent market success doesn't need to be rehashed here but even after the attention-getting prices at each of the three auction house's Evening sales in May, her work has continued to attract bids in later sales. The only limit on Weyant's public market at the moment may be the small number of paintings in her entire body of work and the relatively large number of works that have already changed hands publicly.
Mockrin has only had one significant auction sale. In October of 2021, The Timid Lover from 2016 sold in Hong Kong for just under $65,000, a harbinger of potentially stronger sales in the future. Mockrin's work has been getting wider attention. She was commissioned by Vogue to paint a portrait of singer Billie Eilish that appeared in 2020. The result was a riff on Caravaggio. But no one accused her, as they have of Weyant, of riding John Currin's coattails.
Supply may constrain Weyant's market but it hasn't hurt sales for Flora Yukhnovich. Overtly basing her abstract works on Old Master paintings, particularly Rococo artists like Boucher and Watteau, Yukhnovich has done that rare thing, she's made the familiar utterly new. In market terms, there's been a year-long thirst for her work beginning with two sales at Phillips in the late Winter and Spring of 2021 that seemed spectacular. Yet they were quickly surpassed with sales at prices above $3 million that took place in the Fall of 2021 and Winter of 2022.
Markets flare up and flare out. Victoria Miro gallery, which took over representation of Yukhnovich during her auction rise, is known for its control over the markets of artists in the gallery's stable. Nonetheless, a Yukhnovich sold in June for near the top of her price range at $2.8 million. So much for a flaring out.
In almost the same period, Ewa Juszkiewicz has also seen her auction market flourish. Combining two 19th Century obsessions, portraiture and cataloging the wonders of the natural world, the Polish painter has relied on early Dutch painters and noted French masters like Elisabeth Vigée-Lebrun and Leopold Boilly as guides and inspiration. Her auction sales peaked in May with two works making a combined total of more than $2.5 million.
Moving back toward technique and away from subject matter. Roby Dwi Antono burst onto the auction market late last year when two works from the 2010s were sold at very strong six-figure prices. The Indonesian artist has continued to see sales at the same level as recently as June of this year. Combining the draftsmanship of an Old Master with imagery drawn equally from Surrealism and the culture of childhood and collectible toys, Antono is an example of how classicism can be relevant in unexpected ways.
That lesson also emanates from the work of Salman Toor. The Pakistani-born, American-educated painter has been prominently exhibited at New York's Whitney and now Baltimore's Museum of Art. His style has been compared to Goya and the Baltimore museum show includes works inspired by Baltimore's own Old Master works, including Sir Anthony van Dyck's Rinaldo and Armida from 1629. With two auction sales this Spring near his high-water mark, Toor's market appeal shows no sign of fading since his work first appeared at auction in the Fall of 2020.
Though much of this market action is well known, it is surprising that common theme among these artists has not received more attention. Could the fixation on John Currin as the avatar of a pre-Modern painting be distracting us from seeing this develop