Artist Profile
FUTURES: Etel Adnan's Long Road to Recognition
When she died last year at 96, the market was already waking up to her singular talent.
"I am sensitive to beauty," artist Etel Adnan says in one of her final interviews recorded for the exhibition of her work at the van Gogh museum that runs throughout this Summer. Adnan, a celebrated writer and poet who lived in San Francisco for many years as an adult, died late last year at the age of 96. She had been living her final years in Paris and on the coast of Brittany in France.
Her painting, which was discovered by the world in 2012 at Documenta 13 in 2012, was a lifelong pursuit beginning in the late 1950s through to the first two decades of the 21st Century. A market has slowly been developing for her work. Its limitations may lie more on the supply side of the market equation than demand considering that for the bulk of her career as a painter she lacked the support of even rudimentary institutions. That means her work is scattered across her personal social network more than it was distributed through a gallery. One of the overlooked aspects of the art market is the inefficiency of supply more than the difficulty of generating demand.
The van Gogh museum show, entitled "Colour as Language," features as many as 80 of her works alongside 10 paintings by van Gogh. The artists share an interest in color but also a feeling for and fixation on writing. The title of the show makes immediate sense to anyone who is vaguely familiar with either artists' work and biographies.
The polyglot Adnan saw art as a refuge from the many different languages she had available to her. Both she and van Gogh found a way to express in color something that was not accessible through words. That's the conceit of the show.
The show does many things. It makes van Gogh more relevant to contemporary audiences. It connects his work to an artist who was previously overlooked and existed outside of the canon. Not anymore. Adnan has become a celebrated figure and her work is increasingly sought after. Sharing a stage with van Gogh pulls her much closer to the center of what is considered universally appealing and, well, beautiful. That won't hurt the process of elevating her stature either.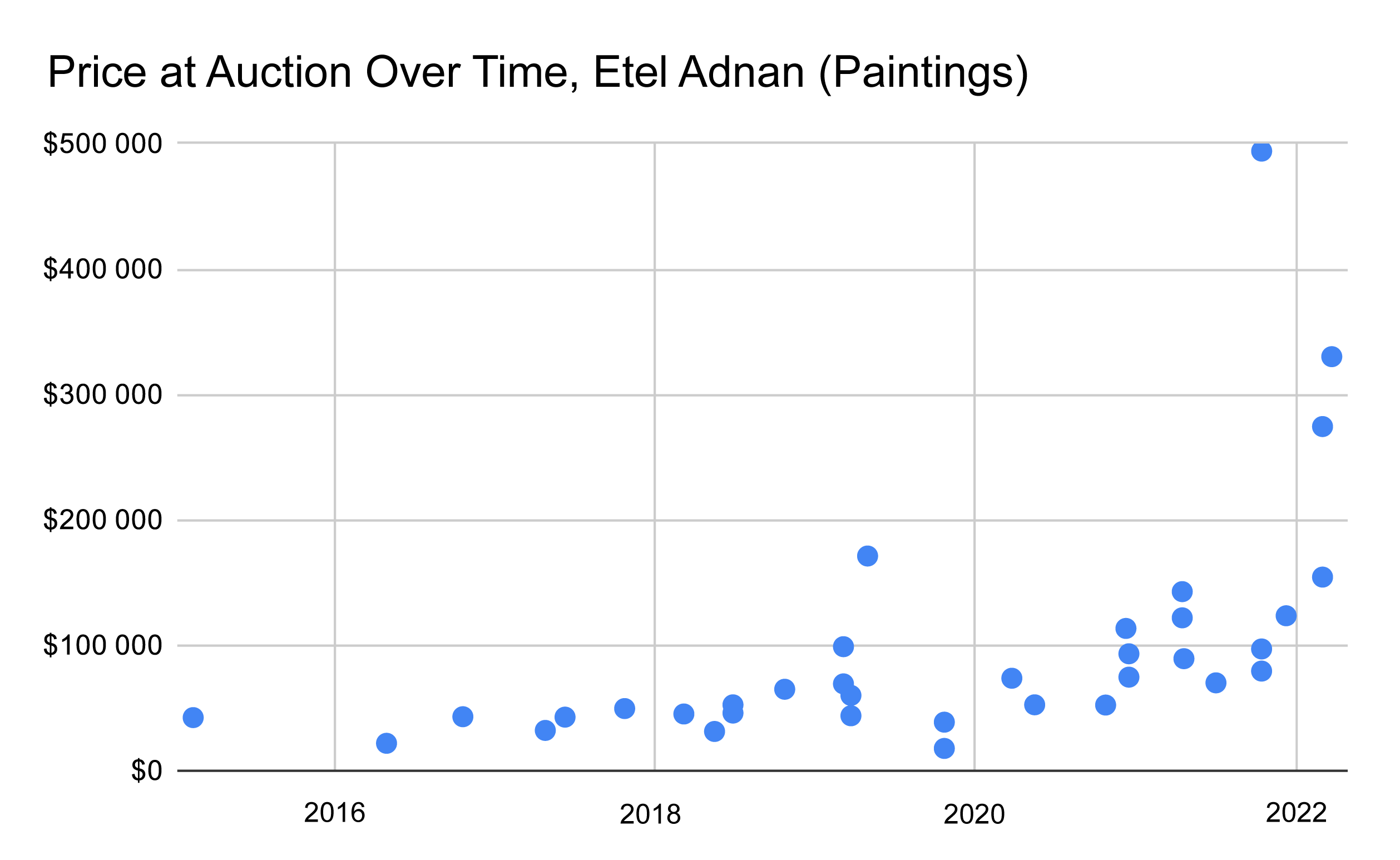 Etel Adnan paintings at auction
The first auction record in LiveArt's database is the sale of a painting in February of 2015. Considering that her work was almost entirely unknown before the Documenta show, that's a fairly quick market emergence. Over the next seven or so years, $3.4 million worth of her paintings would be sold at auction. The highest price paid being a work from 1973 that sold in October of 2021, only weeks before her death at 96, for $494,010.
There were a smattering of paintings sold in 2016, 2017 and 2018 but still not enough work to suggest there was sufficient market liquidity or demand. In 2019, 8 paintings sold for prices up to $171,148 for a total of $573,001 and an average price of $71,625. These were good numbers but still not significant especially given the quality of her work and the international appeal and institutional support her art was receiving.
We all know that 2020 was hampered by the dislocation of the global Covid-19 pandemic. Nevertheless, Adnan's work sold at a similar pace to the year before. In 2020, it was six works that made $459, 627 or an average price of $76,604. The top price that year was a reassuring $113,400.
The next year was a breakout moment for artist even if it was also capped by the sad end to her very long life. In 2021, another eight paintings sold for $1.2 million which doubled the average price to $150,000. The highest price was noted above at nearly half a million dollars but three other works sold for more than $120,000 confirming the low six-figures as a reliable price point for her work.
So far in 2022, the confirmation prices continue to appear. Three works have sold in 2021, all for prices over $150,000. Two of the works made prices in between the new high-water mark and the old high prices. That's a good sign for any artist's market.
Given these trading patterns, the auction houses are surely trying to source works. Of the top 10 auction prices achieved, only three of the works were acquired through galleries. All of the rest came directly from the consignor's relationship with the artist. That makes it hard to source supply. Strong prices should make it easier.