Contemporary Art
FUTURES: Louis Fratino's Touching Figures
As Fratino's market develops, collector tastes favor his signature male nudes
Through museum shows and Instagram posts, Salman Toor, Doron Langberg, and Jenna Gribbon have emerged as leaders of a movement of Contemporary artists employing figurative painting to further queer representation. One young artist in this movement, Louis Fratino, has generated a strong collector base through a consistent schedule of gallery and institutional shows; however, his market momentum leans toward a particular type of work.
Fratino's most sought-after paintings are his intimate depictions of young men. They have a genuine tenderness. "Although acutely following the tradition of artists like Pablo Picasso and Marc Chagall," Sophia Larigakis wrote in Artforum, "Fratino's canvases are neither derivative nor pastiche. Rather, in a stroke of generative revisionism, the works […] inscribe the straight art-historical canon with the prosaic and intimate junctions of gay life today."
Fratino's successful and consistent gallery shows bolstered the initial momentum in his secondary market. In the spring of 2018, Morning Glory was acquired from Fratino's solo exhibition Night and Day at Jeff Bailey Gallery in Hudson, NY. By the spring 2021 auctions, three years later, Fratino had mounted three additional solo gallery shows, two in New York and one in Paris.
Fratino's first work was auctioned in April of 2021. Pit Stop, 2016, his debut lot, sold at Sotheby's in London for $55,476 over a $13,787 estimate. That Fall, Tristan Dancing, Venus, 2017 sold for three times the amount. This spring at the New York auctions, Tristan Drinking Soup, 2017 pushed Fratino's prices further when it sold at Christie's for $365,400 over a $50,000 estimate.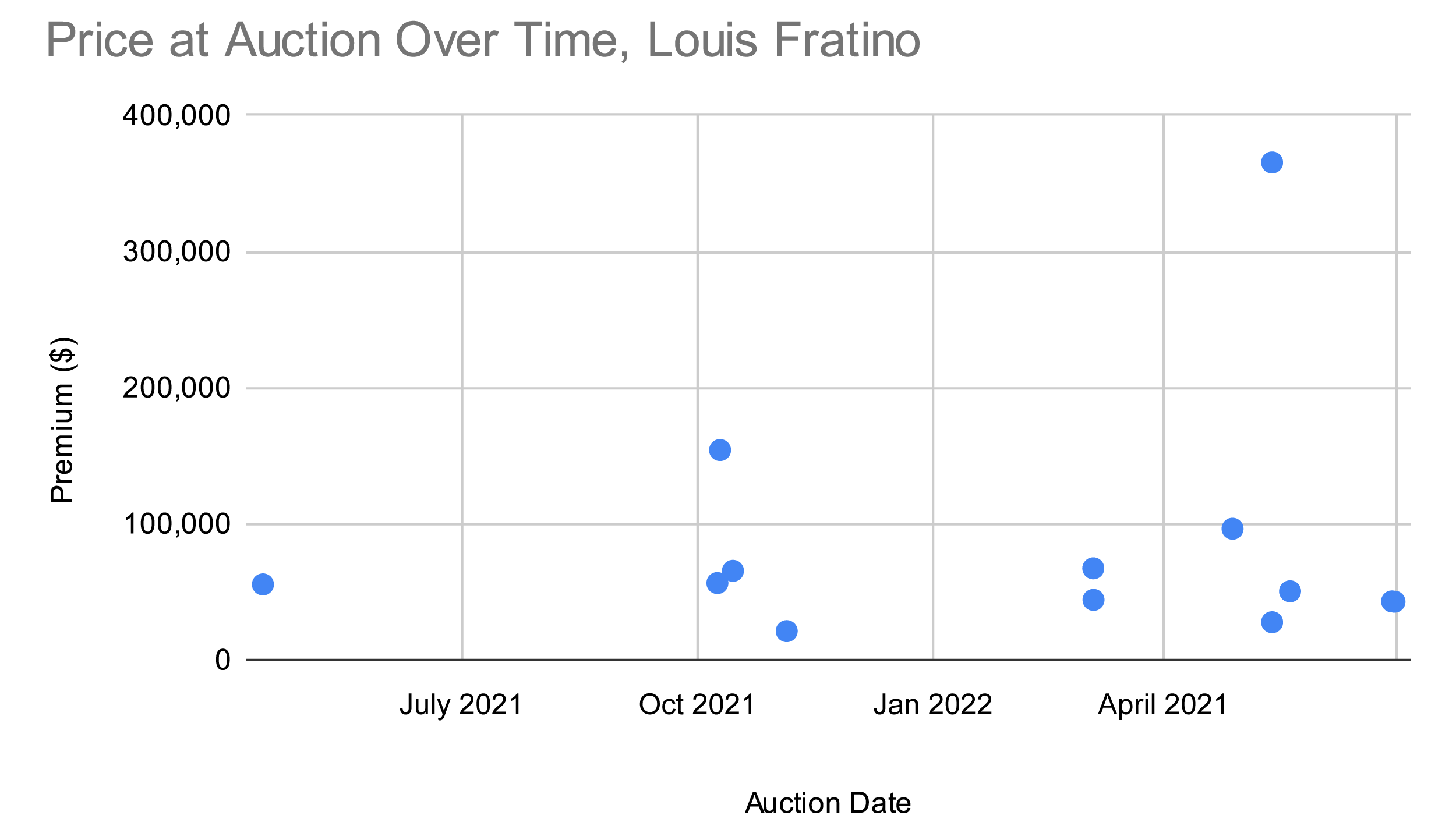 That's a rapid pace for any artist's market to maintain. Looking to the fall 2022 auctions, collectors and market makers will want to see some additional prices achieved between the $150,000 level and the $350,000 record. With works by Fratino trading hands privately for $150-$250k, the future of Fratino's market depends upon the pricing and placement of his more recent works—and further demand.
In a recent Artelligence podcast covering the Hot List for Spring 2022, LiveArt's George O'Dell noted that subject matter in Fratino's work really does matter. There is demand for single-male nudes, portraits, and images of embracing figures.
Here's a better illustration. In October 2021, Fratino's second season at auction, Morning Glory, 2017 was offered at Phillips in London. The painting of a flower sold for $65,438, almost eight times the estimate. The sale wasn't isolated either. Three other works in the fall sales also outperformed their estimates.
The next season, the collector who purchased Morning Glory assumed overall interest in Fratino would mean his work could be resold at a quick profit. He consigned the picture to a Day Sale at Phillips in London. It sold for $42,998, only two-thirds of what the seller had paid.
Fratino's popularity was not waning. That same spring season, as previously noted, a record sale was made alongside other successful lots. But each of those sales featured an image of a male figure, not flowers.
Fratino's practice encompasses paintings, works on paper, and more recently freestanding and relief sculpture and copperplate etchings. He continues to develop familiar themes of male figures lounging and loving. Body parts are distorted, and almond-eyed men look like they're ready to doze.
Fratino just closed two solo exhibitions, one at Galerie Neu, Berlin and the other at Ciaccia Levi, Paris (these galleries, alongside Sikkema, Jenkins & Co. in New York, currently represent the artist). Fratino also has institutional support with work in the collections of the Whitney Museum of American Art in New York and the Institute of Contemporary Art in Miami.