Contemporary Art
Ghana's New Generation of Artists Have Something to Say
Phillips and Artemartis are showing the social consciousness of the internet generation in London.
In the midst of a market hungry for contemporary African art, Phillips has partnered with Ghanaian-based art collective Artemartis to present "Birds of a Feather," on view February 1st through 10th, 2022 at 30 Berkeley Square. The exhibition includes eighteen artworks by six artists represented by Artemartis, an agency that supports local talent in Ghana. The artists exhibited include Awanle Ayiboro Hawa Ali, Courage Hunke, James Mishio, Araba Opoku, Abdur Rahman Muhammed, and Kwaku Yaro.
"The lines, shapes, colors, geometry" that the artists use in their pieces, says Selasie Gomado founder of Artematis in an interview, "show that Ghana is blessed." Panning his phone camera around the Artemartis space, Gomado focused in on a painting by Courage Hunke. Hunke's most recent work focuses on the elderly women in Ghana who are sent to witch camps, forcibly removed from their homes and ostracized. In the background of his portraits such as As I am (I), Hunke employs tribal patterns to represent specific towns in Northern Ghana. By associating his sitters with regionally specific tribal patterns, Hunke emphasizes their roles as members of a community. Their classification as outsiders—as supernatural beings—is what Hunke wants to undermine. Although Hunke and his peers have varied aesthetic strategies—some engage with portraiture, others turn to abstraction—all of the artists in the exhibition take the Ghanaian community as their ultimate theme.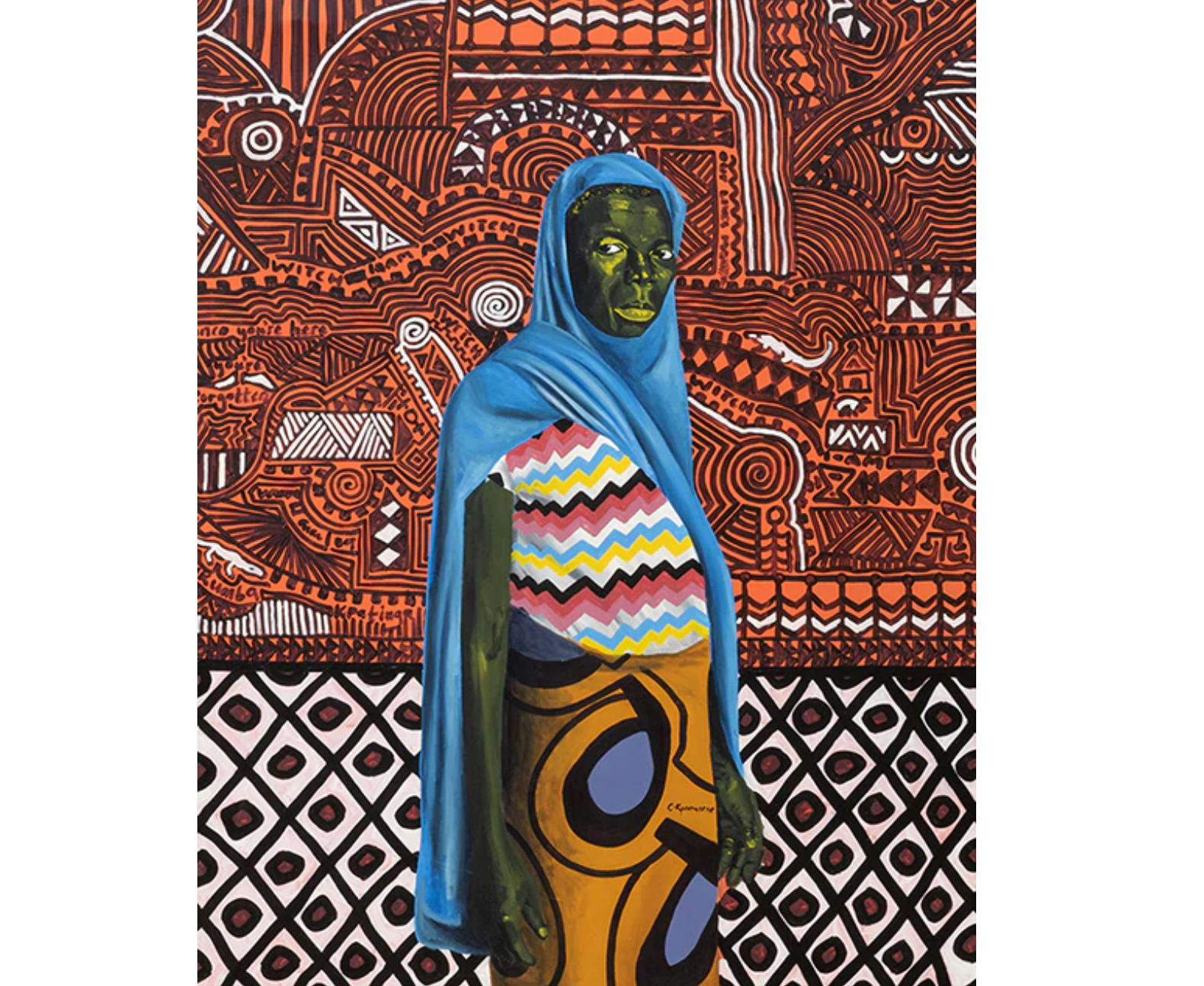 Courage Hunke, As I Am (I), 2022
Artemartis helps its young artists navigate the art market by connecting them with local collectors, auction houses, and galleries. Gomado noted that a burgeoning local collector-base has taken root in Ghana over the past few years. In speaking with them about the value of collecting, Gomado explains that he "talks to them about having a part of Ghana's history." In addition to local collectors, Artemartis also maintains strong relationships with prominent galleries in Ghana such as Gallery 1957, Ada Contemporary, and the Nubuke Foundation.

Artemartis' artists are notably young. Every artist in the show was born between 1992 and 2000. Gomado emphasizes the different perspective they bring to the art world. "Most of the artists witnessed," he says, "the transition between before the internet and when the internet was introduced to the world." Gomado sees this as the source of their heightened social consciousness. It led, he says, to "a gap between the older generation and [the artists'] generation, evidenced in the works they produce."
"All my artists paint about societal issues," Gomado goes on to explain. "It is more about finding a solution to the problem through their art than it is about aesthetic itself." Gomado illustrates this idea by training his phone's camera on the work of James Mishio. Mishio's paintings comment on Ghanaian class structure through hair styles. To older generations, braids and dreadlocks have connotations of crime. Mishio's paintings visually break down this conception and reassociate the hairdos with youth and pride. In Ogling Look, Mishio's subject sports one of these feared hairstyles together with confident a confident pose and stylish dress.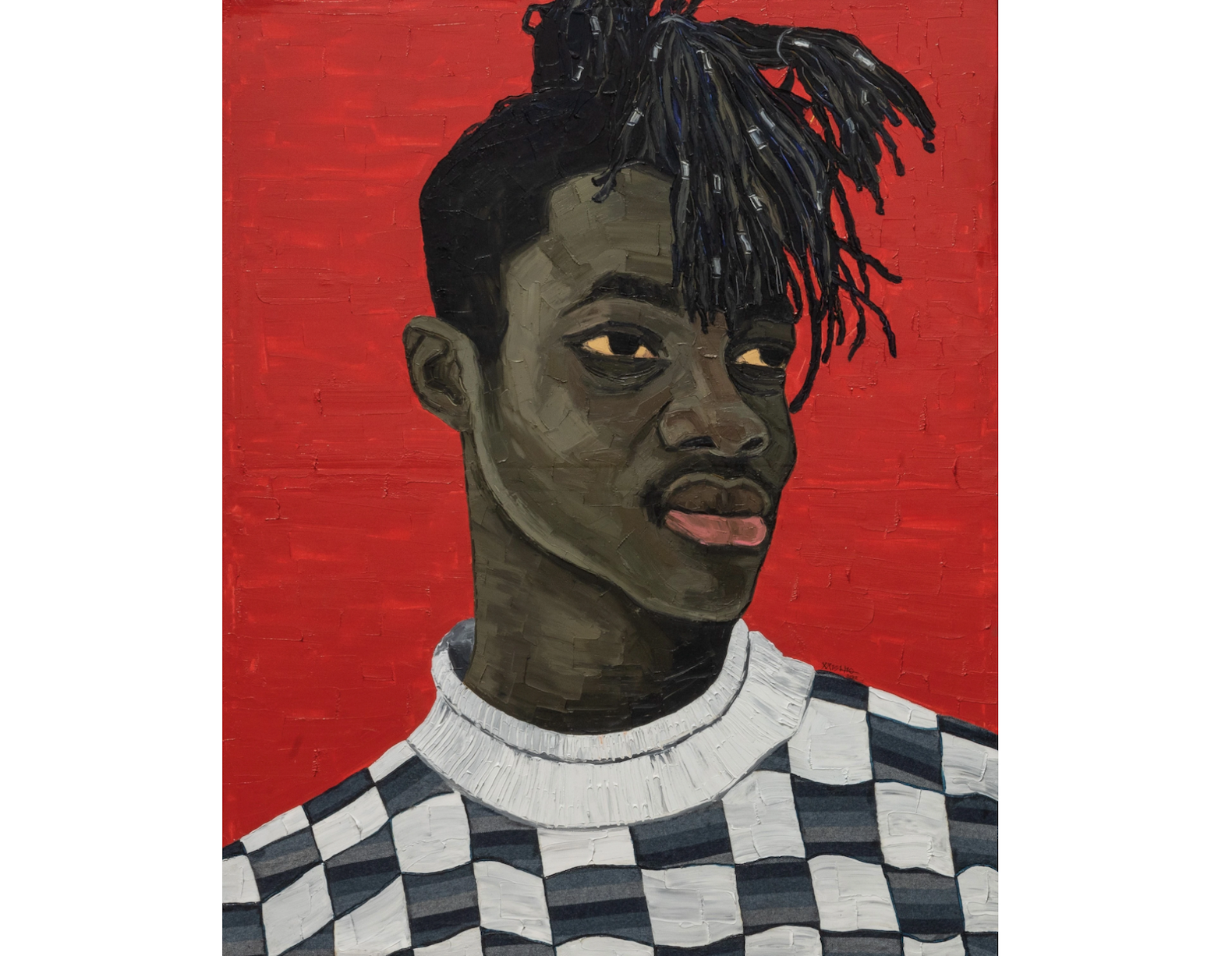 James Mishio, Ogling Look, 2021
For one artist included in the exhibition, the internet is not only a source of social awareness but also a cause for activism. In his paintings, Abdur Rahman Muhammed depicts the negative effects of the internet on the youth of Ghana. With a class of college-educated young adults facing joblessness, a growing group of young people in Ghana turn to internet fraud, email scams, and money laundering. Rahman's portraits emphasize the fleeting material wealth and lingering societal toll brought on by having so many young people make money through fraud. Rahman depicts this in American Boy by showing a young man with both a Telfar bag and a saddened stare.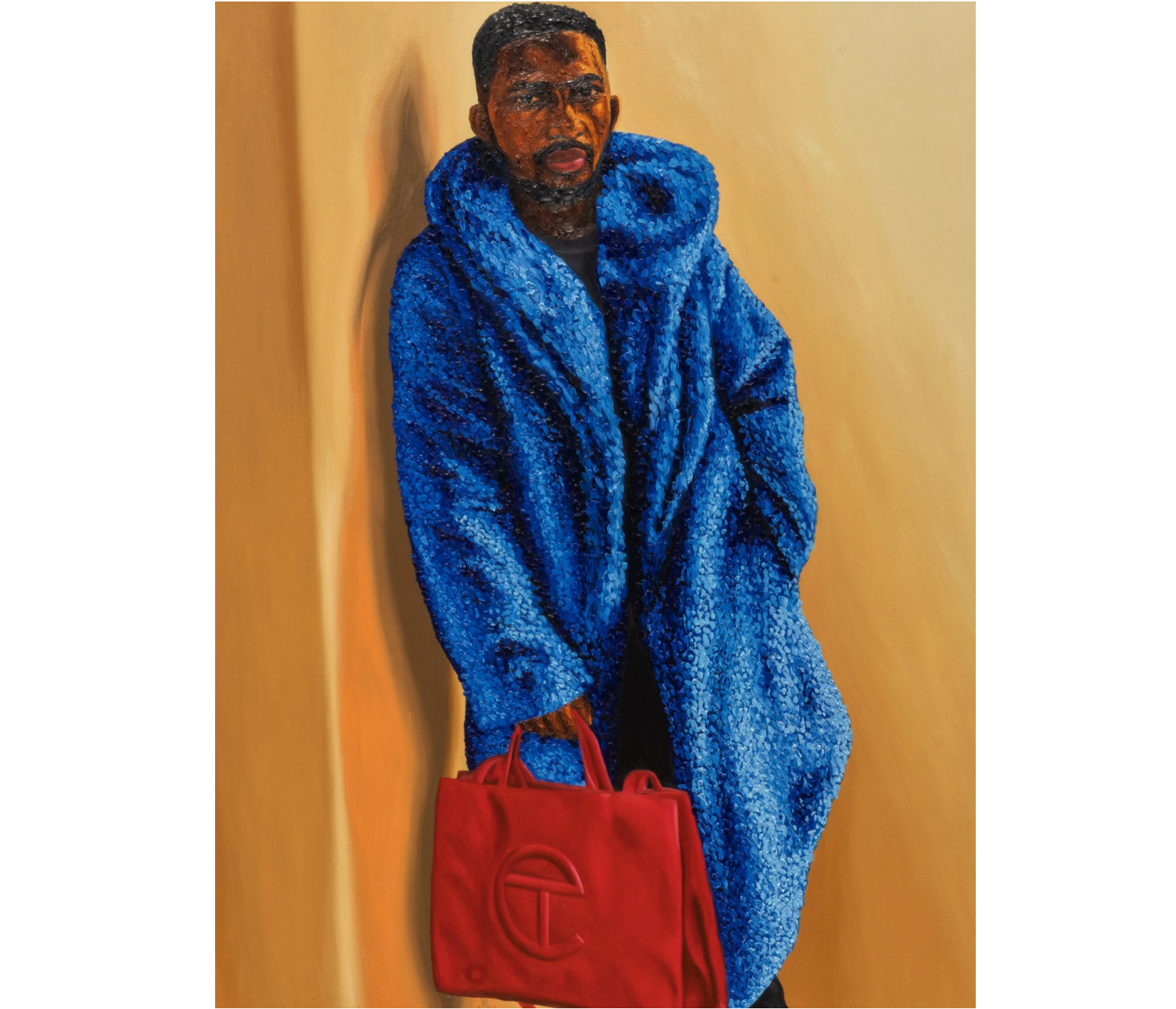 Abdur Rahman Muhammed, American Boy, 2022
Gomado attributes the global success of Ghanaian art to this theme of social engagement. "Some collectors," Gomado says by way of explaining the growing fame of Ghama's artists and their social message, "fall in love with the story before the art itself."