Contemporary Art
Kusama, Richter & Basquiat Dominate Market Share in Hong Kong
Collectors look for value and break-out works by Condo, Calleja and Huang Yuxing
Hong Kong's HKD 2.68 billion ($344 million) sales at Christie's and Phillips were a surprising mixture of global, Western and Asian artists. There were a number of breakout sales for artists with relatively brief sales histories and works very recently made. There were also strong sales for artists with decades-long careers.
The top two artists in these sales by market share were Yayoi Kusama, who saw a record set for a work of hers at auction and another sale that was now in third position on the list of her most valuable works sold publicly. Almost $33 million was spent on 21 works by Kusama giving her a market share of 9.41%. Half of the works sold for prices within the estimates and half for prices above the estimate range.
Gerhard Richter had only two works sell in Hong Kong. One of those works was sold for a compromise price below the low estimate, the other for a price above the estimate range. The value of Richter's abstract paintings is so great that even with that straddle around high and low estimates and only two works more than $31 million was spent. That was enough to give his work 9.02% market share.
Jean-Michael Basquiat's work was represented by one high-value work that sold for $21 million and another work on paper that sold for $563,359. Together they gave Basquiat 6.24% market share.
Sanyu and Zao Wou-ki are two of the most valuable and consistently represented artists in Hong Kong auctions. The Sino-Franco artists' work has long since been "repatriated" from France to Asia. Some of the fervor around buying them has cooled but they remain integral components of the Hong Kong auction market.
Sanyu is the less prolific artist. The seven works by his hand at auction in Hong Kong had the full range of outcomes: one was bought in; two more were sold for prices below the low estimate, including the highest value lot which made $12.9 million; two were sold within the estimate range; and two were bid above the estimates. One of the works bid over estimates achieved the same price, $2.8 million, as one of the works sacrificed below the estimates. The works were from the same year, 1930. They were both paintings of flowers in vases. The market valued them at the same level even though the low estimates were HKD 20 million apart.
Zao Wou-ki had 8 works on offer in Hong Kong. He too saw a similar full-spectrum result. One low-value work was bought in; two works, one of mid-six-figure value and another that sold for $2.8 million, sold for compromise prices; five works ranging in value from the most expensive $6.9 million to $105,461 were sold within the estimates; and one, 20.5.94 was bid to twice the low estimate, selling for $1.19 million.
In mature markets, buyers seek specific works for a variety of idiosyncratic reasons. Having the majority of works sell for prices within the estimate range is a clear signal that buyers and sellers agree upon the values presented by the auction house—and, by extension, the broader market.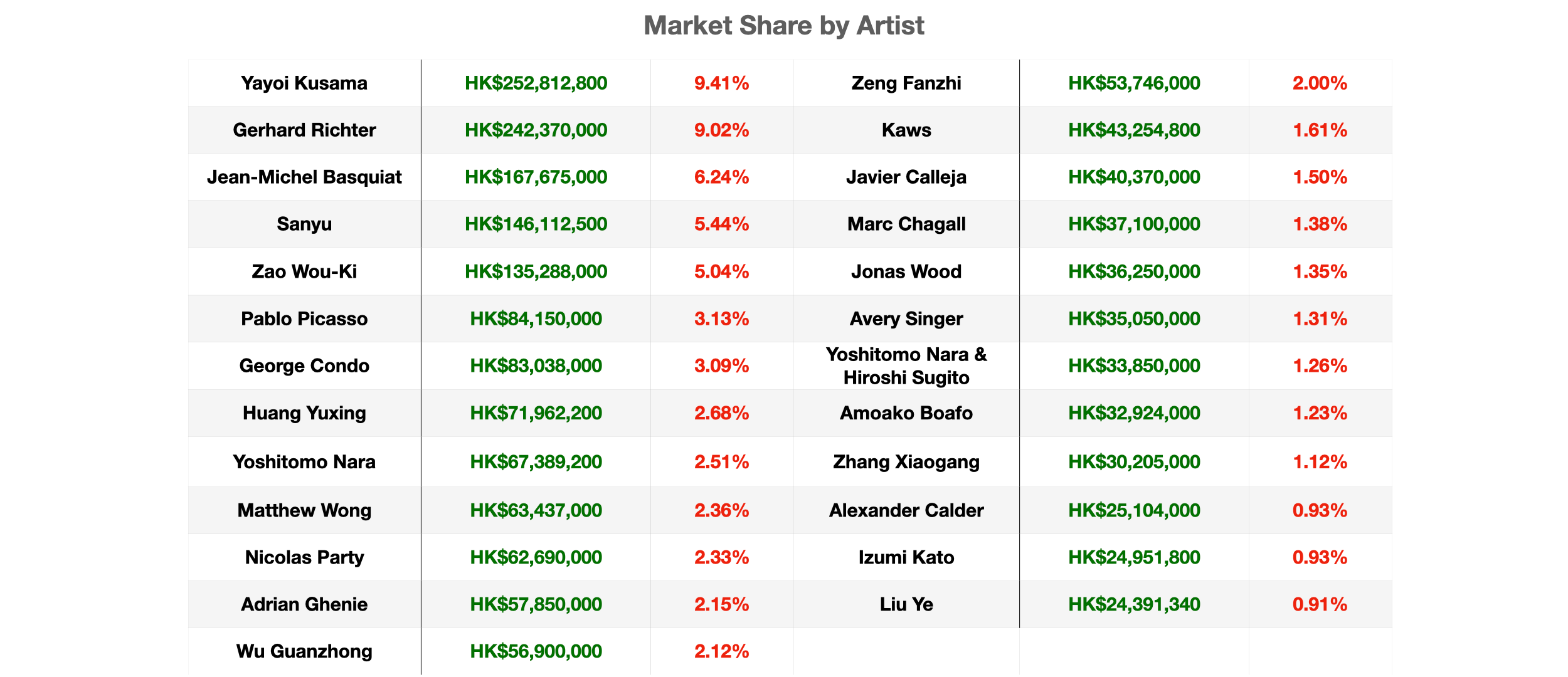 George Condo's work remains popular in Asia. The 3.09% market share in the December sales is a solid indicator of that demand. Nine lots by the artist were offered; eight sold; four failed to reach the low estimates but still sold; two were sold within estimate range; and three works saw strong enough bidding to top estimates.
The Dreamer was one of Condo's works to attract the most bidding. The 2008 image of a clown—a popular figure in Asia—had never been on the public auction market before. Estimated in the high six figures, it sold for $1.4 million. Rodrigo and His Muse has a more interesting market history. The work was acquired by a "Miami collector" directly from the artist and then sold privately. The buyer eventually consigned the work to Sotheby's in November of 2019. It sold there for a solid $740,000 at the high end of the estimate range. That buyer turned around to sell it this December at Christie's in Hong Kong with an estimate lower than the previous sale. The consignor was rewarded for the attractive estimate with a bidding war that doubled the selling price. The seller netted $897,000 or a $157,000 profit after two years holding.
Huang Yuxing's work made up 2.68% of the dollar volume spent on art in Hong Kong during the first week of December's sales. Huang's work has been gathering momentum on the auction market. His market has grown rapidly in the last few years due to strong base of museum shows in Asia and expanding gallery representation around the world, including Johan König, Whitestone gallery and Almine Rech.
In the Spring of 2019, his work broke through the $250,000 barrier. In the Summer of 2020, a painting broached $1.1 million. In May 2021, that level was confirmed again with a $1.19 million sale followed in June with a $747k price. In this Hong Kong cycle, there were six paintings offered. All of them sold with two making prices within estimates and four selling for prices above the estimate range. None of those strong prices would have prepared spectators for the sale of Seven Treasure Pines from 2019 which made $8.35 million or more than 19 times the low estimate on the basis of hammer price.
Yoshitomo Nara's work comprised 2.51% of the spending. Eight lots were offered; half sold above the estimates and the other half within the estimate range. An additional lot that was a collaboration with Hiroshi Sugimito made a healthy $4.35 million to be highest value work by Nara to sell in the cycle.
Only four works by Matthew Wong were sold in Hong Kong but he still posted a significant market share even as some in the industry have expected his market to cool. Wong's market may fade some day but it wasn't this day. All four works sold for prices well above the estimate range for an average hammer ratio of 2.5. One lower value work sold for four times the low estimate. The average and median value of Wong's work were closely aligned near $2 million. The high price among the lots of $3.74 million was also the seventh highest auction price for the artist's work.
Those are the top ten artists by market share. Further down the list there are a few interesting stories. Nicolas Party saw all three works sell at an average hammer ratio of 2.6. Moreover, each work found itself in a relatively tight price band in the $2-million range. One work sold for $2.2m; the other two works were closely aligned near $2.9 million.
Zeng Fanzhi's market has not seen sales at the $5 million level in nearly a decade with the one exception of a painting sold at China Guardian in 2018. With those reference points, it is not surprising that Christie's estimated This Land So Rich in Beauty No. 2 (2010) at the $1.25 million level. The work had been acquired directly from the artist and the only two other works from this era of Zeng's career sold at the $5 million level were auctioned in 2011 and 2013 respectively. In May, Christie's had sold another 2010 landscape for $2.65 million. A solid reference price and a work offered with an attractive estimate are all formula's for bringing in bidders. And it worked. This Land So Rich in Beauty No. 2 sold for $5.13 million.
KAWS is an artist who first gained traction in Asia; saw his market explode; and now has seen steady sales at reasonably strong prices. The noteworthy lot in the Hong Kong sales was a rare early advertising work (which some believe to be KAWS's best work) that had been in the consignor's possession since he acquired it directly from the artist. The image was bid to 4.75 times the low estimate to sell for $1.5 million.
Spanish artist Javier Calleja joins a group of artists, like KAWS, who built their markets from the collectibles side up to the higher value paintings. Calleja's market continues to gain strength, especially in Hong Kong. Six of his works were sold in this cycle; only one of them was for a price within the estimate range. The rest were bid well over the estimates, an average of two times the low mark. The most valuable work of the group sold within the estimate range but still set a new record for Calleja's work. The single lot comprises 30 works on paper from 2017 at the moment when the artist, "first debuted his wide-eye boy characters at AISHONANZUKA in Hong Kong."