Auctions
LiveArt After Action Report: The Collection of Anne Bass & 20th Century Evening Sale (Christie's New York)
The Ernie Barnes bidding war and the final victory of Anne Bass
The Bullet: $831,261,500 with 100% sold (53/54) with a hammer ratio of 1.23
Composition of Results: 35% above/ 40% within/ 25% below estimates
Hammershoi and Morris Louis were the artists that saw the most dynamic bidding in the Bass sale; you can see more details in our After Action Report statistics. To see, click here.
Asian clients bid, but they didn't buy: Christie's brought Tan Bo, their Shanghai based business-getter to New York. Others bid by telephone into the NY saleroom or with colleagues in Hong Kong, but although there seemed to be a bigger presence among APAC bidders, the buyer stats still didn't show strong numbers. The Bass collection had bidders from 11 countries. The buyers were 73% North American; 18% from EMEA; and only 10% from APAC. The various owners sale had buyers 39% from North America; 50% from EMEA; and only 11% from APAC.
Tender is the Night: Christie's Evening sales totaled $1.25 billion with as many as 800 lots still to be sold in several day sales.
Perhaps the best bidding battle ever staged: Bill Perkins, a Houston hedge fund manager, came to Christie's to win Ernie Barnes' Sugar Shack II, a painting made famous on a popular sitcom when Perkins was a kid and on a Marvin Gaye album cover. Perkins is a poker player. He's clearly comfortable throwing around big sums. Seated in the furthest back row, he shouted his first $500,000 bid like he was never going to get another chance. He could have been more patient. Dane Jensen, an Los Angeles-based art advisor seated three rows in front of Perkins, was almost as equally determined—and a bit cooler about his bidding. At one point, Perkins looked over at Jenson and said, with some resignation, "I'm going to make you pay for it." He should have been more confident. In the end, the advisor declared $13 million an unlucky number and capitulated. Perkins high fived his blonde companion and then kissed her. The room exploded in genuine applause.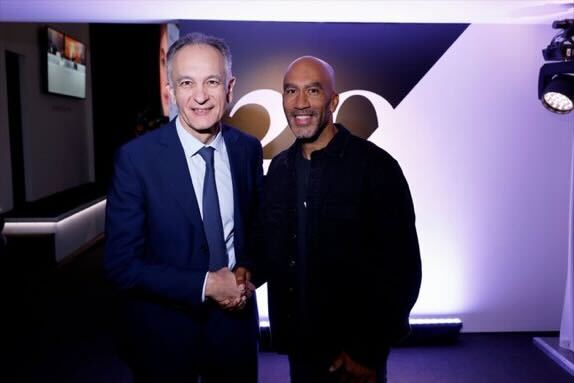 Bill Perkins
Lucas on the lips: Observers guessed the underbidder might represent Mellody Hobson, a patron of the Lucas Museum of Narrative Art in Los Angeles. Then, again, others had the Lucas as the underbidder on Emanuel Leutze's Washington Crossing the Delaware that sold for $45 million.
No room at the top: The Leutze and the Barnes were among the few top works in the various owners sale that outperformed. Others were the Monet snow scene that was being restituted—it sold for $25.5 million—and a Renoir depicting Berthe Morisot and Julie Manet that made $24.4 million over a $10 million estimate. Detailed lot performance metrics can be found here.
Anne Bass won the night: Her collection of 12 paintings brought in $363,087,500. The Rothkos both sold for $2 million below the low estimates but they still made $116,425,000 together. The Degas made $53,527,500 led by a huge jump for a Petite Danseuse a 14 ans at $41 million. The previous example to sell made $24 million. The two Balthus works made $14,022,500. Even her Morris Louis and Vilhelm Hammershoi both did exceptionally well. The Louis veil painting made $3.9 million. The Hammershoi sold for $6.3 million. Bass's most sought after works were probably the three Monet paintings that brought in a total of $168,912,500, led by the Houses of Parliament that sold for $75.9 million.