Auctions
Sotheby's Bets on a Katz Breakout
As more works from Katz's prime period in the 1970s come to auction, could his market finally get momentum?
It's a big auction season for the most famous names and for emerging talent. But there's also a few familiar artists whose work seems poised to try to break out of past sales patterns. A prime example is Alex Katz who has 10 works on offer at Phillips, Christie's and Sotheby's in the coming weeks. The appearance of so many Katzes at once isn't really a surprise to anyone who has been to an art fair recently where Katz seems to be on every other secondary market booth.
What's missing in the equation are a couple of strong auction prices above the normal price band. As an artist Katz has been hard to pigeon hole because he came of age in the heyday of Abstract Expressionism but built a career as a figurative artist. His work has also struggled with the impression that it somehow belongs in the category of pop art. The renewed interest in figurative art over the last half decade combined with more concerted representation, support from a museum dedicated to his work at Colby College and a general appreciation for his long career have resulted in what may be a market moment.
Sotheby's has the two works that are best poised to make an impact. Looking at a chart of the last five years of Katz sales, one can see that a previous moment took place in the Fall of 2019 before the pandemic. Phillips was able to sell Blue Umbrella I from 1972 for a powerful new record price of $4.1 million. The price was well above any other public price recorded for the artist but the image had a history in the art market.
Blue Umbrella No. 2 from the same year had previously been a breakout sale in November of 2001 when it made what was a very strong number for the time at $666,000 at Christie's. That sale seemed to be a harbinger of more strong sales to come. Unfortunately, Katz's market was never able to gain momentum again. Katz's prices remained in the six figure range for most of the two decades in between with private dealers occasionally commanding seven-figure prices for sought-after works like the seventies-era dual portraits.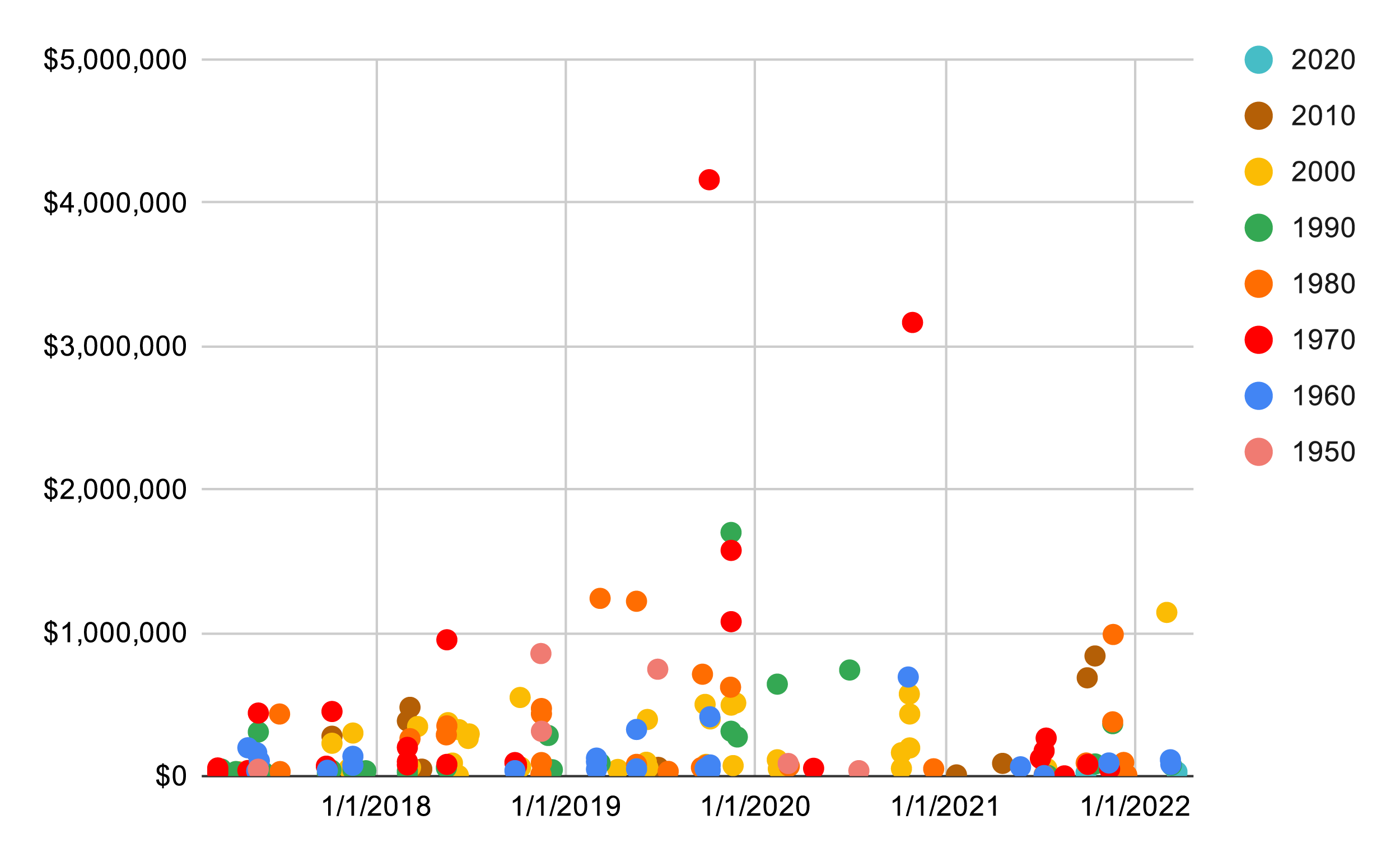 Alex Katz painting sales by decade created, 2017-2021
In May of 2018, one of those, The Light I from 1975 made $951,000 at Sotheby's. Since then, there have been eight public sales above $1 million, including the record at over $4 million. In October of 2020, there was a confirmation price at $3.1 million for one of Katz's distinctive mirror portraits depicting the subject in two positions across the canvas.
With estimates at $1.5 million for East Interior from 1979 and $2 million for Rackstraw & Pamela from 1976, Sotheby's is hoping to either fill in the price gap between the six works that sold with a $1 million price and the two that sold above $3 million—or, even better, to see bidding push one or both of these works (Rackstraw and Pamela the likelier candidate) to a new level.
Underbidders for the 1970s works might not be interested in some of the other paintings on offer but Phillips does have a small (for Katz) work from 1959 before the artist began to paint much larger works that has a $150,000 estimate. Christie's has a bright pink portrait of a young woman with red hair, Kristen from 2005, that carries a $300,000 estimate. Their highest price work is an eight-foot-tall close-up titled Man with Brown Hat from 1979 with a $700,000 estimate. Whether the estimate is set to attract bids or reflects the less glamorous subject matter is question we'll all have to wait until next week to learn the answer.