Contemporary Art
Sotheby's Contemporary Curated = $37,948,512
Demand for emerging art continues to out-pace supply but the momentum slowed slightly at Sotheby's
Sotheby's Contemporary Curated sale in New York reached $37,948,512 in sales with 147 of the 177 lots finding buyers. A full 36% of the lots or 65 works made prices over the estimate range, reflecting the persistent demand for works at this end of the price and market spectrum. Another 31% of the lots were sold within estimates; 14% sold at compromise prices, and 16% went unsold.
The hammer ratio—the overall hammer price divided by the aggregate low estimate—for the sale was a solid 1.1, which is a below the levels of other houses even though Sotheby's sold more than its two rivals combined. A rising number of unsold lots accounts for much of this settling in the dynamic score.
The artists who saw the most dynamic bidding were Jordy Kerwick, William Monk, Frank Bowling, Maureen Gallace, Shara Hughes, Noel W. Anderson, Mary Lovelace O'neal, Oluwole Omofemi, Stanley Whitney and Kassou Seydou.
The works that achieved the highest prices were buy Joan Mitchell, Wayne Thiebaud, Shara Hughes, Jonas Wood, Maria Berrio, Javier Calleja, Cecily Brown and Yoshitomo Nara.
This chart below shows the top 25 lots by hammer ratio. The x-axis is the strength of bidding recorded in the hammer ratio; the y-axis is price achieved. One can see that most of the sales took place below $500,000 and a hammer ratio of 5.0. There were a few outliers in Jordy Kerwick and William Monk, on the one hand, whose work sold for well above estimates but still in the mid-six figures; and Shara Hughes, Maria Berrio and Yoshitomo Nara, on the other hand, whose work sold for prices above $1 million but with relatively restrained hammer ratios.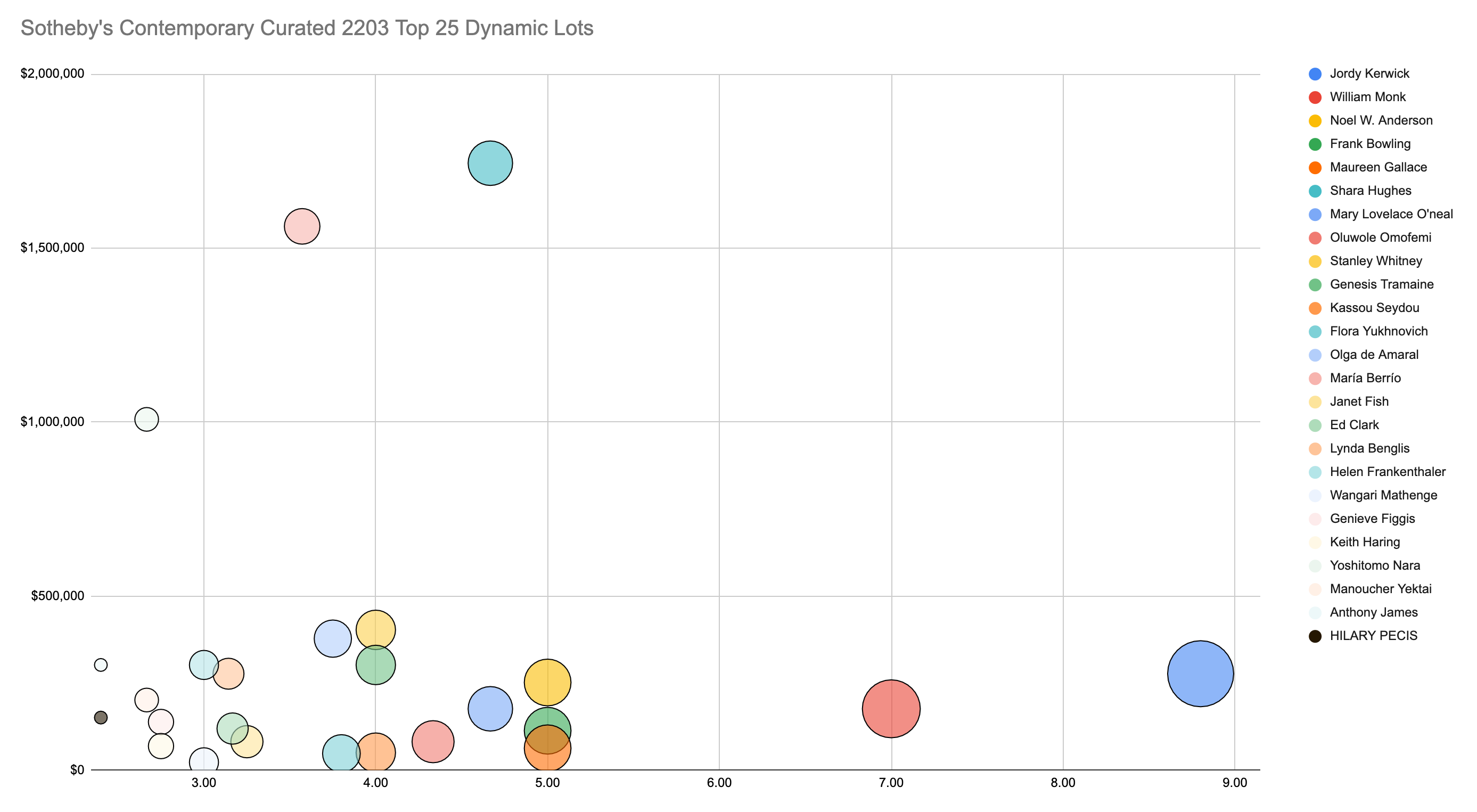 Shara Hughes was the only artist to appear on both lists. A chart of of the top 25 works by price is below. The x-axis reflects the strength of bidding through the hammer ratio; the y-axis shows the price achieved. One can easily see that the majority of the works land in the region below $1 million in price and with a hammer ratio below 2.0. Half of the outlier works saw limited bidding on prices above $1 million. The other half that saw strong bidding were all sold for prices below $2 million. None of this should be considered out of character for mid-season sales that focus on the middle market.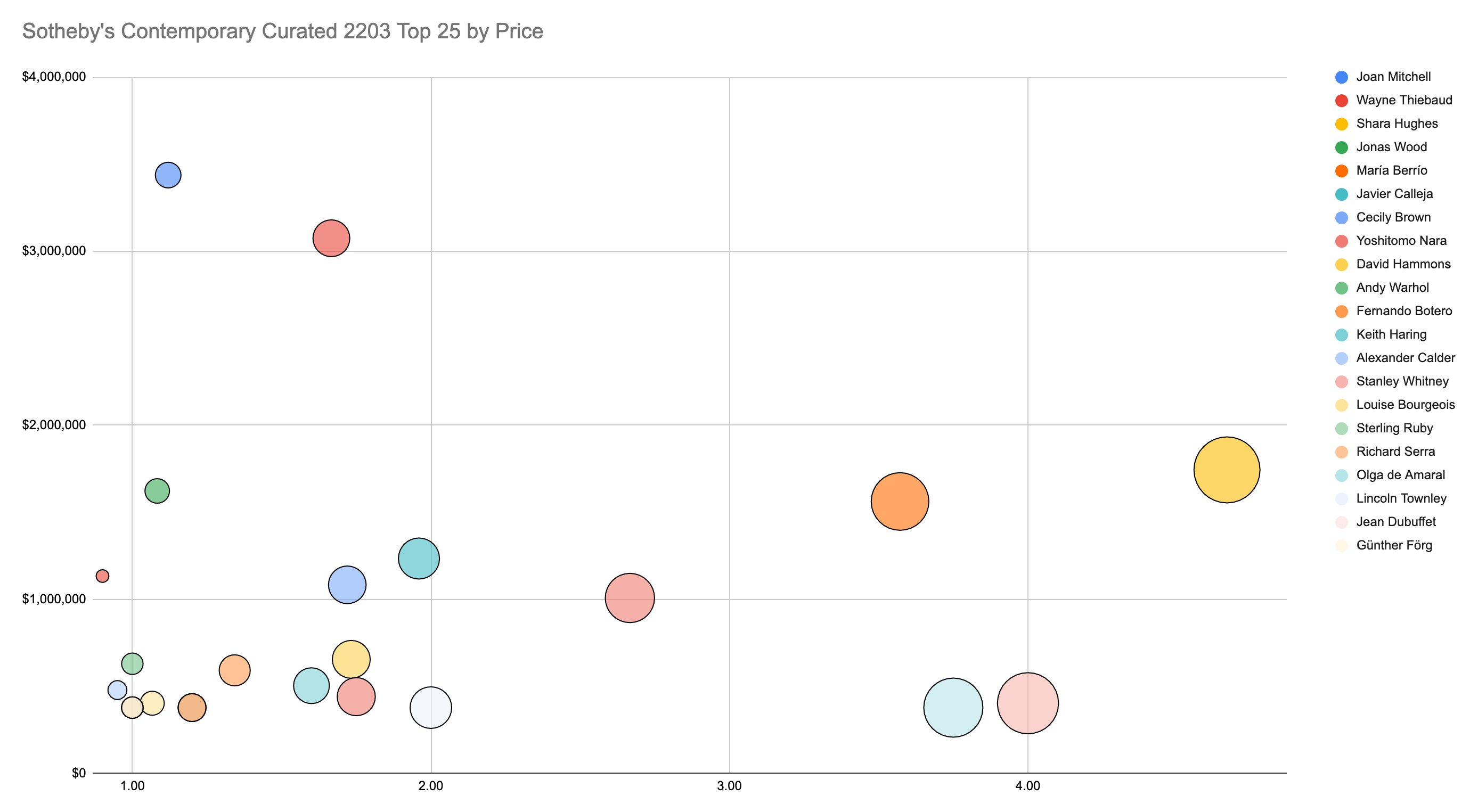 Among the top 10 prices at Sotheby's Contemporary Curated sale, only three works—by Hughes, Maria Berrio and Nara—saw deep bidding that would drive prices above the two times the low estimate. Two more works well below $1 million saw similar bidding. This result is simply a reminder that estimates—which can be artificially suppressed to create the appearance of stronger outcomes—are catching up with a number of artists whose markets continue to experience sustained runs.