Auctions
Taking Aim at an Auction Record for Kenneth Noland's Targets
Sotheby's and Christie's dueling target paintings might cause a market overhaul for the Color Field painter
Though his paintings sit on the same textbook pages as Morris Louis and Helen Frankenthaler, Kenneth Noland's prices on the secondary market lag behind his peers. That could change this month as two Noland works come up for auction with $3 million estimates, which puts the works near the very top of Noland's price history. The paintings—one at Christie's and the other at Sotheby's—are highly comparable in scale, imagery, and price. Either (or both) of them could reset the artist's record of $4.25 million set just last year.
"This auction cycle," explains Dakota Sica, Director of Leslie Feely Gallery and a well-known Color Field expert, "Sotheby's and Christie's have two comparable works from that period: two "dueling" targets." Christie's is offering Lunar Episode from 1959; Sotheby's has Blue Extent from 1962.
"In Noland's oeuvre," Sica says, "these targets are the most sought-after paintings–the early sixties works that look like bullseyes." With cool blue tones and uninterrupted rings, "the target at Sotheby's is very serene and uniform, a classic example." Christie's target, on the other hand, "has that more AbEx-y gestural quality," Sica says. It also has a decorated exhibition history that includes the 1977 Noland retrospective at the Guggenheim. "It has all the trimmings, so to speak, to set a record price."
The current record for a Noland painting at auction is held by a smaller target painting with similar gestural marks. Rocker, 1958 sold in May 2021 for $4,255,000 over a $2,000,000 estimate. More than 700 works by Noland have sold publicly at auction. His prices have seen a fairly uniform increase since his death (and subsequent second Guggenheim retrospective) in 2010. The exception is an anomalous sale in 1989. In that year, Empyrean, 1960 sold for $2,035,000, more than three times the previous record. The same work caught the attention of the art world less than a decade prior in November of 1981; it sold for $300,000, which was, at that time, the highest price ever paid at auction for the work of a living American artist.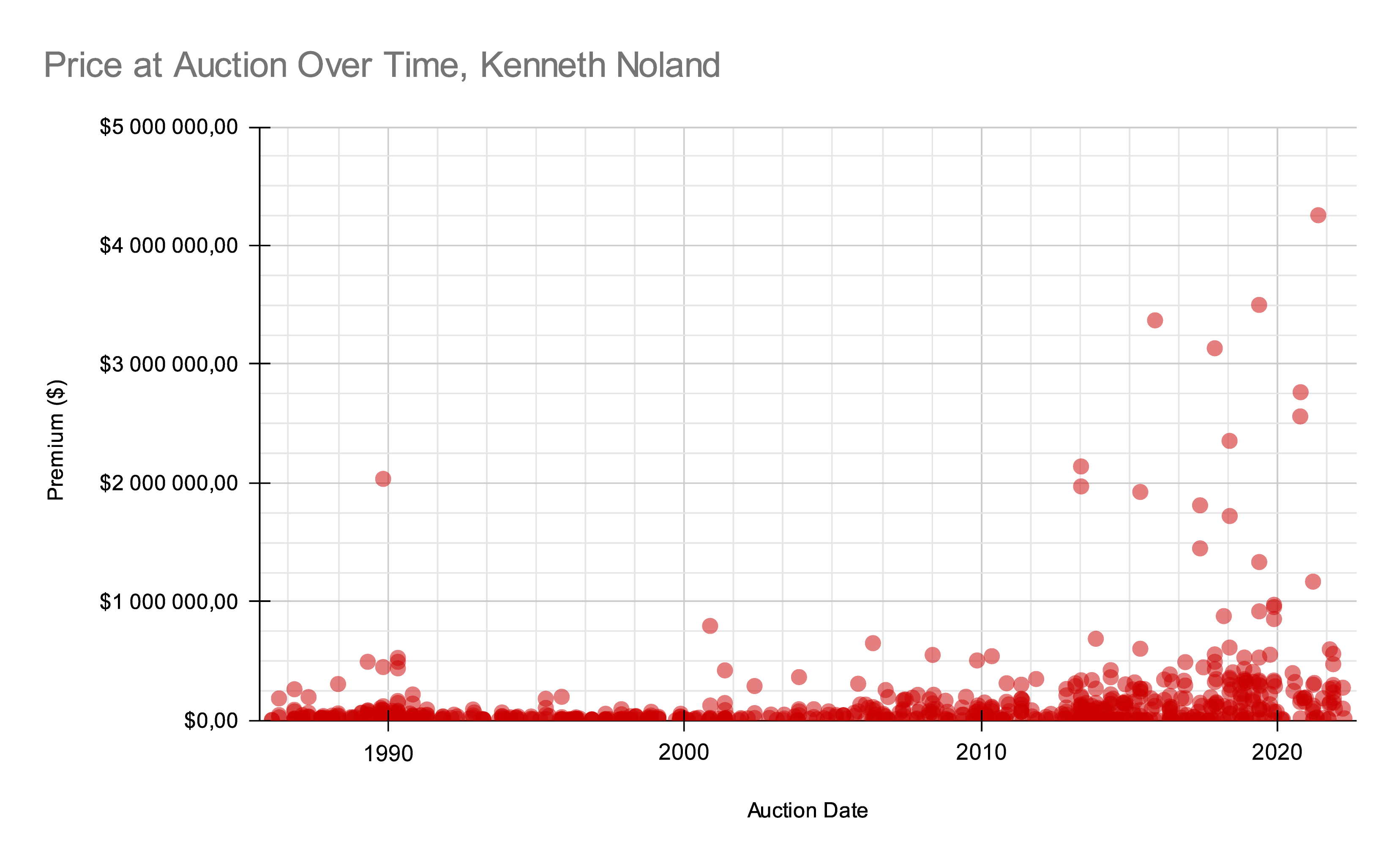 A new record for Morris Louis, totalling $250,000, was set in the same sale. Today, the record price for a Morris Louis painting is held by Devolving, 1959, which sold for $5,712,500 at Christie's in 2018. While Louis' record is not astronomically higher than Noland's, Louis has more sales at the top of his price range. This week, Lower Spectrum, 1958 will come up for sale at Christie's as a part of the collection of Anne Bass. A very similar canvas, Gothic, 1958, sold for $3,612,500 over a $1,000,000 estimate in 2017. Bass' veil has a conservative estimate of $1,500,000 after another veil painting failed to sell last spring.
You can find work by both Louis and Noland in the permanent collections of the Hirshhorn Museum and Sculpture Garden, the Metropolitan Museum of Art, the Museum of Modern Art, the Art Institute of Chicago, and the Kunstmuseum Basel, amongst many others. However, this widespread institutional representation is disproportionate to their public auction prices. This disparity is more pronounced in Noland's market, as Louis has had a significantly larger number of seven-figure sales at auction.
Noland currently holds sixteen auction results greater than one million US dollars. Organizing auction prices by creation year, the years in which Noland created his target paintings is immediately recognizable as the period most sought-after by collectors. Every single sale of a Noland that exceeded $1 million was for a work created between 1958 and 1965. Eleven out of these sixteen results are target paintings (the rest are chevrons).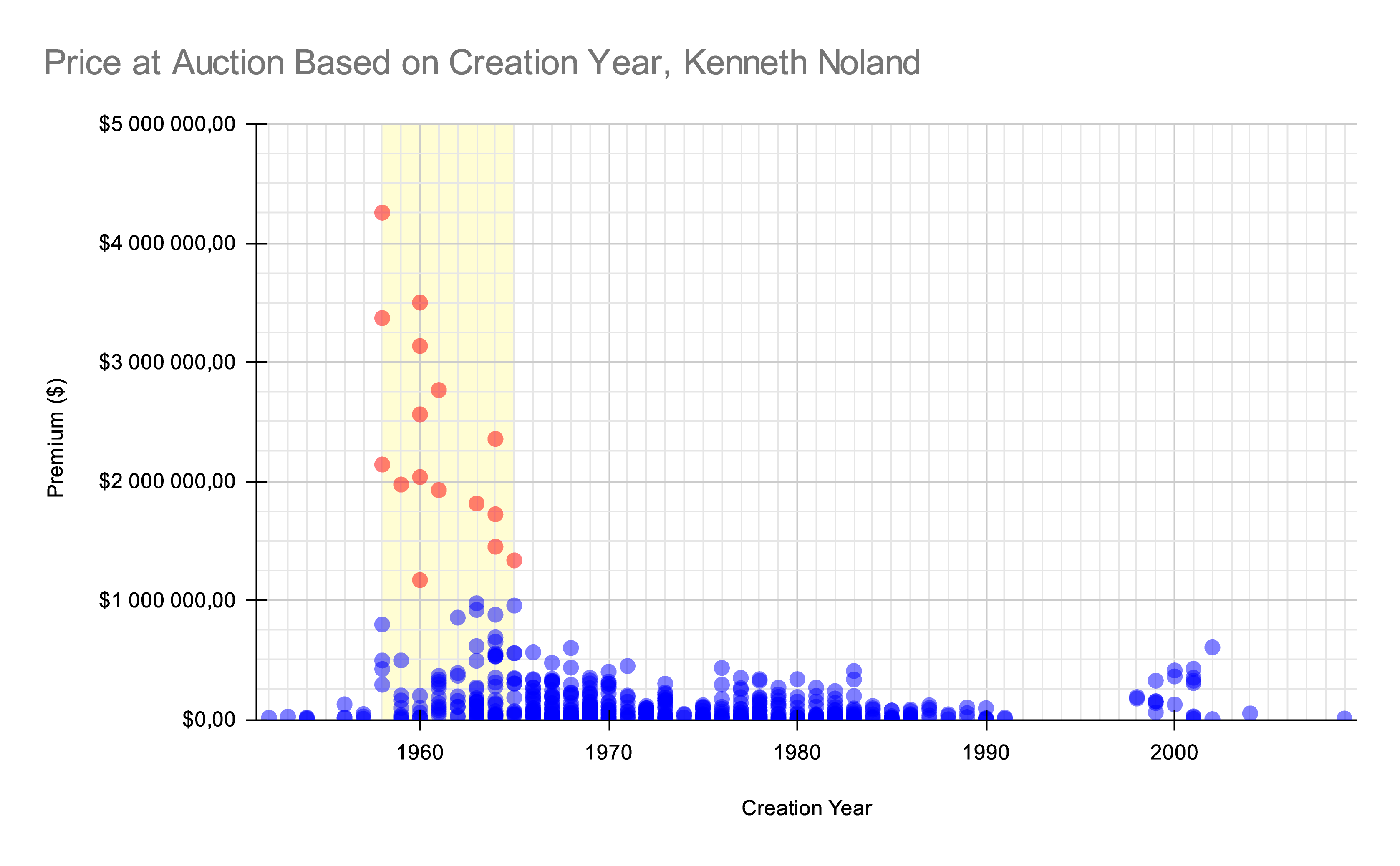 The discrepancy between Noland's institutional presence and his public prices could be connected to the particular interest from collectors in this portion of his career. With not one but two works from this period coming up this season, hungry collectors may find some satisfaction (or a renewed appetite).