Contemporary Art
The Hot List: Q1 Opens with a Hundred Flowers Blooming
The first quarter of the art market calendar lacks major sales but that doesn't mean there isn't plenty of action. Here are 17 artists to watch from Q1 sales performance.
We tracked the auction results for January through March and filtered out the artists with the strongest performance against estimates. That was a surprisingly large number of artists. So we focused on those with sufficient dollar volume in their transactions and more than a single work to make sure we were looking at the artists (not singular works) with strong market demand. Then we talked to our colleagues in the private market to get their take on what's happening. You can hear more of that discussion with LiveArt's EVP George O'Dell in this podcast here—or look for the Artelligence podcast on Spotify or Apple podcasts.
Lynne Drexler died in the waning days of 1999 after a career as a painter in Abstract Expressionism's second generation. She trained with Robert Motherwell and Hans Hofmann in the late 1950s. Drexler eventually moved to Monhegan Island in Maine where she lived for 28 years. Although her work was shown throughout her career, it received renewed attention and museum recognittion after her death. The high point was a retrospective at the Monhegan Museum in 2008 that traveled to the Portland Museum of art in 2008-9. In May of 2021, Christie's sold Daffodil Gloucester from 1960 for a very strong $75,000. That same year, Drexler's work was seen at a number of galleries and art fairs. Alerted to the market demand, Christie's welcomed the Farnsworth Museum's decision to deaccession two works from their deep holdings of the Drexler's work. The strategy proved to be very smart when Flowered Hundred from 1962 sold for nearly $1.2 million over a very conservative estimate and was followed quickly by Keller Fair from 1959 making nearly $70,000 despite its very small size, fewer than 12 inches square. There have been other private and public six-figure sales since these prices were achieved, including PinKing from 1970 that sold at Barridoff in Maine for $183,000 in mid-March.
Caroline Walker is a Scottish figurative artist known for depicting scenes from ordinary life, often domestic ones. Four works were sold in the first quarter in 2022 during the London auction cycle for a total of nearly $600,000. The bulk of that value came from a single work from 2011 that made £327,600 ($437,364.) These sales were building on the momentum of two October 2021 sales at £81,250 ($113,771.)
Peter Doig is one of the most successful living painters. His works regularly sell in the seven and eight figures. Last November in New York, Swamped returned to the auction market six years after setting a record price of $25.9 million to make a new record for the artist at $39.8 million. Doig's market is stratospheric but it is also very well priced, at least at the very top. Lower down there seems to be some dislocation between estimates and selling prices. In March, two smaller canvases from the early 1990s were bid well above estimates. Some Houses on Iron Hill made $3.2 million over an estimate of $800,000. A small White Canoe made $627,742 over an estimate just below the $200,000 mark.
Flora Yukhnovich seemed like an artist who was benefitting from strong collector interest and tight supply. The level of her sales in the Fall auctions in London also seemed hard to sustain. In March her gallery, Victoria Miro, held a show of new work as the auctions offered three works that made a combined total of more than $6.5 million. That was a slightly higher than the previous season in London. These consistently strong sales will make it hard for future Yukhnovich lots to be estimated at such attractive levels.
Jadé Fadojutumi had works at each of the three auction houses, including three sold at Phillips, for a total of five sales. Four of the prices achieved in London were among the artist's top 12 prices. This suggests Fadojutimi's market still has room to run. Acquainted Intruder from 2018 reached $1.2 million making it Fadojutumi's third highest auction price. She has now seen four of her works sell for more than $1 million.
Shara Hughes has been selling art at auction since 2013 when two works were sold as a single lot at Phillips for £3500 ($5731.) Sold separately at Christie's this March (nine years later,) the two works made more than $1 million. This Winter about a dozen works by Hughes were offered. All but one sold. The combined total was almost $10 million. The work that was bought in had been purchased only a few months earlier in Hong Kong. Among the other works sold this Winter was So Romantical which made $302,000 at Sotheby's in March. It had last traded for $71,000 in 2018. An untitled work from 2005 sold in Seoul for $1.1 million just five years after it had been purchased in London for $62,000. The quarter also saw Hughes set her two highest auction prices for $2.7 million and $1.7 million.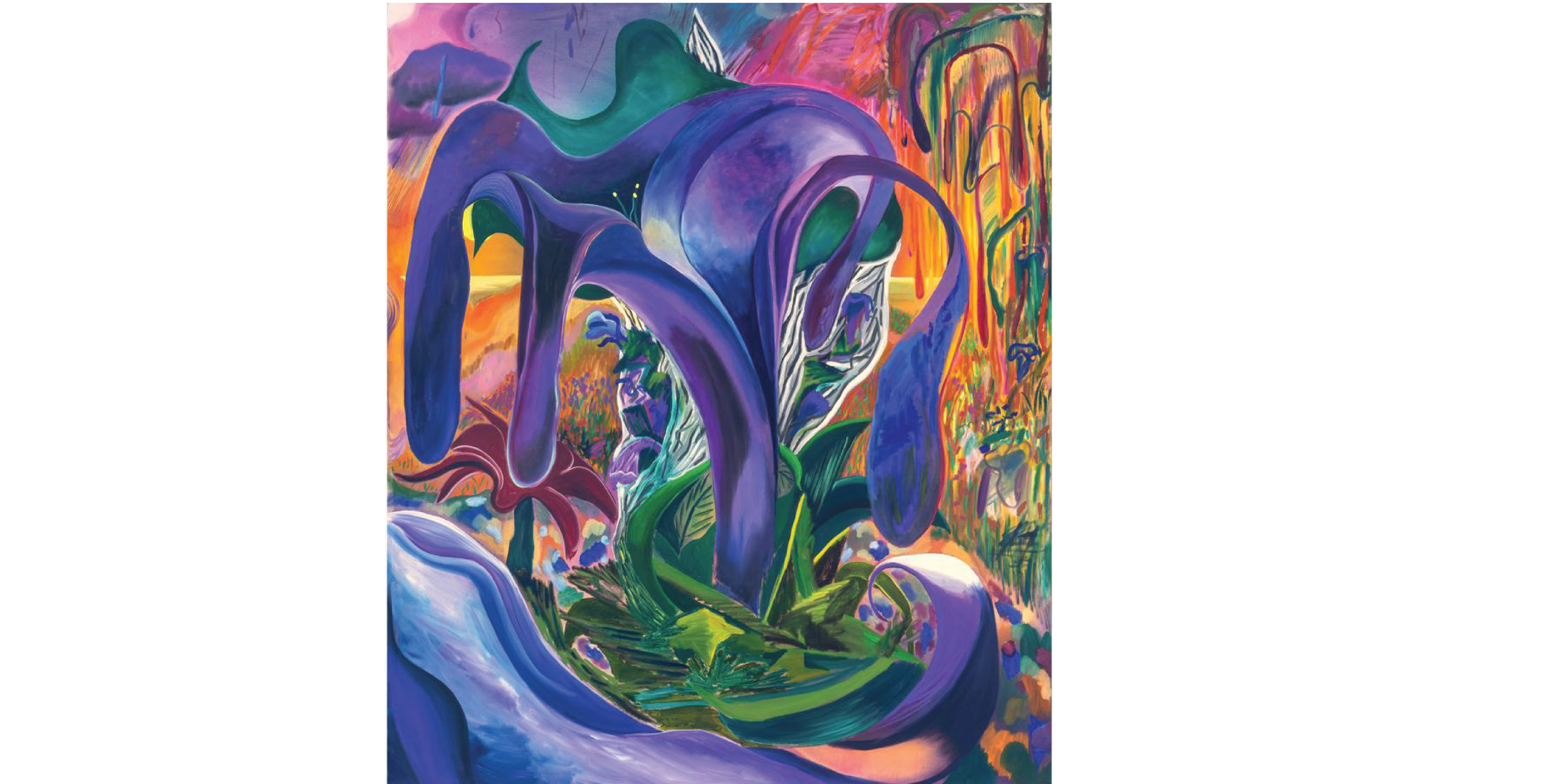 Allison Zuckerman saw $1.8 million worth of art trade in the fourth quarter of 2021. Nevertheless, there was continuing demand in the first quarter of this year as two works sold at prices well above the low five-figure estimates. Green Gardens at Phillips made $218,000 over a low estimate of $40,000. A work donated to the Whitechapel charity auction sold for $181,000.
Joel Mesler is an artist turned gallerist turned artist again who has used his feel for the market to create a body of work with strong appeal. Momentum in his market has been building from Asia where his works were selling at auction for prices below the $300,000 level. This Winter that changed dramatically. A February sale in Seoul confirmed Mesler's prices above $300,000 at $316,428. With the backing of Shanghai's Long Museum, Christie's Jacky Ho was able to move Mesler into new territory during the Shanghai leg of their early March relay sale where Untitled (You Deserve Great Things) made $898,659.
Edgar Plans also featured in the Shanghai leg of Christie's relay sale. His Colors from 2020 was the last lot before the handoff to London. The auction was worth waiting for as Christie's was able to set a new record price for Plans with a $698,957 sale against an estimate in the five-figure range. Just to show the sale and new price level wasn't an anomaly, Phillips followed three days later with the artist's second highest price at auction for My Little Monster Loves Balloons also from 2020. That work made $471,007 also against a five-figure estimate.
Javier Calleja follows a similar aesthetic and production strategy. Like Plans and KAWS, Calleja straddles the market between paintings and collectibles. A record price of $1.55 million was set in Hong Kong late in 2021. Although that lot was a unique collection of 30 smaller works, its success set up a market dynamic often seen after a new record price is set. Three different works were sold in the first quarter for prices between the record price and the highest price paid for one of Calleja's large portrait-like juvenile figures which was $1.05 million in December of 2021. The $1.55 million record price seems to have allowed buyers some headroom over the $1.05 million paid in December. Thus, Sotheby's sold two works (one for $1.23 million and another for $1.14 million) and Christie's sold a third work for $1.14 million. These confirmation prices offer strong market signals around the value of these distinctive Calleja works. Going forward, the question remains whether clear pricing will move most of the sales to the private market.
Robert Nava represents a different vein of artistic practice than Plans and Calleja with a style that is more faux naive than juvenile (though there's plenty of room for debate over what that might really mean.) Nonetheless, Nava's work, which was much in demand on the private market in 2021, sold across the price spectrum in the first quarter of 2022. Five works sold for almost $1.5 million with two works selling in the five-figure range, two in the low to mid-six figures and a record-setting price of $651,639 for Frozen Bark.
Jordy Kerwick is a self-taught painter and therefore more naive than faux. His career was launched through Instagram where he built a truly global audience. An Australian national who lives in central France, he has a strong following among collectors in North America and Asia. The private market in 2021 was frenetic with trades of his work priming the public markets. In the first quarter, nine Kerwicks were sold at public auction. The prices ranged from $13,000 and $15,000 for small works on paper to two large works sold at Christie's and Phillips that set price records for his paintings. An untitled work sold at Phillips for $201,600 and Le Tigre was auctioned a few days later at Christie's for $277,200. Looking at these prices in the context of the Nava sales, it is hard not to conclude that as Nava's work became more valued, Kerwick's work rose to fill in a gap.
Andre Butzer offers a bridge between the naive styles of Kerwick and Nava and a different sort of Expressionism that comes through the German tradition of painting. In London last October, a work by Butzer made a new record for the painter at $550,000. The Winter sales provided confirmation prices at his former levels in the $150,000 range, a the levels of his old high-water mark in the neighborhood of $250,000 and at a strong price in between the new record and the old levels which was $353,255.
Genieve Figgis has seen strong sales since just before the pandemic began. Supply and demand imbalances usually work themselves out over a period of more than two years. So it was unexpected to see Figgis's work set a new record in March during Christie's Shanghai sale. Debutants Ball from 2017 sold for $639,047, a nice advance from her previous record price set a little more than a year earlier. In the quarter, five paintings sold for somewhere near $1.2 million dollars. The two highest priced sales took place in Asia. That doesn't necessarily indicate that Asian buyers are driving Figgis's market but it does suggest Asian participation is important to her price growth.
LY is an Asian street artist with an active market for her grey-toned science fiction-inflected work featuring the character LUV. In Hong Kong and Tokyo, her work was auctioned six times this Winter. Three of the prices exceed her normal price level topping of $25,000. One surpassed the previous high of $75,000. All of these sales suggest a market triangulating for growth.
Julian Schnabel was a heroic figure in the 1980s downtown art scene. His success as a talented movie director has not fully eclipsed his prominence as a painter. Amid growing interest in the period and a renewed focus on artists like David Salle and Francesco Clemente, the artist's Salinas Cruz from 1984 sold for $630,000 at Christie's.
Emmanuel Taku is a late edition to the cohort of African painters building an international market. Two sales this quarter helped him catch up in a big way. A new price level was set in Christie's Shanghai sale followed by a slightly stronger price at Phillips in London.