Outsider Art
The Magical Modernism of Gee's Bend
Fame and museum representation hasn't brought wealth to Gee's Bend or its quilters. But it has brought respect.
There is one story in the history of Outsider art that is now so familiar and well covered that we often overlook its significance. Although it took as much as a century to unfold, the discovery and elevation of the quilters of Gee's Bend, Alabama to the level of Modern art now recognized and enshrined in museums is one of the undeniable success stories in the recognition of Outsider art. Painters as diverse and remote from each other as Lee Krasner and Amy Sherald have visited Gee's Bend to learn from the community of quilters.
From the ground breaking museum shows at the beginning of the 21st Century to the gallery shows that reference Gee's Bend as an acknowledged part of the art historical canon to students from Yale's MFA program making a pilgrimage to the remote hamlet to apprentice as quilt-makers, Gee's Bend and its legacy of visual modernism is now an almost routine reference point for the kind of home-grown American modernism only previously recognized in Jazz music.
Gee's Bend is a place of deep contradictions. A remote, isolated settlement on a bend in the Alabama river, it remains one of the poorest places in America but it is rich in our distinctive cultural history. Seemingly forgotten by time, Gee's Bend has cropped up at some of the most significant inflection points in American history. Slavery, the Great Depression, the Civil Rights Movement, Gee's Bend played a distinctive role in the history of each. A former plantation where the descendants of freedmen came into possession of their own land and lived in "blissful isolation," as the Pulitzer-prize winning journalist J.R. Moehringer put it when he profiled the place more than two decades ago. So many of Gee's Bend's inhabitants were called Pettway because that was the surname of the last plantation owner. Moehringer described it as "a vast family, sharing the same few names and the same handful of fables, like some hybrid of Alex Haley and Gabriel Garcia Marquez."
As if to confirm the magical realism of the place, Gee's Bend is also home to one of the most celebrated communities of abstract artists in America. First discovered in the 1960s by Civil Rights workers who saw the distinctive quilting craft as a potential source of income for a community devastated by the loss of cotton farming, Gee's Bend was re-discovered again in the 1990s by folk art dealer Bill Arnett. Gee's Bend quilts are now in the permanent collections of major American Museums from Boston to Atlanta, Minneapolis to New Orleans, placed there by Arnett's Souls Grown Deep Foundation which has stewarded some of the estimated 10,000 quilts made in Gee's Bend during the 20th Century for posterity.
Although Gee's Bend's quilting failed to become a meaningful industry, it has been a regular benchmark of artistic achievement for artists and curators working today. Legacy Russell referenced Gee's Bend directly in the title of her recent show at David Zwirner Gallery called "The New Bend." Billed as a show of 12 contemporary artists working in quilting and textile practice, the show acknowledged the work of Gee's Bend quilters as "central to expanded histories of abstraction and modernism."
A New York Times profile of Sanford Biggers referenced his use of antique quilts, heirlooms he "disrupts with … bold paint strokes" and which he "adorns with … imagery" before he "cuts into them to inspect the void." Biggers himself calls the quilts, "portals … between painting, drawing and sculpture, and a repository of memory."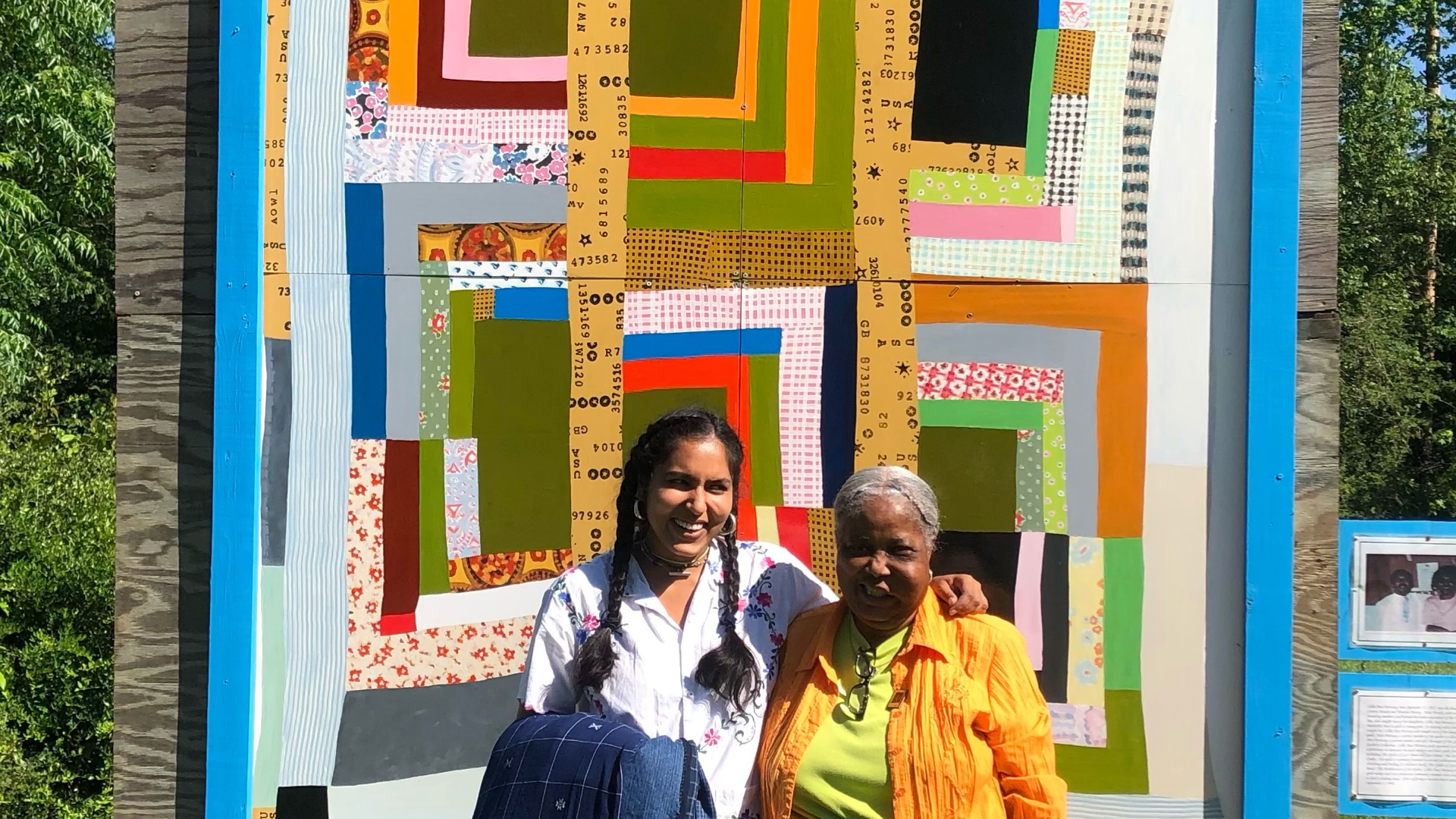 Bhasha Chakrabarti and Mary Ann Pettway in front of a reproduction of Lillie Mae Pettway's Housetop twelve-block "Half-Log Cabin" variation, c.1965, Museum of Fine Arts, Boston
Bhasha Chakrabarti, a recent MFA graduate of Yale, cites the quilts of Gee's Bend as her "first encounter with contemporary art that allowed me to think of myself as an artist. I had grown up making quilts. But I never thought of them being part of a fine art discourse." What Chakrabarti drew from the Gee's Bend quilters was ability to make art from everyday life and, more important, the emphasis on being able to make mistakes and improvise.
Chakrabarti moved to India in search of engagement with her own family's aesthetic traditions. There she apprenticed with weavers and miniature artists who still work within a community that values their work as art, not craft. Then she got into Yale where she continues to paint and work with textiles often in startling ways like her proposed mural to replace Alma Mater in Sterling Memorial Library.
In the middle of the Covid pandemic, after vaccination but before she returned to Yale after taking a year off, she and a friend from her program decided to go to Gee's Bend just to see what it was like. "We packed our sewing machines, our thread and we just went down with the goal to make one quilt," she said, "however long that took."
The Gee's Bend quilters were once much more numerous. The craft was imposed on many young women out of necessity. Making a quilt was one of the precursors to adulthood in a community perennially at the bottom of the nation's income ladder. The quilts covered the walls of poorly insulated homes and were piled upon children sleeping three or four to a bed. Just as cotton farming was mechanized out of economic viability, so too did more and more of Gee's Bend's residents move away to service jobs in Alabama's cities where quilt making was nothing more than a curiosity or a pastime.
In non-Covid times, the quilters held workshops away from Gee's Bend. But Chakrabarti and her friend simply showed up at a community center to observe and learn. "People have this vision of Gee's Bend where women sit on the floor singing songs," Chakrabarti says. "But it looks like poverty everywhere. They're quilting with cloth from WalMart watching the Price Is Right on TV."
By happenstance, a friend who is a curator came through Gee's Bend while they were there. The curator knew the history of Gee's Bend through scholarship and journalism. But he didn't recognize the reality. "He was horrified," Chakrabarti says.
Perhaps because she had seen craft communities in India and didn't idealize them or maybe just because she had gotten to know her new mentors, Chakrabarti saw it differently. "It was totally a maker's world and a maker's vocabulary," Chakrabarti says. "It was like a conversation at Yale. There is theory—and they refer to it." But there was also an emphasis on individuality and making one's own way.
Chakrabarti and her friend were in Alabama for three weeks. That was enough to get a taste for learning more and planning another trip back to Gee's Bend. Like her time at Yale, she cherished the opportunity to learn from accomplished artists but also get support for her own ideas and expression. Chakrabarti came away with a real sense of having worked with leaders in their field who were willing to respect the interests of their students but confidently asserted their own stature.
Upon arriving in Gee's Bend, Chakrabarti and her traveling companion had introduced themselves to the local pastor and the quilters, Mary Ann Pettway and China Pettway whom Chakrabarti respectfully refers to as Miss China. The pastor asked who they were and what they did.
"We're artists," Chakrabarti responded.
"Are you guys in any museums?" Miss China asked matter-of-factly. "I'm in the Met."