Auctions
Good Karma for Gertrude Abercrombie
Will Hindman's 21-lot sale bring the forgotten female Surrealist all the attention she deserves?
At the end of this month, Chicago auction house Hindman will present a dedicated sale of the work of Gertrude Abercrombie. Casting Spells: The Gertrude Abercrombie Collection of Laura and Gary Maurer will take place September 28th at 7 pm EST. The sale includes 21 works spanning Abercrombie's career that were lovingly collected by the Chicago-native Maurers.
This many works by Abercrombie has never come to the block in one year, let alone in one sale. She has averaged 2.5 lots per auction season–or 5 per year–since 2017. "If not now, when?," explains VP and Senior Specialist at Hindman, Joe Stanfield. "The market is hot. The time and place is correct. Female Surrealism is having a moment. The Venice Biennale this year was based on female Surrealism, and any art fair you go to is heavy in Surrealism. This is a great opportunity for the seller, and this is a great opportunity for [Hindman]."
It's also a great opportunity for Abercrombie's growing reputation and visibility. "It's allowing more collectors, more advisors, more museums to either pay more attention to the artist or even learn who she is. Her work is very easily shown with the European Modernists and Surrealists…I think there's enough demand to meet this amount of supply."
With so many works coming to the block in one fell swoop, Hindman is betting that Abercrombie's market will float, not flood. And there is proof in precedents that took place on a larger scale. In 2006, the Judd Foundation brought 35 sculptures to auction at Christie's. While some worried this influx of works would negatively affect Judd's market, the sale greatly surpassed its $20 million guarantee, and four works sold for prices above the artist's previous record price at auction. Similarly, in 2018, 22 works by Richard Diebenkorn came onto the block in Christie's Post-War and Contemporary sales in New York. The sale made over $46 million and reset his auction records for both paintings and works on paper. Abercrombie's market could be similarly nourished by this Hindman sale.
Abercrombie's work resonates with collectors. But there are some concerns that fakes muddy her market. By buying from Hindman, collectors can be secure in the authenticity of the works, which ended up scattered due to the details of Abercrombie's fascinating biography.
In Susan Weininger's essay "Gertrude Abercrombie," she traces the rise and fall of "the self-proclaimed 'Queen of Chicago.'" In the democratic art scene borne from the Great Depression, Abercrombie's self-taught style attracted admiration. Abercrombie sold her first works at an art fair in June of 1933, and her work was favorably reviewed by local newspapers. She went on to show in a number of Chicago galleries and was granted a WPA-funded government salary for her work through 1940, though she remained active in community art fairs. Abercrombie formed friendships with other Chicago creatives–artists, writers, and Jazz musicians–and hosted legendary salons of like-minded Bohemians. At the start of the 1950s, her work was shown in New York and Milwaukee, but her health began to decline. The last three decades of her life were a slow and painful descent into alcoholism. Her salons ceased, and she became a recluse. She died in 1977.
In 2018, New York's Karma Gallery presented the first exhibition of Abercrombie's work in New York since 1952. The show gathered loans from institutions and private collections, including the collection of Laura and Gary Maurer. "The seventy works in this show, made between 1930 and 1971—dolorous vignettes in hushed blues, greens, and shadowy grays—utterly beguiled," described Darren Jones in Artforum. "At the core of Abercrombie's oeuvre is an authenticity that can be attributed to the trust she placed in images that came to her through reveries. Yet her struggles with purpose, aloneness, rationality, and trauma, even throughout her many astral planes, located her within the mysterious complexities of the real."
Beloved in her life and forgotten in her demise, Gertrude Abercrombie has regained some of her fame over the past few auction seasons following the 2018 solo exhibition at Karma. Between 1995 and 2016, Abercrombie had scattered works come to auction, but her prices remained consistent. Her record price from this period was achieved by Landscape, 1941. At 23.62 x 29.92 inches, the painting is quite large for Abercrombie, who worked on a small scale and even fashioned some of her tiny paintings into pins. The comparatively large 1941 canvas sold in 2016 for $51,850. Then came Karma, setting off a chain reaction that would begin the revitalization of her market. In February of this year, the diminutive Dinosaur, 1964, sold for $387,500 over a $30,000 estimate. This result confirmed the price set by the even smaller (4.75 x 6.5 inches!) Giraffe, 1954, which sold for $365,400 over a $10,000 estimate in May 2021.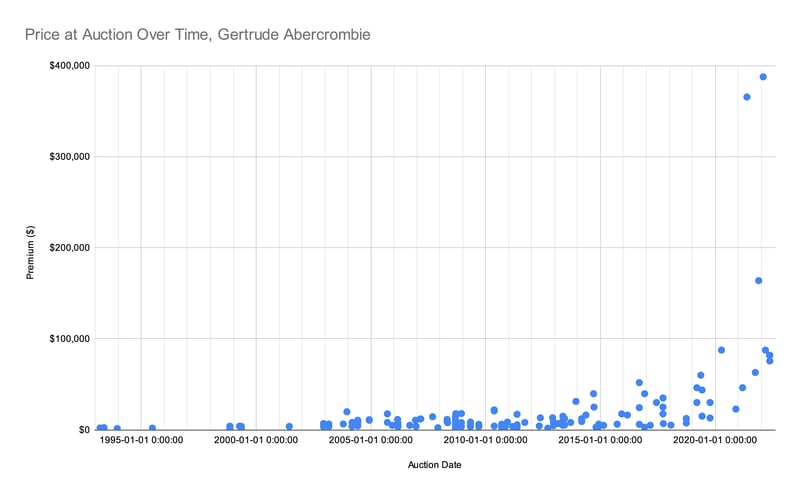 Abercrombie's star has continued to rise since 2018, bolstered by institutional and gallery support. Curator Robert Cozzolino included her work in a group exhibition at the Minneapolis Institute of Art in 2021, earning her a quirky NPR feature. At Independent's inaugural Independent 20th Century fair last week, Corbett vs. Dempsey sold a diptych by Abercrombie.
Sustained collector interest in Abercrombie's enigmatic Surrealist compositions and storied life has proof beyond price points. "We brought this collection to Sterling Boos Gallery during the week of the Armory, and we had a ton of people come through while it was in New York City to view the material," recounted Stanfield. "Some of the people knew exactly who it was and were planning on bidding in the sale, but there were also plenty of people who were not familiar with the artist or her work discovering her for the first time." The upcoming sale offers a similar opportunity, both feeding existing enthusiasts for Abercrombie's work as well as creating new ones.