Auctions
Quick-to-See Smith's Slow Market Ascent
After a five-decade-long career as an artist and activist, Jaune Quick-To-See Smith's secondary market is suddenly moving.
Jaune Quick-to-See Smith is an artist, curator, and activist from Montana's Salish tribe. Born in 1940, she has been a practicing artist for the past five decades. Like her African-American near-peers, Howardena Pindell and Faith Ringgold, her work has received institutional support—culminating in a major show at the Whitney this spring—but only this year has begun to see her work rise in rank as the market readjusts for artists who have historically been omitted from the canon.
"Since 2020, her market has completely skyrocketed," explains Alexandria Dreas, Associate Specialist at Hindman Auctions. In 2021, Quick-To-See Smith's annual sales volume approached $60,000; in 2022, it totaled $1.5 million. Prior to 2020, her one or two works came to auction each year. In 2022, 21 of her works have sold–nearly triple the previous year's total.
"She is an incredibly well-trained artist," Dreas adds, "and she is also really well-connected." What Dreas means is Quick-to-See Smith has curated exhibitions around the US. "She's really involved in the traditional Western art market–meaning Europe and the United States–but she's also deeply grounded in her Indigenous roots." She's also well represented in America's top museums. Quick-to-See Smith's work is in the collections of The Walker Art Center, The Smithsonian American Art Museum, the Museum of Modern Art, the Brooklyn Museum, the Metropolitan Museum of Art, and The Whitney Museum of American Art.
Though she has amassed decades of institutional recognition, Quick-To-See Smith's market trajectory can be traced back to the recent year of 2020. In an auction originally slated for June 2020 but postponed for the pandemic, Hindman presented three works by Quick-To-See Smith in a Denver sale of Western Paintings and Sculpture. Each of the works sold for more than eight times their estimates.
Building on that success, Dreas and her colleague, Katherine Hlavin, Senior Specialist, found a Quick-To-See Smith work to feature in another Denver Western & Contemporary Native Art sale this May. That sale reset the artist's market. Fireweed, an abstracted landscape in oil on canvas, was offered with a market-appropriate estimate of $10,000. The painting sold for a total of $350,000, ten times her previous record.
"Her most popular works," Dreas elaborates, "juxtapose her Indigenous heritage–represented by the inclusion of her childhood horse–with a color palette that appeals to collectors of Contemporary art." These elements featured prominently in Fireweed.
At smaller houses throughout the summer of 2022, Quick-To-See Smith's works achieved strong hammer ratios. That set her up for two major career milestones in November. On the 16th, Quick-To-See Smith was announced as one of the recipients of the 2022 Anonymous Was a Woman Grants. The organization, founded by photographer and philanthropist Susan Unterberg, awards a grant of $25,000 each year to "ten woman-identifying artists over the age of 40 and at a critical junction in their career." Two days later, I See Red: Talking to the Ancestors, 1994 held the privileged position as the first lot in Christie's 21st Century Evening sale in New York. The mixed-media canvas sold for $642,600 over a $80,000 estimate, nearly double her previous record.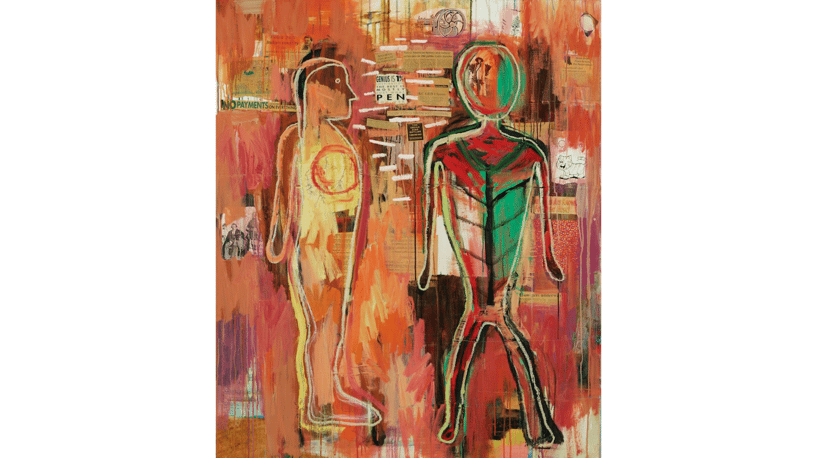 Jaune Quick-To-See Smith, I See Red: Talking to the Ancestors, 1994
"Like Fritz Scholder, who also recently experienced a kind of market Renaissance," explains Dreas, "Jaune Quick-To-See Smith is everything that collectors are looking for visually. Her brand of Contemporary abstraction really calls to mind the big name artists of the 20th century: Robert Rauschenberg, Pablo Picasso, Paul Klee." All of these influences are transformed by her experience growing up as an Indigenous person in the United States.
Nigel Freeman, Director of Swann Auction Galleries and a key figure in the "rediscovery" of many African-American artists like Howardena Pindell and Faith Ringgold, has seen this pattern before. In the case of Ringgold and Pindell, both artists had strong gallery representation where their markets were kept "in house." Over time, Freeman was able to wrangle one of Ringgold's story quilts for an auction by selling Maya Angelou's collection. That work went to the Crystal Bridges museum in Arkansas. That sale brought others to market.
"There is still tremendous room for exposure for artists who are important figures but whose works do not appear in the sales at the other houses," adds Freeman, "I think that will change; I think the market will continue to grow."
A key factor driving this eventful fall for Quick-to-See Smith's market is the spring 2023 retrospective at the Whitney Museum of American Art, Jaune Quick-to-See Smith: Memory Map. Artist retrospectives aren't automatic market accelerants, but the prominent exposure cannot hurt. If the Whitney is a prominent tastemaker in the Contemporary art world, then we may see even more collector clamor for Quick-to-See Smith coming soon.