Willem de Kooning
Direct from de Kooning
The artist's heirs are selling $50 million in art while another straight-from-the-artist is being offered with a surprisingly low estimate.
The market theme of the Autumn of 2022 is an expected repricing of art in the context of a new global macro-economic reality. That's a fancy way of saying that a lot of buyers are hoping to see at better prices for the artists they seek this Fall. Mostly that focus is in the market for artists with emerging markets. One of the surprises of the new season is that works by Willem de Kooning, as blue chip an artist as there has ever been, have suddenly become fairly plentiful on the market—and at a variety of price points.
In next week's New York mid-season sales, there are four works on offer by the Dutchman. They range from a $30,000 drawing to a work on paper estimated at $400,000 to a "Montauk" work on paper mounted on canvas that is being offered at an amazing $150,000 low estimate. Just three years ago it sold for $200,000. Moreover, a similar work from a few years earlier is being offered at Sotheby's with a $1.8 million estimate. That untitled 1964 painting was acquired directly from the artist around the time it was painted and is being sold by Sally Goldreyer, the widow of well known art restorer, Daniel Goldreyer.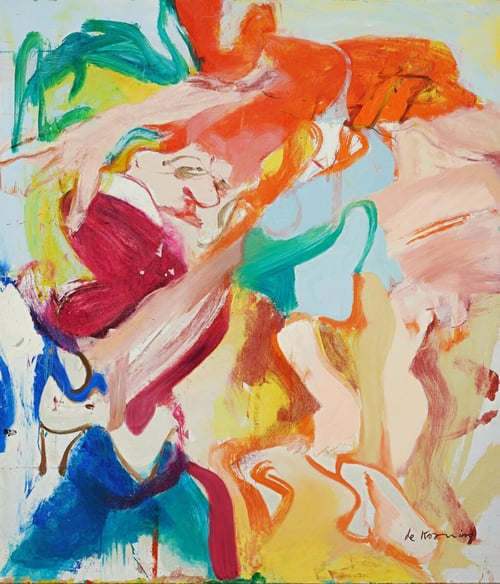 Willem de Kooning, Untitled (1964), estimate $1.8 million
In addition to these works, Sotheby's announced earlier in the week that it would be selling three paintings from the artist's estate in November. Willem de Kooning had one child, Lisa, who died in 2012. The artist left her 57 paintings, 83 sculptures and 51 drawings. Her children are now selling three works from that horde—a Clamdigger sculpture was sold for $29 million eight years ago—to access some of the value of their inheritance.
The three works to be offered at Sotheby's have a combined low estimate of $48 million. They consist of one of the late 1980s works that have become so popular since the artist's last retrospective. The Hat Upstairs is estimated at $8 million. There's also an untitled work from 1979 that is valued at $30 million. Finally, there's Montauk II from 1969 which is a work on paper mounted on canvas that is valued at $10 million or more.
The estimates for the estate works are fairly conservative. They seem pegged mostly to past sales and don't really include a premium for coming from the estate. For example, Montauk III sold twice for around $10 million eight and twelve years ago. The $30 million for the 1979 work takes into account the rage for 1970s de Koonings among collectors. Nine of the artist's top 12 prices are for works from the 1970s. The last work to come to market made $30 million. Sometimes it's just that straightforward.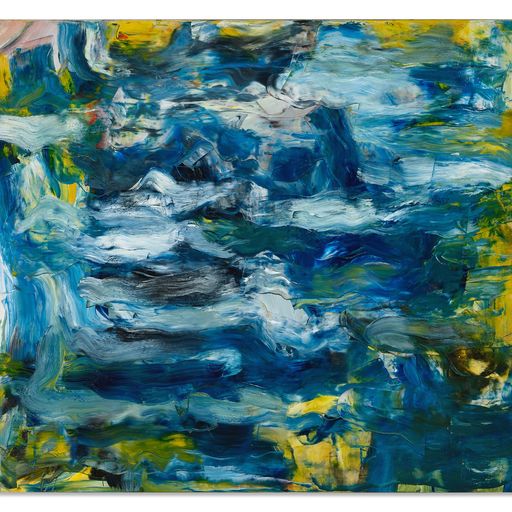 Willem de Kooning, Untitled (1979) Estimate $30 million
That brings us back to Sally Goldreyer's 1964 painting estimated at $1.8 million. Why so low? The painting is almost five feet tall and four feet wide. So it has presence. Not many works from this period have been sold at auction. De Kooning became so famous in the 1950s, most of his defining work from the 1940s and early 50s is in museums. The few works that can be bought tend to sell privately for nine-figure sums these days. Just ask Ken Griffin who paid $300 million for Interchange from 1955 more six years ago.
This untitled work is no Interchange but there's still the example of the Macklowe's 1961 painting that was estimated at $7 million and sold for $17.7 million. It's a slightly larger picture than the Goldreyer work but probably not a painting that is ten times better. Sotheby's cites one of the Montauk pictures from half a decade later as a comparable to the Goldreyer. As we've seen, the house puts a $10 million price on one of those pictures.
There are other reasons the painting could be priced so low. There's also the context of the mid-season sales where a $1.8 million estimate is substantially higher than any of the other lots. If Sotheby's is confident it has the bidders lined up, the house's experts just might be banking on the lot's visibility to set off something worth watching.