Op Art
The Stripes Are Solid
Retrospectives for Bridget Riley and Sean Scully show the fertility of simplicity.
Figuration may still dominate painting but two retrospectives this Summer remind us that there is a generation of abstract painters who are still receiving recognition. Both Bridget Riley, who became almost instantly famous in the 1960s, and Sean Scully, who was recognized early for his work only a few years later, had major retrospectives on the East coast of America. Taken together, the two shows—Sean Scully: The Shape of Ideas at The Philadelphia Museum of Art and Bridget Riley: Perceptual Abstraction at Yale's Center for British Art—chart an alternative history of abstraction from the highly constrained patterns of so-called Op Art to a body of work of almost infinite variety.
At the same time, both artists have seen record prices for their work posted this year. Annual sales of each artist's paintings have fluctuated over the last 15 years but never exceeding $10 or $11 million at their highest. Scully's highest total volume of sales for his paintings in any given year has not exceeded the $11 million made in 2018. Riley reached that level in 2008, 2016, 2019 and 2020. Last year, Riley's total painting sales reached a high-water mark of $13.4 million. So far in 2022, Riley's painting sales have come close to that level at $12.05 million with a half of the year's auctions still to be held.
In May, Scully's Song from 1985 sold for $2,046,500 at Sotheby's. That's a record price for a Scully work eclipsing the $1.7 million paid three years before at Sotheby's in Hong Kong. In March, Bridget Riley's Gala from 1974 was sold for $5.72 million. That was a record for the artist but also a resale for Gala which had sold 13 years before for only $1.076 million.
Organized in cooperation with the 92-year-old Riley, the show at Yale gives greater context to the artists growing value. The 52-work show divided Riley's career into distinct-but-deeply related parts separated onto two floors,. The first floor covers the years from 1961 to 1966 when Riley was most identified with Op Art because of her use of black-and-white patterns that created visual effects. It was also because ofthe prominence of her work in the seminal 1965 Museum of Modern Art show called "The Responsive Eye." From Movement in Squares (1961) to Blaze 4 (1964) to Current (1964), the work that adorned the cover of catalogue for "The Responsive Eye," Riley's canvases are an uneasy terrain. They produce unsettling visual effects of movement, depth and illusions of color.
The explosion of affluence in the West in the late 1950s and early 1960s was set against the anxieties of the Cold War. Live in Europe and America was both exhilarating and nauseating. Riley's optical effects seemed to capture this in a way that that no other art form could.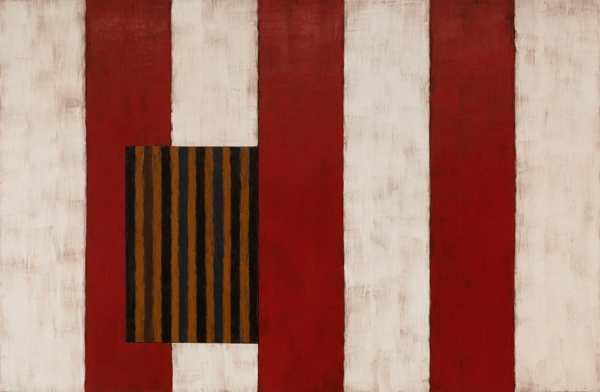 Sean Scully, Pale Fire (1988)
Not all of Riley's black-and-white, grisaille or monochrome works were as intense or unsettling. As the show makes pains to demonstrate, she continued work without color until 1970, sometimes experimenting with media like plexiglass to create sculptural effects out of ingeniously shaped canvases.
The second half of the show begins with three works that Riley had exhibited together at the 34th Venice Biennale in 1968. Late Morning (1967), Chant 2 (1967) and Cataract 3 (1967) all added color to Riley's formerly stark structures. Two of those works are now in museums; the third, Chant 2, is among the most valuable Riley works auctioned. In 2008, just before the global financial crisis, Chant 2 sold for the then-record price of $5.1 million. It was resold later in 2014 for a slight haircut at $4.8 million. To some that price might reflect the relatively rapid re-trading in the work. (It had been previously held for 16 years.) To others, it was a strong confirmation of the painting's ability to hold its value.
Whatever the market effects of Riley's switch to color, the move opened up entirely new horizons for the artist's work. Her earliest color works continued her interest in optical effects. This time the emphasis was on the "edge" where colors meet. Extending the length of the edge and playing with the periodicity, as seen in Chant 2 and the two Late Morning works in the Yale show, Riley was able to create abstract color effects that seemed to paint the canvas through the viewer's eye. In Cataract 3, she extended the "edge" further by using curves. "There are innumerable sequences, each of which throws up a different sensation" the exhibition catalogue quotes her. "From these I build up clusters which then flow into each other almost imperceptibly." The effect, she adds, "is of a sudden flood of bright colour."
From the 1970s on, Riley focused less on creating visual effects. The rest of the show demonstrates what the artist could do with evenly distributed stripes, houndstooth-like angled patterns and wavy shapes meant to evoke or quote Cézanne and Matisse. The changing pattern of shapes added variety but the art was in the color combinations. Like Josef Albers, whose work was also featured in The Responsive Eye, the familiar pattern provided consistency as the revelations of color offered what appears like spontaneity and chance.
Sean Scully seems to have come to a similar conclusion much earlier in his painting career. The show in Philadelphia establishes Scully's early interest in patterns, grids and colors. Then he somewhat abruptly transformed that concept into his signature use of stripes often on canvases embedded within canvases or by conjoining panels that juxtapose pattern and color combinations.
"Scully has certainly limited his concerns to a very small subset of abstraction," the Washington Post's Philip Kennicott says. "For the past 50 years, Scully has resided in the small but fertile province of the grid, rotating the crops of his color fields to avoid depleting the soil." Scully's ingenuity kept the formula from becoming anything but limiting. Although he would go on to create a handful of distinct series, expressive stripes of color would connect them in a cogent through line.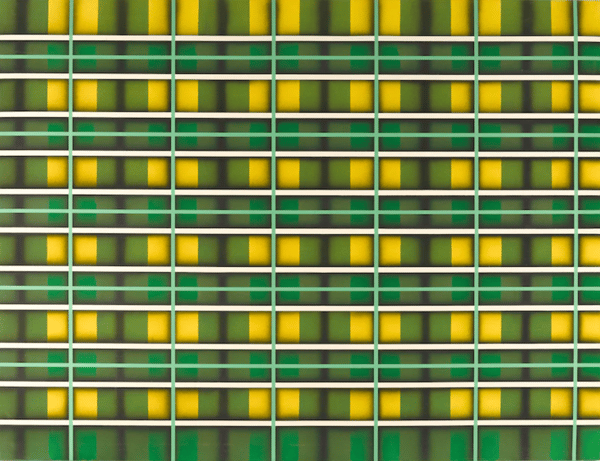 Sean Scully, Green Light (1972-73)
Scully's market has been dominated in recent years by trading in the Landline series, abstract landscapes that reduce panoramas to bands of richly stroked color. Seven of Scully's top ten auction prices are for Landline works made in last eight years. Two of the remainder, the highest price and the 10th highest price, are for works made in the 1980s. The Wall of Light works, evoking the play of shadows on a rustic stone wall, also dot the upper reaches of Scully's auction prices.
The show's most startling works, early patterned paintings like Inset #2 from 1972-73 and East Coast Light 2 from 1973 and the huge and intimidating Green Light from 1972, have had the least market impact. In November of 2017, East Coast Light 2 sold for $232,851 at Christie's. The next year, Green Light made only $200,000 at Bonhams in New York. Green Light dominates the early galleries of the Philadelphia show. No doubt this is because the works don't obviously connect directly to the distinctive later style that is so recognizably Scully's. Nevertheless, those prices seem unsustainably low in the long run given the quality and popularity of Scully's later output let alone their own innate appeal.
Few would confuse the work of Scully and Riley. Fewer still would think of Scully as an Op Artist even though Riley herself eschewed the term. But what the artists did share was an ability to remain disciplined within an ambit most other artists might find stultifying. Instead, as these shows demonstrated, the results could be fertile and liberating.