Frieze
What Happened in London: $260 Million in Sales
Fears of a slowing market and declining interest in new names proved to be unfounded as Sotheby's, Christie's, Phillips and Bonhams posted strong results.
The much-anticipated Frieze auctions offered the art market a surprise. Demand is proving stronger than expected. And the emerging artists that many feared would be the most at risk continue to attract aggressive bidding.
Don't let that headline observation confuse you, though. The art market is still quite top heavy with the bulk of its value condensed in a few artists' markets and an even smaller number of works within their careers. To illustrate that point, one only has to look at the numbers.
All four auction houses held combined sales of more than $260 million. The top ten artists accounted for more than 55% of that value. The remaining 45% of the money spent went to the work of 380 different artists. Overall, that's good. The average lot value for the week was $450,000. If we exclude the top 10 artists, the average lot value was still $355,000.
Top three artists—Gerhard Richter, Francis Bacon and David Hockney—had sales of more than $28 million each. The next name on the list—Banksy—saw a substantial drop to $10 million in sales. In the number ten spot, Glenn Brown had $3.2 million in sales. The values continue to drop until the median artist who saw sales of $118,000.
Overall, The sales saw 583 lots sell out of the 656 offered for a sell-through rate of nearly 89%. The sales had a hammer ratio of 1.14. That's a number that reflects a cooling market but one where buyers and sellers were still able to meet on an equal footing. There was still quite a lot of competition with 41% of the lots selling above the estimate range; 38% sold within estimates; and 21% of the lots were sacrificed by their consignors for prices below expectations.
These well-managed sales still only had 25 lots withdrawn which protected the sell-through rate from falling to 85%.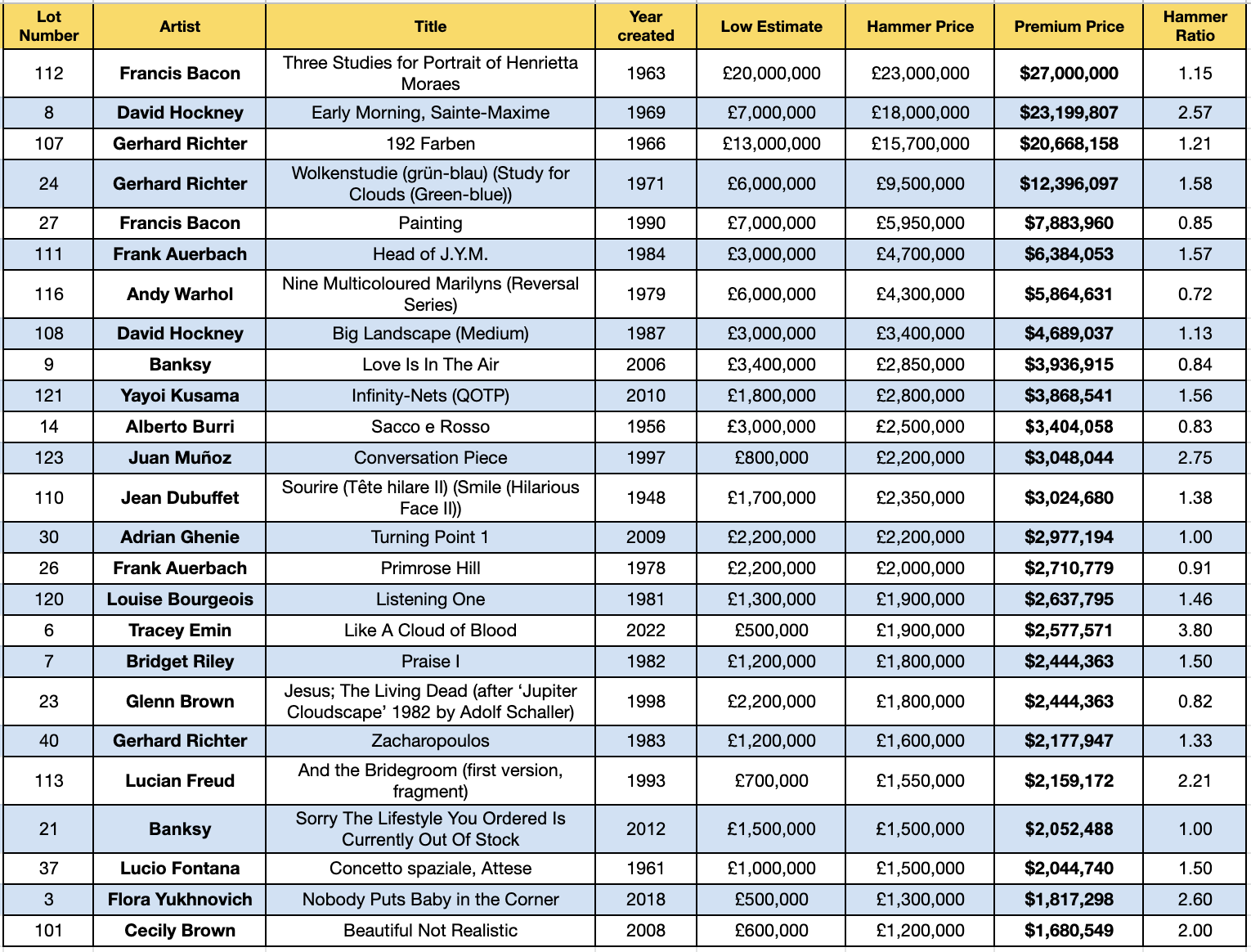 The top lot of the week was Francis Bacon's Three Studies for Portrait of Henrietta Moraes from 1963. The work sold to the guarantor for £24.3 million after a few counter-bids. David Hockney's Early Morning, Sainte-Maxime saw sustained bidding that took the work with a £7 million estimate to a selling price of £20.9 million.The next two most valuable works were both by Gerhard Richter. The artist's first abstract work, a color chart with the title 192 Farben from 1966, sold for $20.6 million. The Study for Clouds from 1971 made nearly $12.4 million. A late Francis Bacon was sold for a compromise price of $7.8 million. In the bidding, it only reached 85% of the estimate. Frank Auerbach's Head of J.Y.M. sold for a new record price for the artist at $6.38 million. Andy Warhol's Nine Multi-coloured Marilyns (Reversal Series) from 1979 sold for $5.84 million down from $7.8 million paid in London eight years ago. Another Hockney, Big Landscape (Medium) from 1987 sold for $4.6 million. An example of Banksy's Love Is in the Air was sold below the estimate for $3.9 million. Rounding out the top ten lots was Yayoi Kusama's Infinity-Nets (QOTP) from 2010 that sold for a strong $3.8 million.
Nine of the top 25 lots sold above the estimate range. That roughly matches the overall portion of the lots that saw dynamic bidding.
That said, the list of the top 25 lots by hammer ratio is very different from the top lots by value. There we see a smattering of familiar names—Caroline Walker, Wolfgang Tillmans, Scott Kahn, Luc Tuymans, Jordy Kerwick, Christian Boltanski, Beauford Delaney, Etal Adnan and Ernie Barnes—mixed with a group of names that are newer to auction prominence. Those artists include Raghav Babbar, Albert Willem, Stefan Gierowski, Michaela Yearwood-Dan, Julien Nguyen, Andrew Cranston, Austyn Weiner, Mikulas Medek, Merlin James, Koak, Doron Langberg, Sarah Ball, Julian Pace, Jenna Gribbon and Kyle Vu-Dunn.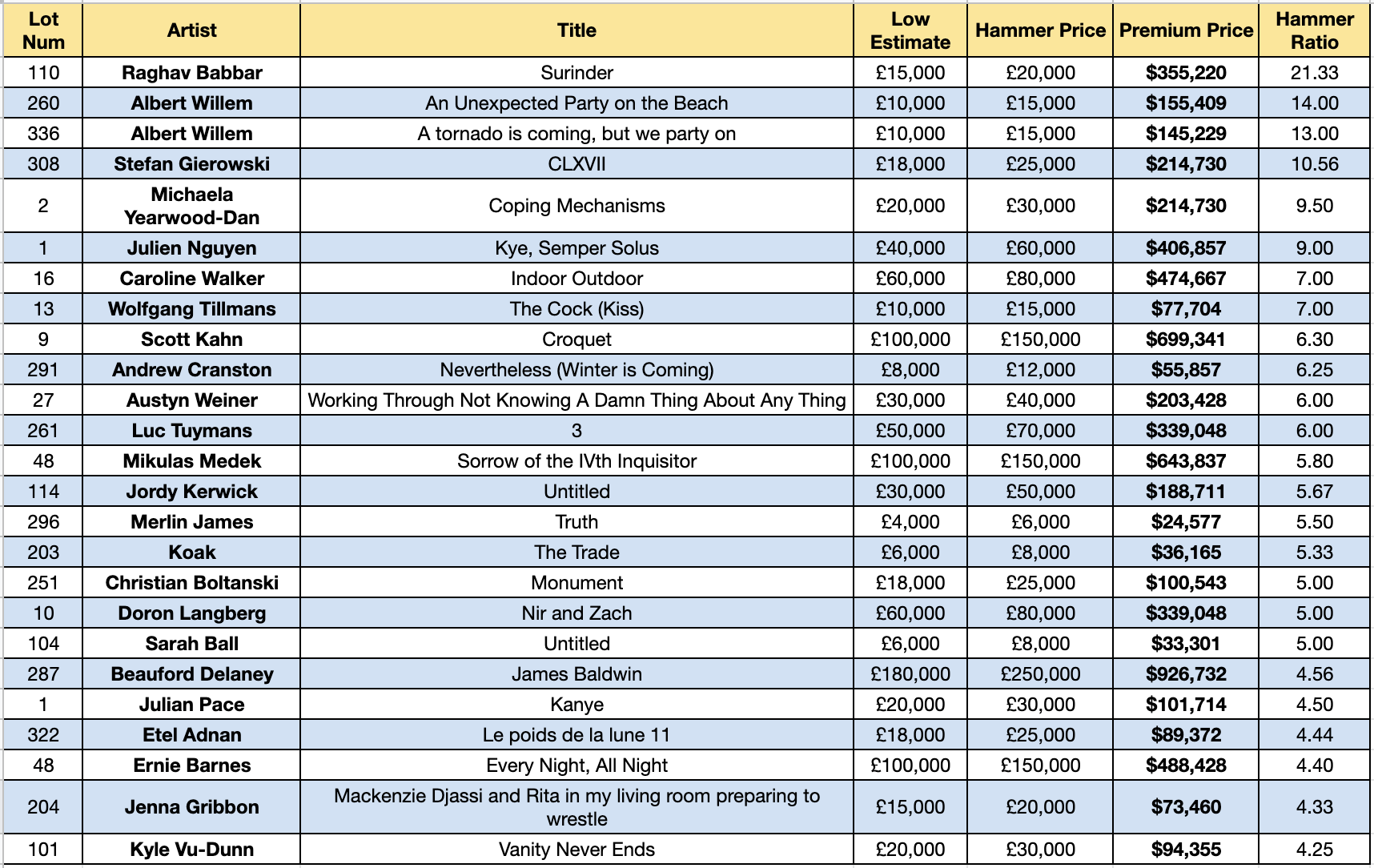 The top artists by market share closely track the top lots of the week. Gerhard Richter saw $36.2 million spent on his art (13.8% of the total); Francis Bacon was second with $34.8 million spent (or 13.3%); David Hockney rounded out the significant market share with $28..2 million (10.8%); Banksy was a significant step down with $10.3 million (3.95%); Frank Auerbach's work was sold for $9.1 million (3.5%); Yayoi Kusama saw $8.8 million paid (3.3%); Andy Warhol $7.1 million (2.7%); Bridget Riley $4.9 million (1.88%); Alberto Burri $3.4 million (1.3%); and Glenn Brown $3.2 million (1.2%).
In all, only 17 artists saw sales representing more than 1% of the total dollar volume spent in these auctions. Only 44 artists saw more than $1 million in sales. The art market is very much governed by power laws where a small number of artists account for the outsized volume of sales. These numbers, however skewed, actually suggest a broadening of value down toward the base of the pyramid.