What Happened in New York
The Fall opener sales totaled $69.1 million showing surprising resilience in a market that everyone expects to weaken
Share
It was a week without surprises—in either direction—as 84.6% of the 715 lots offered found buyers. The hammer ratio, or the aggregate hammer price of all sold lots divided by the aggregate low estimate of all the announced lots, was a low 1.06. That means the buyers were mostly willing to meet seller's expectations but bidding was restrained, even subdued.
A look at the top 25 lots by price shows a healthy mix of names but few surprises. Seven of the 20 artists represented in the top 25 prices were women; only four were persons of color. Lynne Drexler, Vija Celmins, Christina Quarles and Ed Clark may not be household names to the general public but they are all familiar to participants in the art world.
Andy Warhol, Philip Guston, Willem de Kooning, Helen Frankenthaler, Jean-Michel Basquiat, Sam Francis and Keith Haring represent an art world old guard whose presence at the top of this market suggest the beginning of some kind of flight to quality.
That said, the list of the 25 artists with the highest hammer ratios—where the most dynamic lot sold for ten times the low estimate and the 25th most dynamic lot still sold 3.8 times the low estimate—was anything but a list of market standard bearers. Aggressive bidders are not pursuing a "flight to quality" strategy. The most familiar names on the list of most dynamic lost are artists like Louise Nevelson, Carroll Dunham, Ugo Rondinone, Ed Clark, Jonathan Lasker and Eddie Martinez. In addition, there were a few names like Patrick Nagel that might have surprised observers.
Strong bidding on works by Wes Lang, Lauren Legiers, Emily Ludwig Shaffer, Ivy Haldeman and Amanda Baldwin suggests buyers are still seeking work by artists experiencing strong price growth. Atsushi Kaga, Danielle Orchard, Hugh Steers, Ana Benaroya and Angeles Agrela may be the artists with the most defined paths toward price appreciation.
Looking at artist's individual markets, we can identify a number who had three or more works sell in these auctions. From that data, we've tried to identify some winners, losers and artists whose markets are unchanged.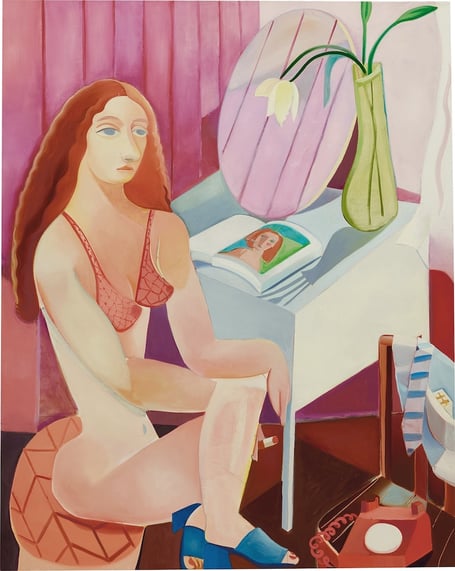 Danielle Orchard, Seated Woman (2020), $176,400
Winners
Amy Sillman
A pair of works on paper at Sotheby's sold well above estimates. One failed to sell at Christie's. All three had the same $18,000 estimates. Sillman's paintings have sold for as much as $870,000. But her works on paper are a separate market; these two sales at $56,700 and $47,880 are the high point of this sub-market, up substantially from the $32,000 paid in 2021 and the $22,500 paid in 2019.
Danielle Orchard
Four paintings in various sizes and compositions all sold. The aggregate hammer price was twice the aggregate low estimate which was set cautiously to attract bidding. Seated Woman from 2020 sold for $176,400 only a few hundred dollars off her second highest price.
Ernie Barnes
The former NFL player turned first official NFL artist, Barnes has had an extraordinary run in the past year. Collectors will spend for the works depicting ecstatic scenes like dances, pool halls and gospel services. The three works on offer in New York were very different aspects of the artist's work. There was a football scene which performed the best doubling the low estimate. The other two works were charming but different, a surfing scene and figure waiting at a stage door. Taken together, these works show interest in other imagery by the artist at the right price.
Louis Fratino
Three works by Fratino were offered. All three sold very well. Two works on paper made good mid-five-figure prices. The painting made the second highest price for the artist.
Louise Bonnet
Three small works on paper sold well, including one that is a study for the painting, Faucethead, 2020, that would sell a week later in Hong Kong for the artist's highest price.
Louise Nevelson
Three Louise Nevelson works were offered. All sold for an aggregate two times the low estimate.
Lynne Drexler
The runaway freight train that has been Lynne Drexler's market shows no sign of screeching to a halt soon. Six works were offered. All sold for an aggregate hammer that was 2.5 times the low estimate. Half of the works sold for prices three times the estimate or more.
Rashid Johnson
Five of Johnson's works sold for an aggregate hammer of almost twice the low estimate. Of particular interest was the 2013 work Deliver which sold for $189,000. This price was something of vindication for this work which has been two auction twice before. In 2015, it sold for $115,274 but the owner had to take a loss when it was resold for $75,000 in 2018. The buyer then was able to double her money in the four years since.

Sam Francis, Untitled (1983) $516,600
Losers
Wayne Thiebaud
There has been so much of Wayne Thiebaud's art on the market recently that it was a surprise to see three of the five works fail to find buyers. All three were works on paper. The two paintings that were offered also showed weakness with one making the low estimate and the other selling for a hammer price 20% below the low estimate. None of these were exceptional Thiebauds but they do show that collectors are unwilling to pay what sellers want.
Robert Colescott
Colescott's reputation was growing among collectors even before George Washington Carver Crossing the Delaware sold to Lucas Museum for $15 million last year. The New Museum's retrospective should have sparked even more interest from collectors. But the two works offered in the mid-season sales both sold for compromise prices below the low estimates.
Aboudia
The Ivorien artist has been a sophisticated market participant and his volume of sales over the last two years has been exceptional. So when four works are offered and only two sell above the estimates, it might just be a bad season or it may betray weakness in his market.
Andy Warhol
Of the eight works by Andy Warhol offered in these sales, only one, a portrait of Alec Guinness, saw any kind of bidding above the estimates. A million-dollar work was withdrawn and the rest were sold at compromise prices. Were these important Warhols? No. But the artist is a bellwether of the Contemporary art market, even in this age when a greater range of artists are represented.
KAWS
Not much by KAWS was on offer in New York. Even so, the four works performed at or below estimates with the exception of a drawing made this year donated by the artist for a charity sale.
Sam Francis
The work with the highest estimate passed but another sold for the $80k estimate and a third was bid up to the level of the unsold lot. The competition came over a late painting from 1983. Three years ago, the highest price for a late Sam Francis was paid at Sotheby's in Paris when Coming of the Violet from 1989 sold for $1.2 m.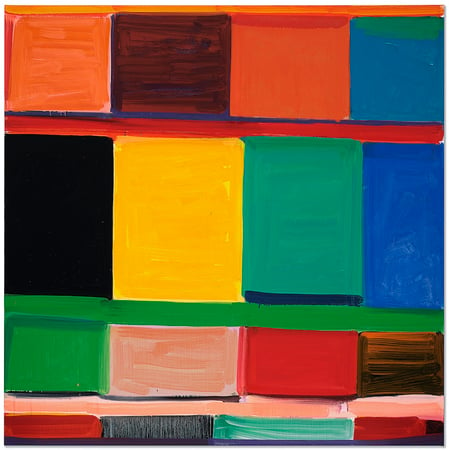 Stanley Whitney, Midnight Hour (2016) $655,200
Unchanged
Stanley Whitney
It's been a strong year for Whitney's market with 32 works sold at auction for prices above $50,000. That includes 8 of his top 10 prices at auction. That said, estimates are catching up with demand. Only the small 1995 work on paper sold in New York saw aggressive bidding above the estimates.
Josef Albers
Collectors continue to value Albers work, especially his series entitled Homage to the Square, but the market is well attuned to the value of the works. Four versions of Albers's best known work were offered in New York. Three came from one collection and each sold at or very near the estimates. One small work out-performed but mostly by going from a mid-five-figure estimate to a low six-figure sale.
Jordy Kerwick
The six Kerwicks on offer in New York had a range of mostly positive outcomes (one work failed to sell for the $20,000 estimate and another sold for less than the $70,000 estimate.) But three works sold for multiples of the estimates ranging from $17,640 to $163,800.
George Condo
Five works by Condo from the 1980s, 1990s and early 2000s were sold with mixed results. The two works from the 80s saw robust bidding that brought the prices from the five figure estimates to the low- and mid-six-figure premium prices.
Günther Förg
Four works offered, one passed and another made a price a hair below the estimates. But two others, the cheapest and the most expensive, sold for solid prices.
Christina Quarles
In one of the first tests since the unexpected $4.5 million sale in May, two works were estimated at half a million dollars. Both sold for the asking price or a little more. But the resulting premium prices confirmed Quarles's previous record price at auction. Some market observers are concerned that these prices now lag Quarles's primary market prices but those works currently on view at Hauser + Wirth are quite strong.
Helen Frankenthaler
Three works by Frankenthaler were sold with two making the estimates and a third, priced in between the two, selling for twice the $100,000 estimate.
Salman Toor
Three works were offered all dating from 2013-14. All sold above estimates but only the most valuable one—estimated at $200,000—was bid well beyond the estimate. In the end, it sold for $403,200. Works from that period are among the most valuable Toors to have been auctioned. So these prices are not exceptional but they do speak to continuing demand for the artist's work.
Scott Kahn
Four works by Kahn were sold with one passing and another selling below the low estimate. Two saw strong bidding to make prices in the low- to mid-six figures. The two successful works were both landscapes—though of distinctly different types within Kahn's body of work.