Auctions
Christie's Reveals $850m from Paul Allen's Collection
The billion-dollar sale scheduled for November 9 & 10 has three works estimated over $100 million.
Christie's released the first list of works from the Paul Allen collection that will be offered in their own two-part sale in November. The 18 works have a combined estimate of $852.5 million. Split into Evening and Day sessions, the sale will certainly contain many more lots.
Until the November 9th sale date, we can occupy ourselves with calibrating the newly released estimates against global asset markets. One of the main preoccupations for the art market this Fall will be revising expectations to the new financial climate. Because of the quality of these works, the Allen collection is least likely to be affected by that recalibration but no one will know until the auction takes place.
For now, we're being shown the previously revealed Cézanne view of Sainte-Victoire with a $120 million estimate. Joining Cézanne in the nine-figure club are two works.
There's a tiny version of Georges Seurat's famous Les Poseuses at the Barnes collection. Allen's version is something like 4% of the size of the one at the Barnes. Does that suggest the Barnes work, if it were to be sold, would be valued at $3 billion? (Probably not.)
Vincent van Gogh's Verger avec cyprés is also expected to make more than $100 million. If that price holds, it will be a new record for the artist, finally surpassing the $82.5 million paid for the Portrait of Dr. Gachet more than 32 years ago. There will have to be a serious bidding war for the van Gogh to better the record on an inflation adjusted basis, though. Ryoei Saito paid $183.5 million in 2022 dollars for the portrait.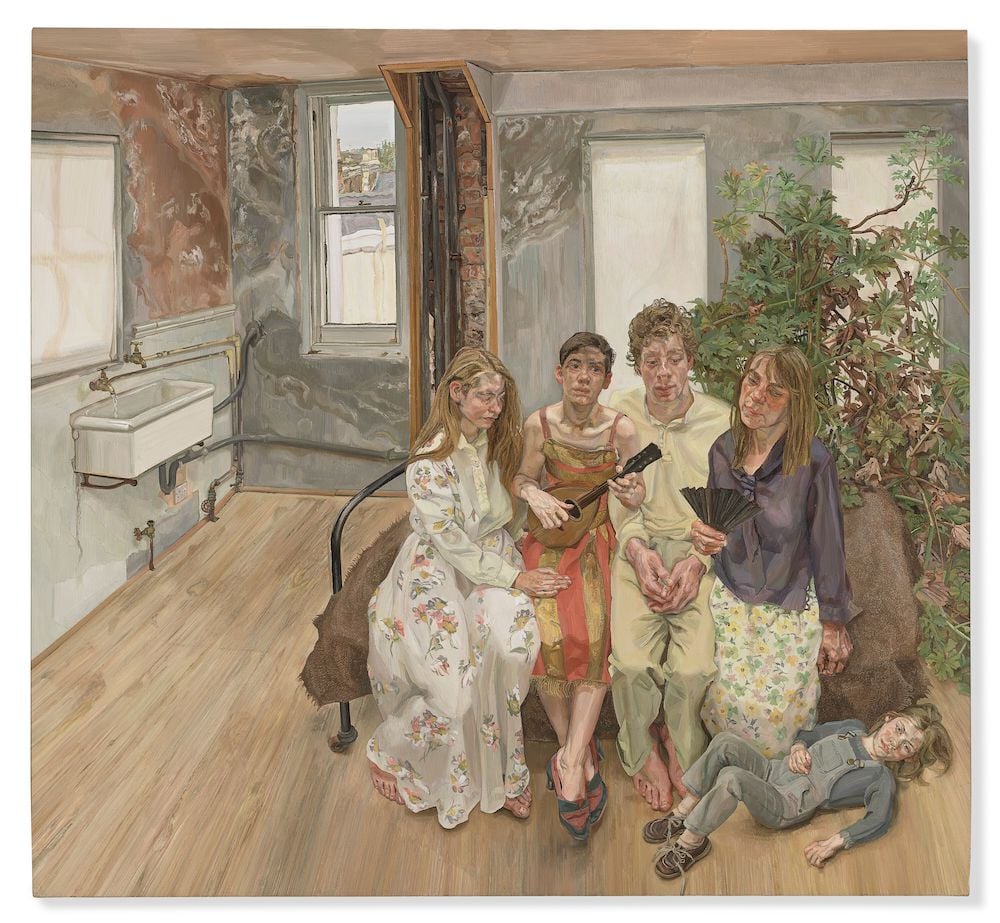 Lucian Freud, Large Interior, W11 (after Watteau) (1981-83)
Paul Gauguin and Gustav Klimt come next on the estimate ladder as we descend to the $90 million level. Maternité II from 1899 painted during Gauguin's final trip to the South Sea islands was purchased at Sotheby's in 2004 for $39.2 million. The Klimt, a birch forest view from 1903, was previously sold at Christie's two years later for $40.3 million. This gives us a pretty good measure of Christie's view of art market inflation.
Lucian Freud's take on a classic Watteau composition is valued at $75 million. That would also be a record for the artist. The painting, Larger Interior, W11 (after Watteau), is the earliest large painting by the artist to come to auction making it a bellwether event.
Monet's Waterloo Bridge carries a $60 million estimate placing it 25% above a version of the image in cooler tones that sold for $48.4 million last year. His peer, Edouard Manet, is represented in Allen's collection but a view of the Grand Canal in Venice that is estimated at $50 million.
Following Jasper Johns's two-part retrospective at the Philadelphia Museum and Whitney, less mirror shows than competition quietly won by Philly, the sale will contain two works by the enigmatic artist. Small False Start from 1960 is estimated at $50 million. Johns has never been an auction artist. His most valuable works tend to trade hands privately like the larger False Start which was owned by a who's who of art collecting: Robert Scull, Francois de Menil, David Geffen and Ken Griffin. Griffin paid $80 million for the larger work as long ago as 2006. Along with the junior False Start, Allen also owned a sheet of notebook paper sized grey map that gets a $5 million estimate.

Francis Bacon, Three Studies for Self-Portrait (1979), estimate $25 million
Allen's best of everything approach to collecting means the sale has a broad range of artists who often don't have much in common beyond their value and fame. J.M.W. Turner's Venice scene carries a $30 million estimate. A five-panel work by Jan Brueghel the Younger depicting the five senses has a $4 million estimate.
Three years ago, Christie's set a record price for Paul Signac 50% above the previous high. That $25 million record has become a reference point for the $28 million estimate on Concarneau, calme du matin from the year before the current record holder.
Francis Bacon's place in Allen's collection is filled with the Three Studies for Self-Portrait from 1979. It is estimated at $25 million. Since 2008, three different examples of similar works have sold for prices at or above $25 million. One from 1975 sold for $34 million. The later date and brighter background may account for Christie's somewhat conservative estimate.
The surge in sales of René Magritte's work over the last year or two benefits the sale of La voix du sang from 1948 which is expected to make at least $12 million. Agnes Martin's untitled work from the end of the last century is looking for at least $4 million. Georgia O'Keeffe's White Rose with Larskspur No. 1 from 1927 seems appealingly estimated at $6 million. Louise Bourgeois's Black Flames from 1989 estimated at $1.5 million rounds out a clutch of women artists in the collection.