Phillips
What's the New Art Market Look Like?
Same as the old one … only smaller
The results from London offer a surprise: the market is down by a third but young artists are still driving the momentum.
London Sales Down by 30% from 2022
While the world waits for an economic recession to begin, the art market's pullback is already here. London's sales were down nearly 30% from 2022 in both the total sales volume and average price. The 2023 London sales had a premium total of £432 million ($519 million) with an average price of £550,345 ($660,414.) Not bad numbers but they struggle against last year's totals of $727 million and an average price of $938,658.
Slightly more lots were offered this year in London—8%—than last year, but a lower sell-through rate of 89% this year versus 93% last year meant the total number of lots sold was only higher by a dozen.
The stat that matters most, hammer ratio (or the aggregate hammer price for sold lots divided by the aggregate low estimate for all lots offered,) slipped to 1.03 which is a neutral to weak market; however, that weakness may not be evenly distributed.
There's Always a Bull Market Somewhere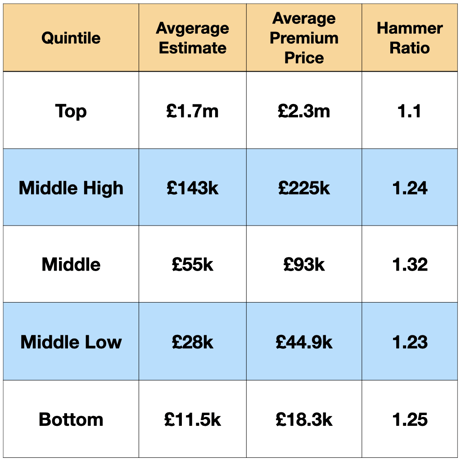 When we separate the nearly 900 hundred lots offered into quintiles, the weakness at the top of the market becomes clearest. Just focusing on sold lots, we can see that the top 20% of lots with an average estimate of £1.7m sold for a hammer ratio of 1.1. That's just above the low estimate.
Three of the other quintiles had hammer ratios right around 1.24 which is strong to moderate bidding for works with average estimates of £143k, £28k and £11.5k.
The strongest quintile was the middle one with an average estimate of £55k. Those works were bid to the upper part of the estimate range at a hammer ratio of 1.32.
For comparison, the top quintile of these sales was slightly weaker in 2022. The Middle High and Middle low quintiles in 2022 saw hammer ratios of 1.93 compared to the 1.23 this year.
A Flight to Nowhere
The conventional wisdom in the art market is that a recession will bring a flight to quality. It's true that the auction houses brought some significant works to these sales by bankable big names. It's also true that few of those sparked any real bidding.
The top lot, a restituted Kandinsky universally accepted as among his best works, was sold to what looked like the guarantor, likely a family that is among the usual suspects to guarantee a classic work of modernism. Sotheby's very large Richter abstract did provoke bidding above the announced expectations for the work. The $29 million final price was triple what the seller paid for the work 16 years prior. But the sale would not reset the Richter market significantly. Another Richter was withdrawn from Phillips sale. But Christie's was able to sell a much smaller abstract painting for $4.5 million which is a price at the top of the spectrum for a small squeegee painting. Five other examples have sold at prices between $4 and $4.9 million.
Picasso's painting of his daughter Maya came straight for a show at the Musée Picasso. It's estimate was set attractively low. The picture performed admirably by selling for $21.7m with fees which was more than three times the price paid nearly a quarter century ago.
Other works by Picasso, de Kooning, Delaunay and other quality names among the top lots were sold for prices below the low estimate. Christie's had hoped to turn buyers toward German Expressionism with the idea that the prices would be attractive compared to bigger names or even younger artists. But a superb work on paper by Otto Dix sold for $300,000. Thirty years earlier it had sold for $209,000 which would have been $430,000 in 2023 dollars. That's a great buy for a passionate collector but a bad return for an investor.
Other tough sales were David Hockney's small Santa Monica Boulevard from 1979 which sold for $1.9 million in London four years after it was bought for $2.4 million in New York. Pierre Bonnard's Le Corsage Rayé from 1922 was purchased in New York in 2006 for $3.7 million. Twice since that time it was bought-in at auction. Finally, the work was sold last week in London for $1.5 million.
It wasn't only Modern works that lost value. Antony Gormley's Hive I from 2006 lost 15% of its value over 10 years despite there being a pronounced interest among collectors for his sculptures. Finally, even with Philip Guston's major show opening in Washington, DC last week, the much traded Odessa from 1977 was sold for $4.7 million. It had been bought six years before for $4.9 million which was a significant rise from the $1.9 million paid in 2008.
The Now
The expectation going into 2023 was that the market for young artists would cool. Sotheby's The Now sale reframed that conversation with strong sales for artists like Mohammed Sami, Julien Nguyen, Michael Armitage, Emma Webster, Jana Euler, Miriam Cahn and Chloe Wise. Similar artists at Christie's and Phillips showed the demand for 21st Century painters remains strong.
Michaela Yearwood-Dan had two strong sales for works made in the last three years. Her top lot, Love Me Nots from 2021 sold for a record $881,518. Her previous record set in December was also buttressed by another sale within the region at $330,000.
Caroline Walker's market has been building with successive seasons. Last October, two similar works set at night were sold for prices within a stone's throw of each other. This season, all three houses had works by Walker and each of the works included a pool in the setting. Christie's came first with a robust $835,922 sale for The Puppeteer from 2013. Sotheby's followed with a slightly darker image that made $748,809. The sunniest work, a symmetrical pool scene with a more muted narrative than Walker's best work would ultimately become the artist's auction record at $1.1 million for Threshold from 2014.
Claire Tabouret saw two similar debutante scenes from 2014 sell for $389,393 and $638,341.
Cecily Brown's market has grown considerably over the last several years. Her plentiful works trade consistently and clear price bands have emerged with a ceiling around $7 million. In 2021, three sales confirmed a top range of $6 million for three works. Last week, another three works all traded in anticipation of the Metropolitan Museum's retrospective opening in early April. The highest price work made $5.1 million at Christie's. It had been painted in 2014. Another 2014 work that had been offered privately still attracted bids at Sotheby's and sold for a strong $4,1 million. It was previously sold in Hong Kong in 2017 for $862,185. The third work had a much longer sales history having been first offered in a day sale in 2010. It was sold in another day sale in 2013 for $483,750. Five years later, it sold again for $708.137. Another five years on, it sold last week at Phillips for $2.6 million.
Brown's price trajectory probably already has the Met retrospective baked in. Her work trades now with the frequency of the Richter abstract market and its global appeal only helps support values. Over time, her market will likely account for more volume in the Contemporary art market.
Albert Willem and Duncan McCormick are two artists who appeared multiple times on the list of works with the most dynamic bidding in London. Each saw works offered in the low five figures that sold in the low six figures. Emma Webster saw a bigger pop to $489,018.
Can the Market Share?
Young artists, especially women, may get much of the attention from those following the auctions but the numbers tell a different story. Half of all of the money spent on art in London was paid for work by a dozen artists. All but one of them were men and Cecily Brown was the only artist on the list below the age of 80.
Bidding may have been restrained for these artists' works but the values are much higher than what most other artists can command. Even Brown has the advantage of a career that spans more than 30 years.