Auctions
Can Wayne Thiebaud's Market Get Any Sweeter?
Christie's big $10m triptych may not set a record but it could help push prices higher
The market for Wayne Thiebaud's work has been on the move these last few years and the strong prices are coming from unexpected works. To most, Thiebaud is prized for his candies and pastries from the 1960s. Traditionally, these are the works that have had the best shot at attracting bidders and driving up new prices.
Among the 10 works that will be auctioned in New York over the next two weeks, there are indeed two small works from the early 1960s that tick all of those boxes. As sought-after as those works are, the best opportunity for Thiebaud's entire market to rise comes from the potential for larger works from different periods of his practice to set increasingly higher prices.
For many years, the most valuable Thiebaud work was the Bakery Counter owned by Barney Ebsworth (and one of the few works kept by his heir) that he bought at Christie's in 1997 for $1.7 million. The price seems unimpressive now but it was a bombshell in the 90s, akin to the $17 million Si Newhouse paid for Warhol's Orange Marilyn the next year.
We don't know what the Shot Sage Blue Marilyn is going to sell for tonight but we can safely assume both works have increased in value at a consistent rate. That would make Bakery Counter a $25 million painting at a minimum. That price might have been achieved in 2018 if the Ebsworth collection had included the Thiebaud. Since that time, there's been a slew of Thiebaud sales that suggest a wider range of the California artist's work will be valuable and that those values will be much higher than previously seen. In other words, Thiebaud's stature as an artist is rising relative to his Post-war peers.
In the last two and a half years, the market has set four new prices above the previous record—set in 2013. Two of those works were made in the 1960s but two were created in the 21st Century; two of the works were classic Thiebaud themes—cakes and pinball machines—but two were themes that were previously less valued by the market, a landscape and an enigmatic portrait.
Some of the upward momentum depends upon the work at Christie's: City Views, a San Francisco landscape triptych commissioned for the Gladstone Institutes building in 2004. Estimated at $10 million, the work's large size, each of the panels is six feet by four feet, and unique provenance, presents the potential for a confirmation price in the eight figures. The other three strong prices from the last two and a half years were just below the $10 million mark. Could this work move the record up higher into a $20-million handle? Possibly. But the value of a confirmation price should not be underestimated.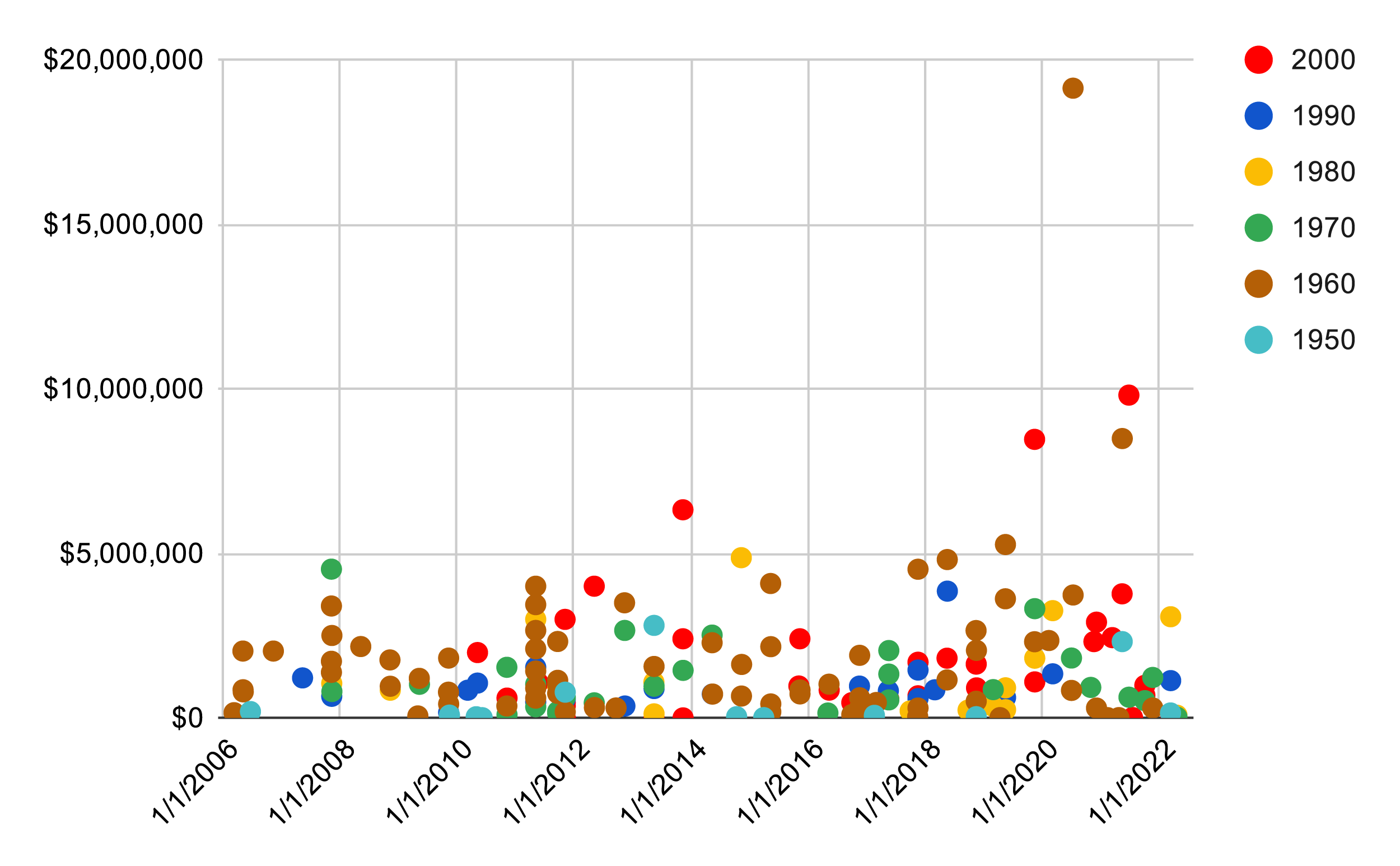 Wayne Thiebaud painting sales, 2006-22
Another price in the high teens, especially for a work from the 21st Century, would continue the process that has been slowly evolving over the last eight years. In 2013, a work from the 21st century—Two Jackpots from 2005—sold for $6.3 million at Christie's and became Thiebaud's most valuable work sold at auction. Prior to that all of the most valuable works were primarily from the 1960s, including Seven Suckers from 1970 that sold in 2007 for $4.5 million at the first sale of Allan Stone's estate.
In November of 2019, Encased Cakes from 2011 made nearly $8.5 million at Sotheby's. Then in July of the next year, Four Pinball Machines, which is six feet wide, was sold by San Francisco collector Ken Siebel who had bought the work from Donald Bren. Good provenance helps get good prices. Good prices help bring more good prices as two more Thiebaud's sold the next year. Winding River from 2002 is six feet tall. It made $9.8m at Phillips. Earlier that year, a smaller portrait like picture Toweling Off from 1968 sold for $8.4 million.
What do these prices tell us about Thiebaud's prospects for this May? Well, the smaller work from the 1960s priced at $8.4 million suggests there is room to run for Three Ice Cream Cones from 1964 (estimated at $2.5 million) and Yo-Yo's from 1962 (estimated at $2 million). In the last two years, pictures from this vintage have been notably absent from the sales.
From the data we have, the other seven works on offer should also do well. They range from late confection works: Crown Tart at Sotheby's with a $1.2 million estimate and Berry Cake at Phillips with a $1.5 million estimate to early works from the 1950s before the painter's mature style emerged to the three foot by four foot Little Deli at Christie's from 2001 that is priced at $4 million.