Contemporary Art
FUTURES: Nicolas Party Isn't Ready to Leave Yet
The Swiss artist goes from success to success but even after three years of rising prices and sales, it looks like the party has just begun
Nicolas Party's market has been growing steadily and progressively over the last three years. Normally we might expect sales to plateau at a new level after three successive years of growth and new record prices at auction each successive year. But that hasn't really happened with Party's auction market.
Although the Swiss-born Party had some auction sales beginning in 2016 and 2018, his market really began to accelerate in 2019. A total of $5 million dollars was spent on 28 auction lots, only three of those were paintings. The rest were works on paper, sculptures or the occasional print. The three paintings were the highest priced works. Two of the three were sold in Hong Kong and the record price closing out the year was $1.1 million.
For an artist then just closing out his thirties, that was a hell of a run. The next year, 2020, a handful more works were sold for more money ($6.6 million) but the average price declined ever so slightly from $180,000 to $179,000. Once again, the top prices were paid for works on canvas. Again at the end of the year in Hong Kong, a new auction record was set slightly higher this time at $1.35 million.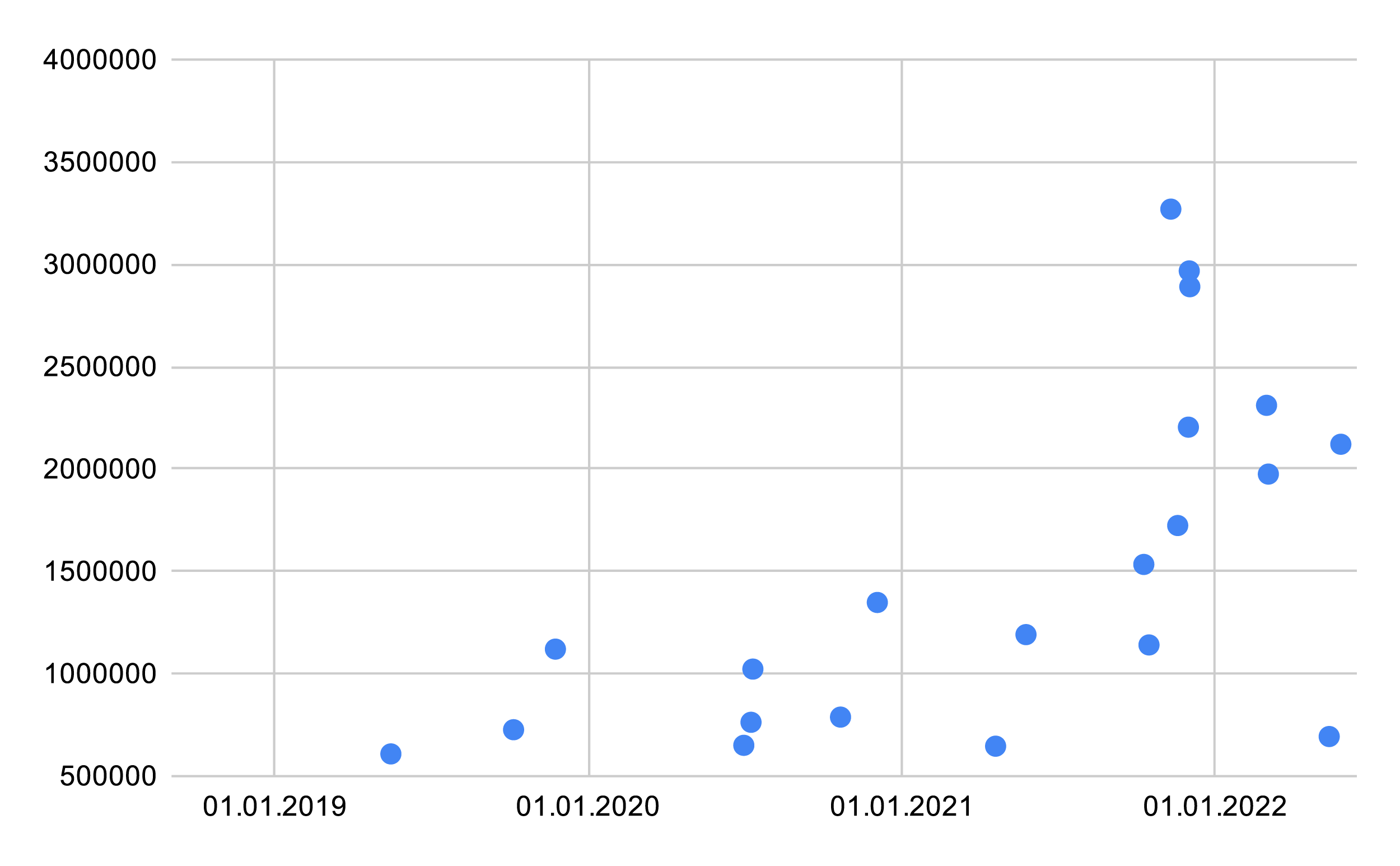 Nicolas Party auction sales above $500,000, 2019-2022
That set up Party's breakout year of 2021. On roughly the same number of sales, Party's average price rose just about three times to $523,000. Toward the end of the year, his former record price was topped. Then, in a charity auction, someone more than doubled the top price when they paid $3.27 million for Landscape. Charity auctions are notorious for creating outlier prices in the art market. Only weeks later, the Hong Kong market once again reconfirmed the level of demand for Party's pastel works. Three sales above $2 million affirmed the new price level. The top price of $2.96 million for another Landscape was just 10% off the record.
Party's long journey from obscurity has had many steps–through tastemaking galleries like Karma in New York and Xavier Hufkens in Brussels to additional representation by Hauser & Wirth–but it has surely been global and sustained. This year, the artist had his first solo show at a US museum when the Dallas Museum of Fine Art showed 200 of his works and unveiled a site-specific mural commission.
This year, three works have already sold close to or above the $2 million mark. The sales successes are also moving West toward London and New York. That's to be expected when there is broad demand. But there's also the possibility that these new sales at $2 million are harbingers of a jump at the end of the year. In each of three previous years, auction prices stabilized near the end of year high until the last quarter when new records were set.
That's not something one would want to bank on nor predict. But the pattern is still there.
This kind of demand also explains the presence of Nicolas Party in our Trading Floor. There is a request for work; if you have a Party you are interested in selling, please get in touch.