Price Database
How Scott Kahn Made the Hot List for Q2
A friendship with Matthew Wong has turned into a late-in-life Cinderella story
When Scott Kahn's first work of art came up at auction in Hong Kong last November at Phillips— and sold for nearly a million dollars—it seemed like the end of a long saga. And it was. The 76-year-old artist had been without a gallery for a decade and a half. The sale had been the culmination of a comeback or, even, a late-in-life Cinderella story. After all, Kahn had been living in his cousin's attic. But in this version of the fairy tale the fairy godmother came in the form of a 34-year-old neurodivergent Canadian-Chinese painter, Matthew Wong, who happened to live in remote Edmonton. Kahn and Wong found each other's work on Facebook . They shared a lot of interests as painters and became friends. Wong told his dealers about Kahn but it wasn't until the ill-fated Wong committed suicide that attention shifted to Kahn. Wong's death led to an exploding market at auction.
The powerful bond between the artists with vastly different biographies but strong aesthetic sympathies drove many dealers, collectors and auction house personnel to seek out Kahn's work. The process is now a familiar one. Savvy market players like Harper's Books gallery and Karma gave Kahn shows. The work was also making the art fair rounds. Almine Rech now represents the artist. As interest in Wong's work grew in Asia, buyers in both markets were being diverted toward Kahn where there was simply more supply. That an American painter who attended the University of Pennsylvania and did graduate work at Rutgers as well as studying at New York's Art Students League—though Kahn prefers to think of himself as self-taught—sells better in Asia than in the West is only proof of the Wong effect.
It wasn't an accident that the first sale at auction took place in Asia—and Kahn's best performances since have been at auction there too. The price for Cadman Plaza, a 2002 cityscape view of New York harbor, would set a strong record. But it didn't choke off interest. Four months later, a strong confirmation price was set. Six months later, the record would go higher.
Since the first Hong Kong sale, eleven more works have come to market. Those sales show a few interesting patterns.
Another pattern, perhaps the simplest one to see, is that price is a function of size. The two largest works to sell, Cadman Plaza and Big House, Homage to America from 2012 that sold in Hong Kong this May for $1.4 million, advancing the record by another 50%, have had the highest prices. Into the Woods, a vibrant landscape from 2106 that is about half the size of the others, made nearly $900,000 in a Shanghai sale this Winter.
Below that level, there's another group of works that have made prices from around $350,000 to around $500,000. All but one of those paintings are of a similar size. Another four paintings sold at price below $350,000. Two of those works featured figures; most of them were even smaller canvases.
Landscapes tend to perform better at auction for Kahn. The later work seems to also have an edged over earlier works but that would have to be tested with a larger early work coming up for sale. What we can see from this chart of the Kahn auction prices so far is that two of the three top prices are for works made after 2010. Earlier work from the 1990s tends to gravitate toward the lower end of Kahn's price spectrum. Like many markets, especially ones where the first sale is quite high, the bulk of Kahn's auction sales are coming in a lower levels triangulated against other works on the public and private markets.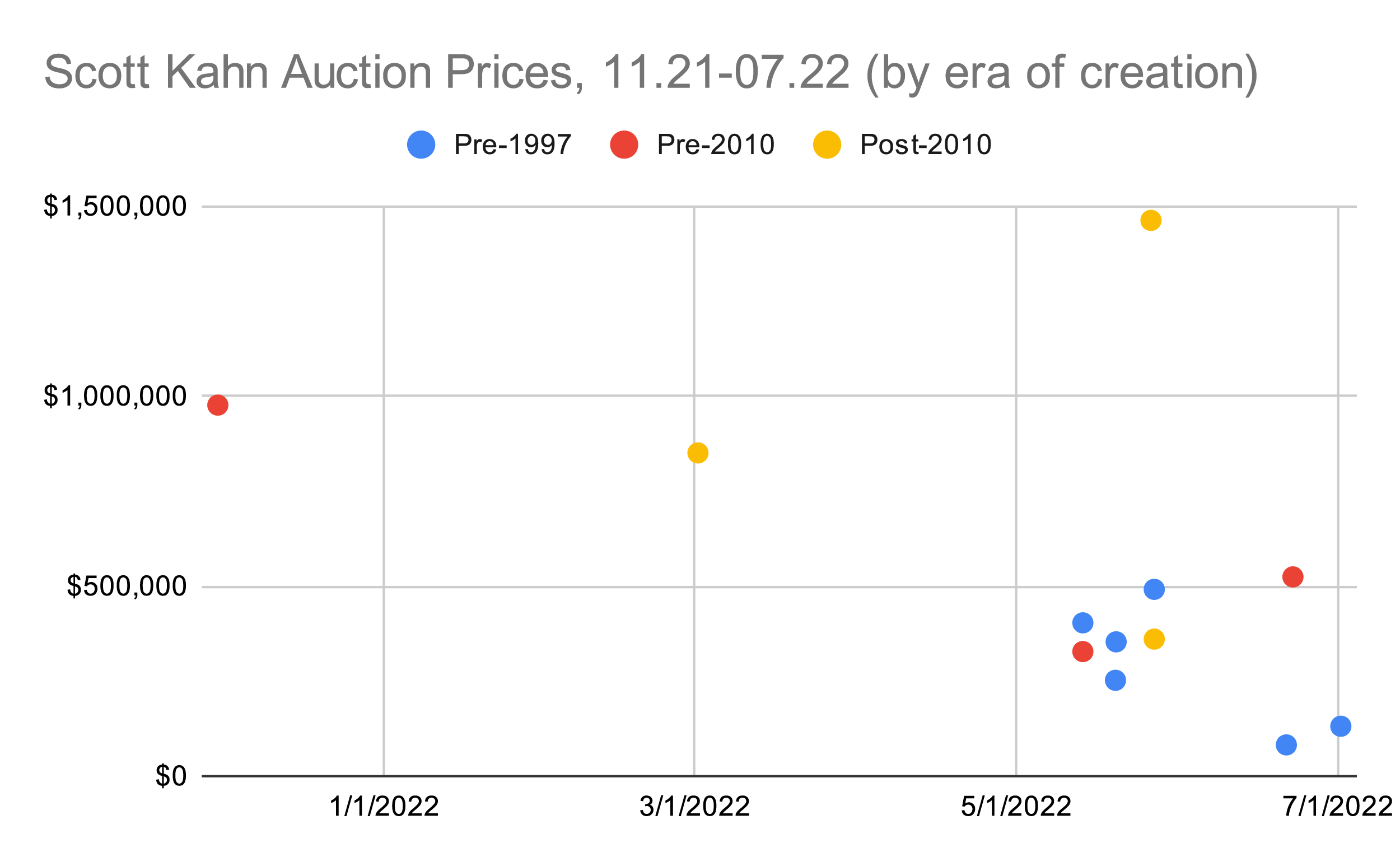 This pricing information helps set market expectations. With a several galleries active in Kahn's market, and a long career's worth of work still in the artist's hands, these prices should help facilitate more trades privately and in public. With that additional data, the market will have a better understanding of the value implications of size, subject matter and date.