Auctions
Introducing the LiveArt Hot 25 for 2021
We scoured the auctions for the most dynamic lots, filtered value and made sure no one was a one-hit wonder. The result is a surprising list of 25 artists whose markets were on fire in 2021.
The LiveArt Hot 25 shines a light on artists whose work saw the most dynamic bidding in public auctions during 2021. From our comprehensive database of auctions, we isolated the artists whose work was bid the farthest above the low estimates. We filtered the list for lots above $90,000 and only included artists who had more than one work bid up aggressively at auction.
The result is a surprising mix of emerging talent and some of the best known names in Contemporary art. On this list you'll find Amoako Boafo (no surprise) alongside David Hockney; a trio of women artists—Ewa Juskiewicz, Emily Mae Smith and Flora Yuknovich—whose work is all the rage next to François- Xavier Lalanne, Yves Saint Laurent and Andy Warhol.
The LiveArt Hot 25 takes the temperature of the Contemporary art market in a refreshing, enlightening and tradable way.
Yves Saint Laurent died in 2008 but suddenly he's a hot artist all over the auction calendar. A collection of the designer's drawings was featured at Christie's in October. The works sold across the board at multiples of the estimate. A smattering of fashion sketches, erotic fantasies and images created as art like Love from 1971 that sold for $236,293, the sales have carried on through November and December.
Yayoi Kusama may be the most famous living artist in the world with a near-constant stream of museum shows and exhibitions. Her infinity rooms have ridden the wave of popularity for immersive experiences but her market continues to blossom in unexpected ways. A new record price was achieved for her work in Hong Kong in early December. But in May, Bonhams sold a gouache on paper, Sun, from 1953 for $500,312 against a $40,000 estimate. Another from 1954, Flower 52, was estimated at $20,000 and sold for $350,312. And a hand-painted Levi's denim jacket from 1971 sold for 187,500.
Woo Kukwon is a Korean artist whose work has burst on the market this year. Of the nearly three dozen works offered publicly, all but one were sold in 2021. Prior to this year he had not seen a work sell publicly for more than $10,000. Since October, more than eight of his paintings have sold for more than $100,000, including Ugly Duckling from 2019 which sold at K Auction in Seoul for $237,753 against an estimate of nearly $13,000.
Stanley Donwood was school mates with Radiohead's Thom Yorke. Later they collaborated on a number of projects, including art work for the covers of some of the band's albums. Christie's sold six of the works in October with an estimate of £10,000 each. The cheapest of the works sold for £50,000. The most expensive one, Residential Nemesis, sold for $192,535. Altogether, the works brought in more than $875,000.
Salman Toor first saw his work get traction in the auction market a year ago. Since then there has been a steady stream of sales with little indication that demand is flagging. An efficient market would see estimates catch up to values. For the most part, it has. Nevertheless, Toor's market still has had some surprises left in it. In May, The Arrival appeared at Sotheby's with a comically low estimate of $60,000. The punchline came when the buyer paid $867,000. That's the artist's second highest public price. Perhaps more interesting was Blonde and Brunette, a work on paper donated to benefit the New York City AIDS Memorial. One generous soul bid it up from $15,000 to $200,000 and got to keep a drawing for the good deed.
Oluwole Omofemi's work has been building momentum at galleries, in group shows and art fairs for the last year. In a variety of auction houses, the Nigerian artist was seeing prices in the low five figures. Then the big auction houses took notice. Sotheby's and Phillips were able to replicate those sales in London in October. The art market is so reactive right now, it didn't take long before Phillips and Christie's found two works from the artist's Metamorphosis series painted in 2020 that had been shown at the Out of Africa gallery in Barcelona during the Winter of 2021. Omofemi's art took a dramatic turn when he decided to start painting his idealized view of African women. The Metamorphosis series is meant to symbolize three stages of life: childhood, youth and adulthood. Youth and adulthood were featured at Christie's and Phillips this Fall where they were offered with with estimates around $10,000. Metamorphosis II sold for $141,000; Metamorphosis III sold for $118,000.
Mr Doodle is the "street art" handle for pastiche artist, Sam Cox, who is to Keith Haring's art what Green Day was to punk rock. The young Briton's success has come in Asia and on social media. It started in 2018 when he had a show in Seoul that piqued collector interest. Mr Doodle's work began to trade in Asian auction houses in 2020. Following the now clear path of mixing social media, collectibles and canvases that can be presented as art, Mr Doodle's work began to reach market escape velocity this June when Phillips sold Guernidoodle in Hong Kong for $243,645. Then in two successive sales in October, Mona Doodle sold for $454,292 against an estimate half of that level and Tokyo Doodle sold for $644,237 at Sotheby's.
Milo Matthieu is interested in identity and uses distorted representations of the body to express one of contemporary art's most powerful themes. Inspired by Andre Breton and Surrealism, especially where it intersects with the art of Haiti, Matthieu explores his own "curated life of introversion." In August and September, his work began to surface at Christie's and Phillips where Los Siete Infantes exploded above the $15,000 estimate to sell for $176,400 and Aged in Harmony confirmed that price level with a $160,000 sale over a $12,000 estimate.
Jadé Fadojutimi has had an extraordinary year on the art market. Twenty-one works by the artist who lives in London but frequently visits Japan were sold at auction. In October alone, three of her works sold for prices above $1 million, including a top price of $1.6 million achieved at Phillips. That was the culmination of a market process that began in earnest in March of 2021 when a small work on board was offered for £5000 and received ferocious bidding up to $190,997. In December, she opened a major show of her work at the ICA in Miami.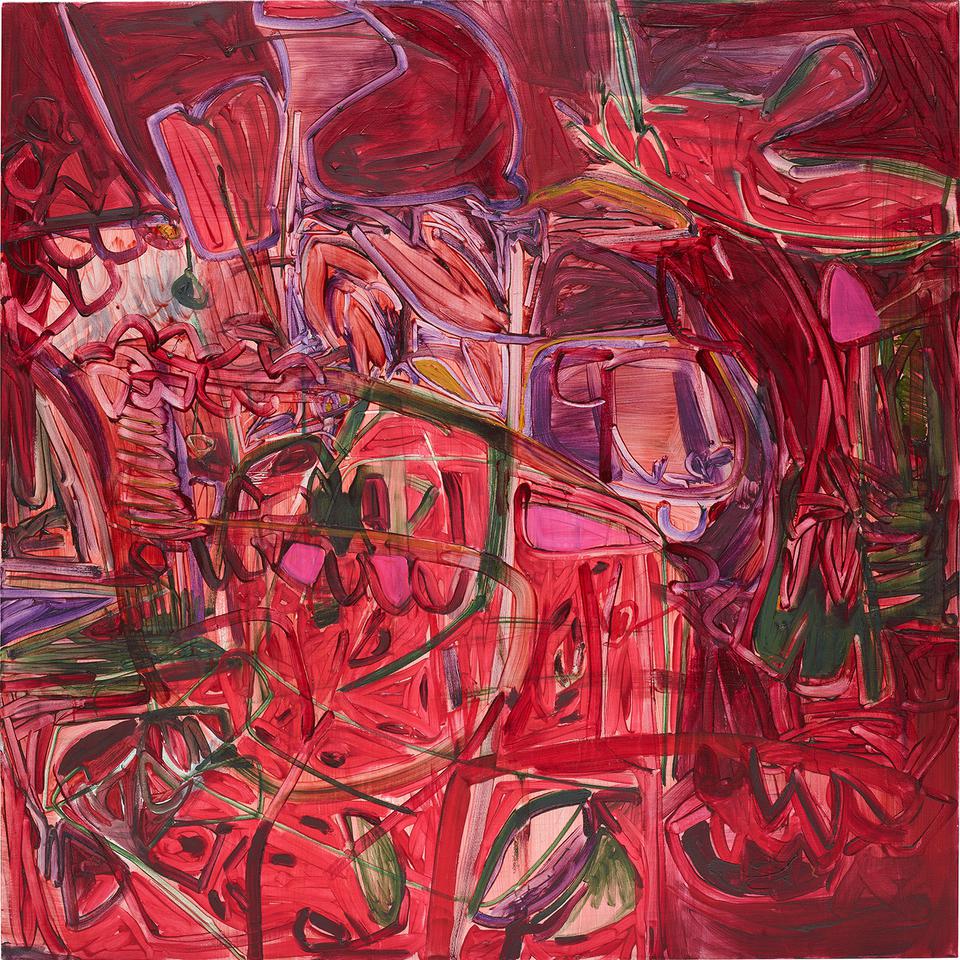 Jadé Fadojutimi, Myths of Pleasure, 2017
Larva Labs launched Cryptopunks in 2017. It wasn't until a May sale at Christie's netted just under $17 million for a bundle of nine rare punks that the foundational generative art project entered the mainstream. Cryptopunks inspired Bored Ape Yacht Club but also generative art entrepreneurs like Erick Calderon who founded Art Blocks and the highly successful generative project, the Chromie Squiggle. The 10,000 Cryptopunks, some of which have traded more than 20,000 times, were followed by Meebits which also had their moment at Christie's.
Jean Besnard was a French ceramicist born in the late 19th Century who died at the end of 1958. The child of two artists and a descendant of the Beaux-arts tradition as well as Impressionism, Besnard's ceramics are a popular collectible. The sale of Washington, DC philanthropist and real estate heiress Michelle Smith seems to have set off something extraordinary in the Besnard market. In a single day, $1.5 million worth of Besnard's work was sold against a combined estimate of $56,000.
Isshaq Ismail's moody portraits are an attempt to "break the mold" of painting by "subverting and interrogating the preconceived notion of beauty within the canon of painting." That's no small goal. But the Ghanaian artist has been making inroads with his "infantile semi-abstraction." Since August, eight of his works have sold for prices above $100,000. Head 13 from 2020 was estimated at $20,000 and sold for $252,000 for the artist's highest multiple. Meanwhile, Unknown Faces 8 from two years earlier was offered with a $15,000 estimate and sold for $275,000.
Hilary Pecis fits into a strain of contemporary paintings of landscapes and interiors. The California artist burst on to the market with 14 sales in 2021 culminating with Upstairs Interior from 2019 which was offered with a $60,000 estimate and sold for $870,000. Backyard View from 2018 also walloped the £20k estimates to sell for $475,151. This is likely to be only the beginning for the artist. She brings to mind painters like Jonas Wood who have an enduring appeal for collectors.
Huang Yuxing became popular in Asia through a series of prominent Shanghai museum exhibitions. But his market has continued to grow globally and seems to rise in lockstep with his representation by several respected galleries around the world like Whitestone, Johann König and Almine Rech. In May, his A Flourishing City … from 2019 sold for $1.19 million against a $150,000 estimate. In June, Bubbles from 2017 was estimated at $70,000 but sold for $474,178 at Phillips in Hong Kong. None of that market action prepared anyone for the sale of Seven Treasure Pines from 2019 which was estimated at a healthy $350,000 but sold for a $8.34 million. Was the buyer thinking of splitting up the seven panels or has Huang's market just matured that fast?
Hans Coper is another 20th Century ceramicist with an important following. But it took the unexpected Covid death of dealer John P. Driscoll and the subsequent sale of his 1600-item collection to ignite the market. In November, Phillips sold a selection from the Driscoll collection and wound up achieving 11 of the top 15 prices for the potter's work. The strong prices continued in Phillips's design sale a month later.
François-Xavier Lalanne and his wife Claude are no hidden gems on the art and design market. The designers have long been sought after for their witty and beguiling menagerie of objects. When their daughter Dorothée sold more than 200 objects in Paris this Fall, it added fuel to an already scorching market. Léopard I from 2005 was offered at nearly $500,000 but sold for $10.1 million making it the most valuable work by the couple to ever sell at auction.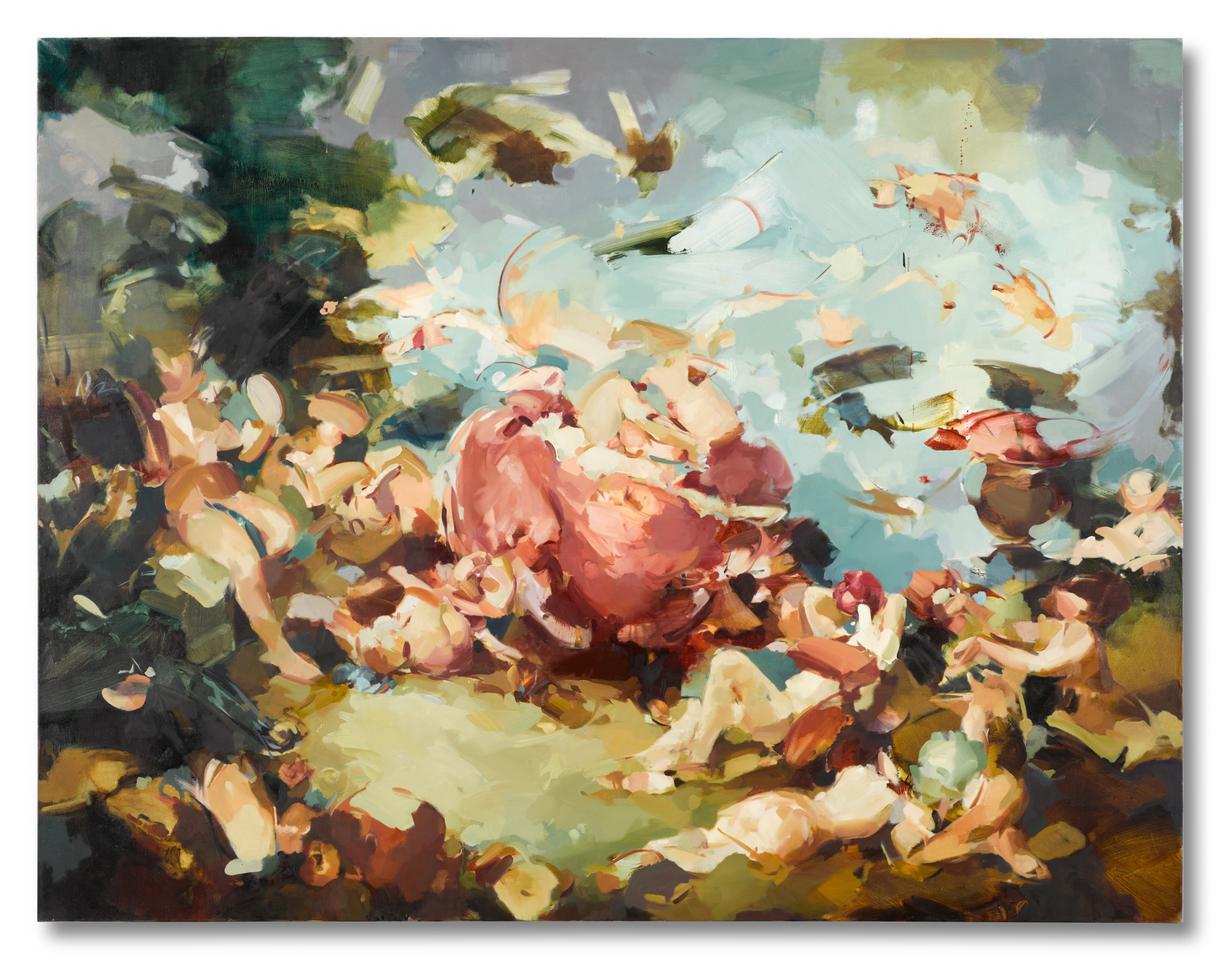 Flora Yukhnovich, I'll Have What She's Having, 2020
Flora Yuknovich's unique take on Rococo painters like Boucher, Tiepolo and Fragonard has struck a nerve. Since teaming up with Victoria Miro in 2020—first in Venice in the late Spring and then in an Autumn show in London—Yuknovich has seen rising interest in her work. Demand overflowed into the auction market even before then. In March, a work sold for $208,360. In June, a large painting from 2019 sold for $1.17 million. Then in October, a painting estimated at $80,000 sold for $3.16 million taking much of the art market's breath away.
Ewa Juszkiewz is another painter inspired by paintings of the past. She describes her work as "uncanny paintings" that "upset the hierarchies of cultural memory, inserting the hybrid and strange into the historical order." The representation of women in portraiture is particularly interesting to the Polish painter. It is also of interest to the market as 10 of her works were sold publicly this yearend each one deals with the theme. Two sales in particular showed the depth of demand. Maria (After Johannes Cornelisz Verspronck) from 2013 was auctioned at Sotheby's in London in October with a estimate near $40,000 but a selling price of $494,010. That same season, Grove from 2014 sold at Christie's for $612,611 against an estimate of less than $35,000.
Emily Mae Smith has had a remarkable year. The artist has been described by the New Yorker as having a "tartly feminist current" that "ripples through" her paintings which the magazine also observes have a "deceptively modest scale and sinister, erotic imagery." There were intimations of pent-up demand in the Summer of 2020 when one of her first publicly sold lots made $187.500 at Christie's. It happened again at Frieze that Fall with a $361,009 sale. Then 20 paintings hit the block in 2021. The most valuable sold for $1.59 million and $1.36 million.
David Hockney is proof that even artists with the biggest markets can see places where there is unanticipated demand. With more than $60 million in art auctioned in 2021, it may seem odd to focus on two works that were bid up aggressively. Van Gogh Chair (Black) and liithograph from 1998 was priced at $18,000 in New York but sold for $239,400. A small oil painting of a dog named Boodge from 1995 was also offered at $20,000 and found a buyer at $350,000. If nothing else, it shows that there's always value somewhere that's being overlooked.
Dado was a Montenegrin artist who lived in France until his death in 2010. A friend of French intellectuals like Geroges Perec and Jean Dubuffet, Dado's market was given a huge shot in the arm by the sale of his former dealer Daniel Cordier's estate which contained 21 paintings. Sotheby's estimated the works cautiously with not one carrying a five-figure Euro estimate. Attractive pricing worked. All of the lots sold and almost half made prices above $100,000, including a new record for the artist at $196,508.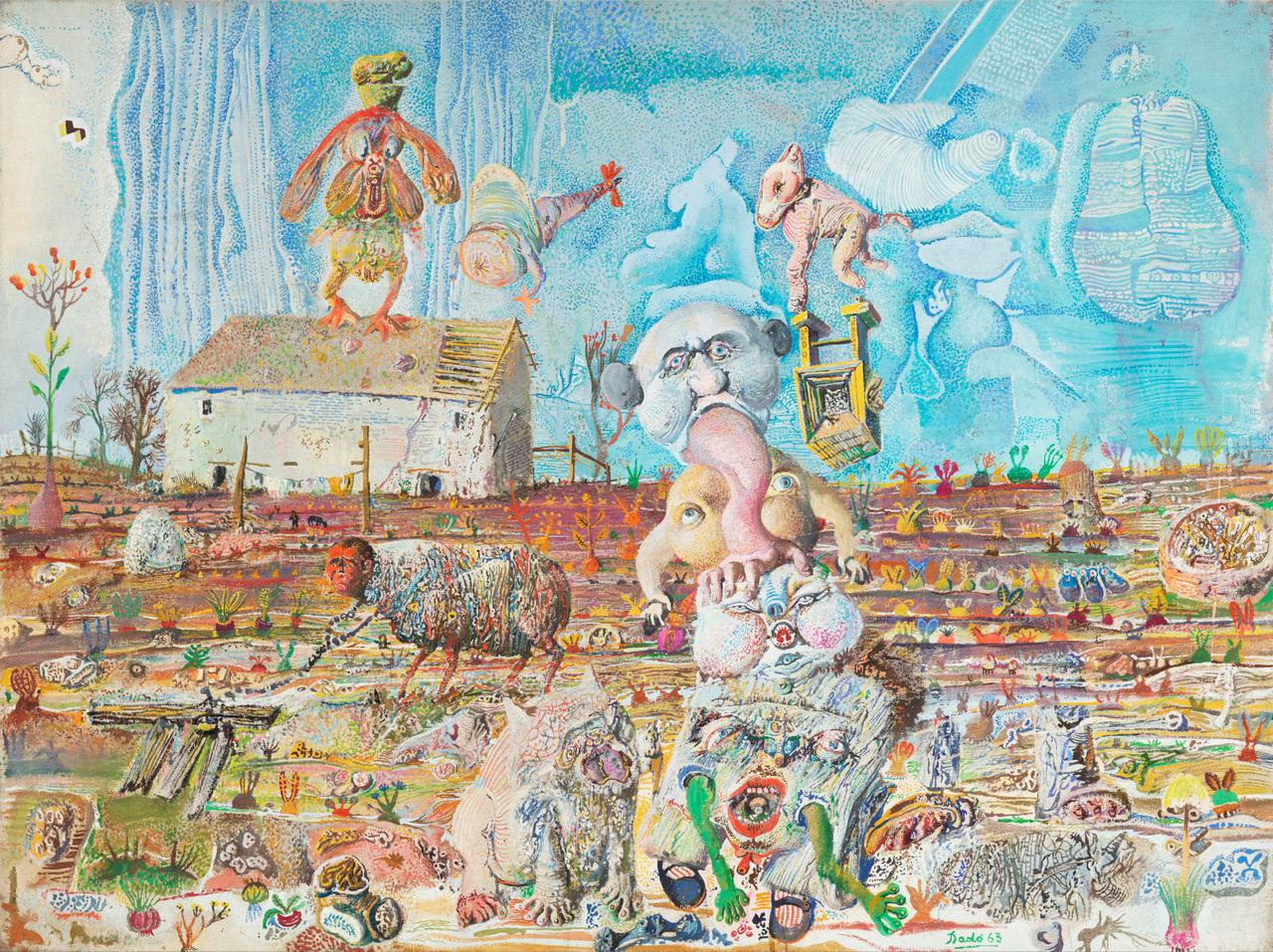 Dado, Untitled, 1963
Cinga Samson is like many of his African peers, a figurative painter who has received attention and representation in Europe and North America. Having signed with Perrotin and added White Cube this Summer, the South African artist who celebrates spirituality and ceremony in his figurative works saw a dramatic rush of sales in latter half of the year. In June, Hlisio Street IV made $327,278. By November, five more sales in near or above that level had confirmed that his market is no fluke. His top price of $449,902 was set in a London sale in October for Lift Off from 2017.
Atsushi Kaga has a brief auction history in the sales we track with six works sold in 2021 and a seventh in 2020. All the works were sold in Hong Kong even though the artist lives and works in Brooklyn, New York; and he did his academic training Dublin, Ireland. He even has a primary gallery still in Dublin. The works sold this year were a mix of paintings from 2008 and 2015. But the two works that set the highest price bar were from 2020. I think it was a nightmare … was estimated at less than $20,000 but sold for $227,146 in October. By November, We Are Still Here … which was estimated around $25,000 had sold for $300,157.
Andy Warhol is an NFT artist. Did you not know that? Well, he is. Five of his NFTs sold at Christie's in May for nearly $3.4 million dollars. Issued by the Warhol estate, the NFTs were made from original digital art works that Warhol made while experimenting with an early personal computer in the mid-1980s.
Amoako Boafo debuted at the Rubell Foundation in Miami in December of 2019. In the two years since, his market has gone from strength to strength. Just when it looked like his work was settling in at the high six figure level, Hands Up from 2018 was offered in Hong Kong. Estimated at near $250,000, the work sold for $3.4 million. No other work by the artist sold publicly comes even close.
Aboudia Abdoulaye Diarrassouba first came to prominence a decade ago when the civil war in the Ivory Coast came close to his studio in Abidjan. In the years since, he has moved to Brooklyn and splits his time between studios in New York and the Ivory Coast. Represented by galleries in Abidjan, London, Barcelona Lagos and New York, Aboudia saw his work take off in the public market this year with 97 works of art sold at the auction houses LiveArt covers. Thirty-seven of those works sold for prices above $100,000.