Outsider Art
Anne Buckwalter: Interior as Autobiography
Through personal objects and spaces, Buckwalter explores universal questions of identity, sexuality, and taboo
Anne Buckwalter's interiors are painted autobiographies. They depict, in the words of the artist, "someone who has a tidy-looking space but an untidy life." Buckwalter largely paints traditional interiors furnished with old-fashioned crafted goods punctuated by the occasional, and sometimes jarring, intimate personal item–a tampon, an iPhone, a vibrator. The scenes are often devoid of figures, or they are largely obscured. Yet, there is a sensation of someone seemingly lurking just out of sight. Buckwalter creates a portrait of the body through the objects that imply its presence.
"My ultimate goal is to create work that resonates with people and also acknowledges topics that can feel really hard to talk about in our culture, namely the fluidity and flexibility of sexuality, of gender roles, and the gray areas surrounding how we relate to our bodies and ourselves and also each other," she explained in a recent conversation. "I think the biggest difference between my work and some of these other painters working with interior space is that the spaces I create are directly reflective of my own lived experience. They are these imaginary rooms that are informed by the way I relate to my childhood, my body, my sexuality, my sense of self as a female-identifying person moving through the world. They're not real places, but they're more like psychological spaces that are built by combining my own memories, my own autobiography with self-expression."
Because Buckwalter's practice is so heavily grounded in her own experiences, her upbringing is a large source of her inspiration. Buckwalter was born in 1987 and raised in Lancaster, Pennsylvania. She earned her BFA from the Tyler School of Art in Philadelphia, and she lives and works there today.
Buckwalter draws inspiration from Pennsylvania artists past and present, including the self-taught Horace Pippin, the Precisionists Charles Sheeler and Charles Demuth, and Contemporary painters Sarah McEaney and Becky Suss. Growing up alongside the Pennsylvania Dutch and Amish communities, craft plays an essential role in Buckwalter's practice. The hand-made quilts, delicate lace, and painted furniture of her childhood are prominently featured throughout her paintings.
The small scale of Buckwalter's compositions compel viewers to get up close, especially to see the delicate details of these crafts. "I think that working with such little details does invite a certain scrutiny from the viewer," Buckwalter elaborates. Where one can "kind of sit with them for a long time and notice things." It's a scale appropriate to the private objects depicted and the bodies implied by them.
Buckwalter understands the connection between the trappings of domesticity and "women's work;" however, she complicates the particular brand of womanhood these objects bring to mind. The occupants of Buckwalter's interiors can be domestic without denying their desires.
The contrast in Buckwalter's works invite a kind of dance; they draw you in with the delicate details of the hand-crafted items; they then make you step back when you notice the often taboo objects within the scene. One could easily approach Saturday Morning, 2022 to inspect the mesmerizing wood grain on the kitchen chairs or the woven placemats before spotting the pornography visible on the television in the next room.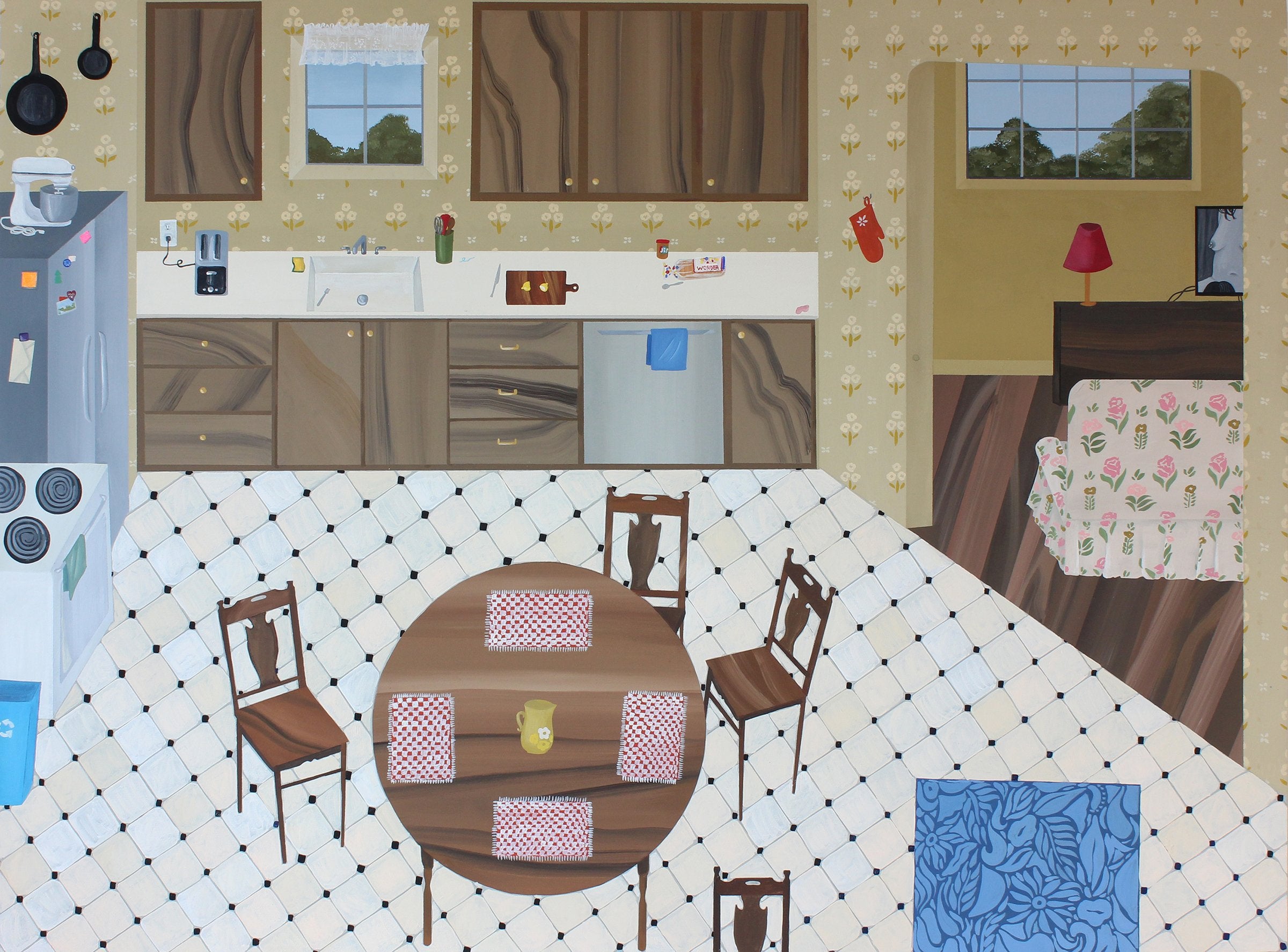 Saturday Morning, 2022
This strategy is apparent in Closer, 2020 which shows a childhood bedroom with the twin beds pushed together and a carpet mark where the bed was previously positioned. "I'm really interested in the confluence of childhood and adulthood," she said. "I think for myself, and for a lot of people, we are always carrying both of those selves around." Small details like a pair of handcuffs on the nightstand are what make the scene particularly Buckwalterian.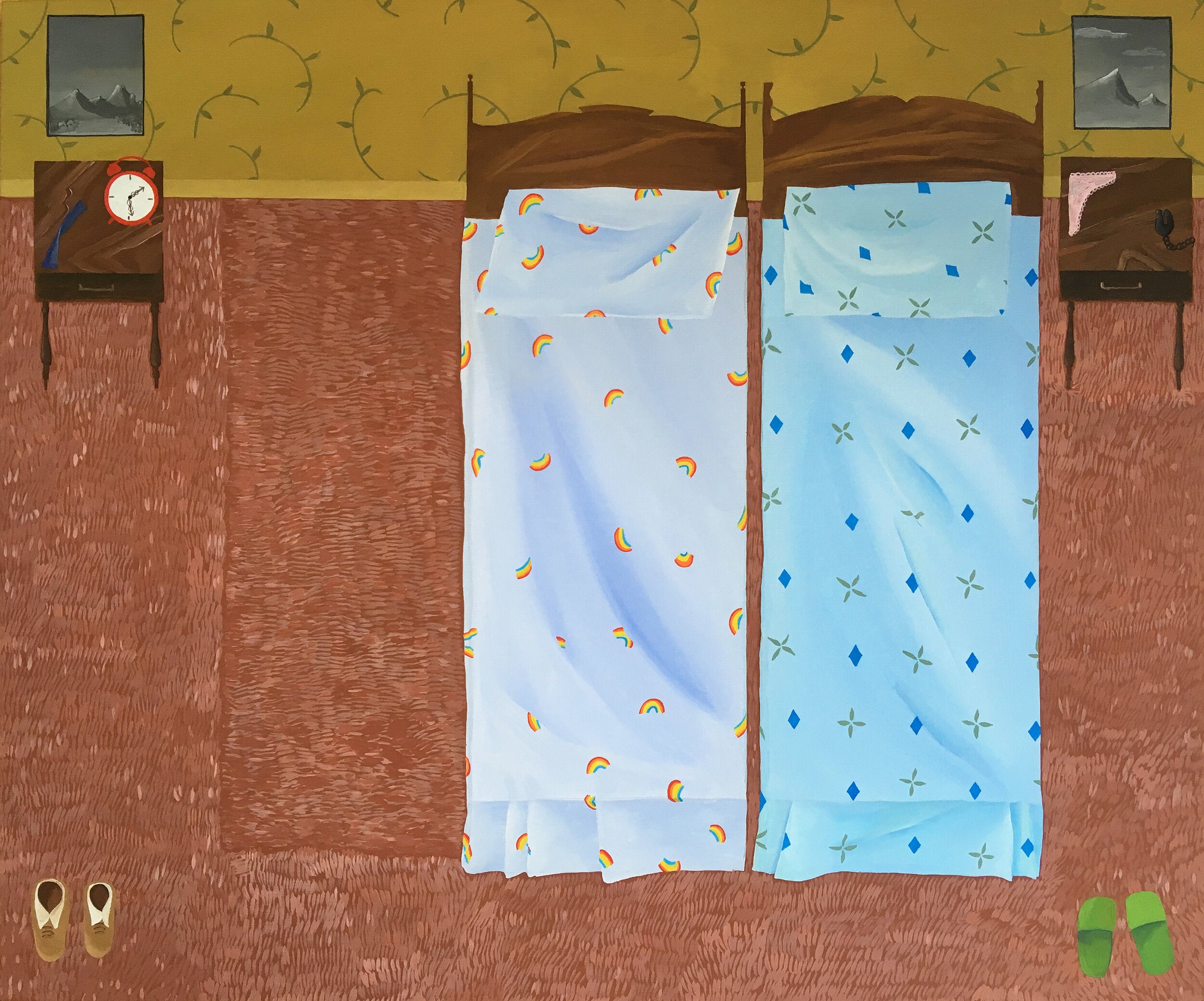 Closer, 2020
Buckwalter wants to normalize allusions to menstruation, sex, and female pleasure, especially in today's cultural and political climate. She depicts a joyfully mundane existence that is filled with cross-stitches and condoms as undifferentiated objects of pleasure.

Anne Buckwalter currently has a two-part solo exhibition titled Two Story House at Friends Indeed Gallery and Rebecca Camacho Presents in San Francisco. Her paintings are also included in summer group shows at Monya Rowe and Nicola Vassell in New York. She is represented by Pentimenti Gallery and Rachel Uffner Gallery.