Artist Profile
FUTURES: El Anatsui's Steady Rise
Ghana's elder statesman conquered New York a decade ago, now prices for his signature metallic tapestries are solidly over $1 million
The Ghanaian artist El Anatsui lives and works in Nigeria. His studio creates work in a variety of media including wood sculptures, masks, prints and paintings. The market particularly values one aspect of his work. That is the assemblages made from recycled aluminum, often trimmed and folded before being "sewn" together with copper wire. These works that are something between textiles and sculptures are different each time they are installed. They also form the spine of value in El Anatsui's market.
It has taken some time for El Anatsui's work to be fully recognized. When the Met first acquired "Between Heaven and Earth" in 2007, the work was initially hung in the galleries reserved for Tribal and Oceanic art. The august museum quickly acquired another work by the artist, Dusasa II that is part of the Modern and Contemporary art collection.
Two works in New York City's encyclopedic art museum is significant institutional representation. But it has taken some time for the auction market to catch up with the private prices paid for works like the ones in the Met. Just after the museum acquired both works, two of the metal works traded at auction in 2008 and 2009 for $600,000 and $275,000 respectively. The global financial crisis might have had something to do with those prices too.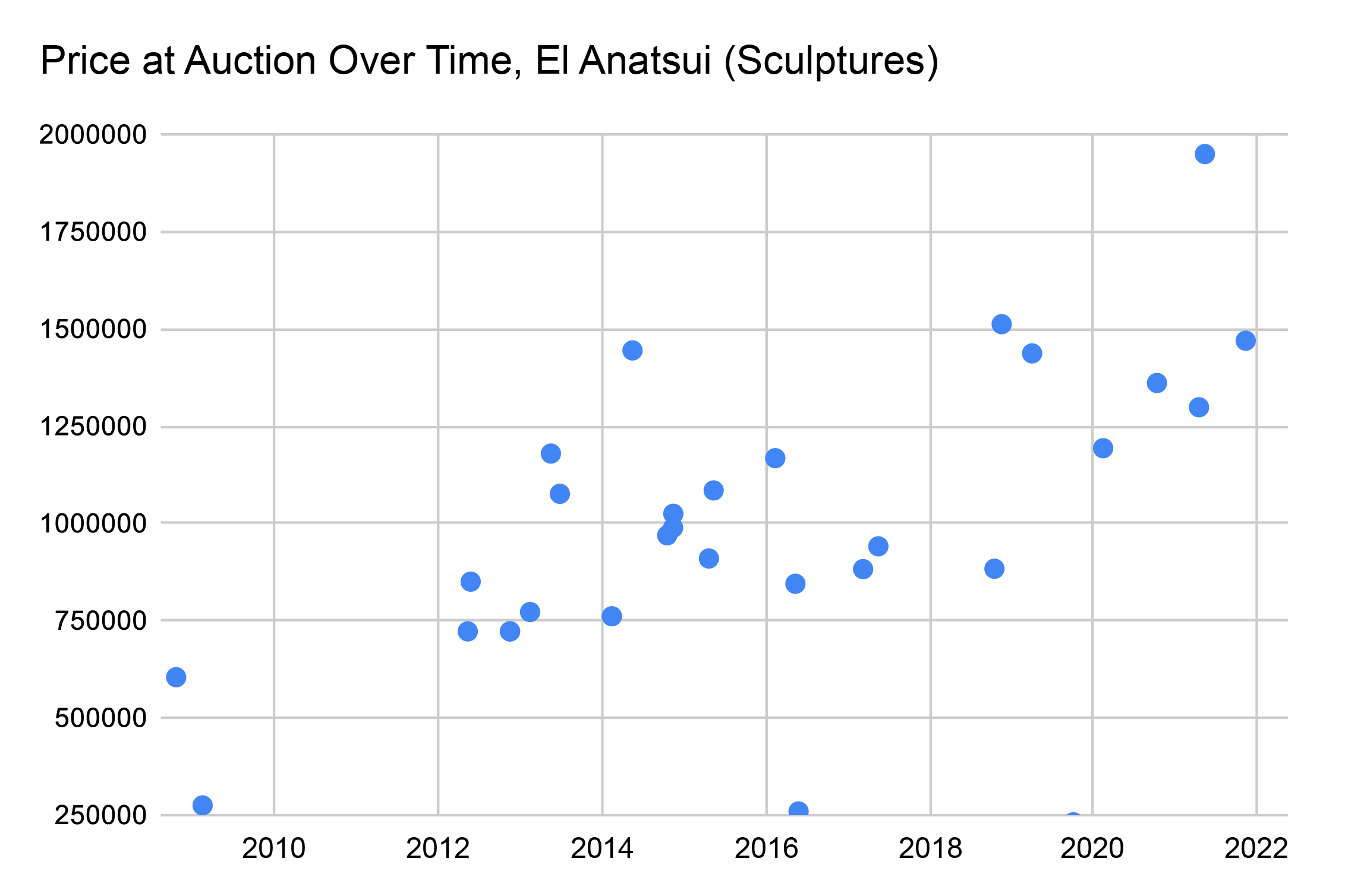 El Anatsui sculpture auction prices, 2008-20022
By 2012, El Anatsui's work had returned to auction with a cluster of sales around $750,000. The next year, prices advanced further with two sales slightly above $1 million and one at the previous level.
A major show of the artist's work, his first solo show in New York, was held at the Brooklyn Museum that same year. It had the desired effect because in 2014 the full price spectrum was on display at auction. The year started with another sale near the $750,000 mark. By May, a buyer had decided to pay nearly twice that much for another work.
Over the next three years, 10 more works were sold at prices between the two points. In fact, after 2018, no sale of an El Anatsui metal work has fallen below $1 million. A better illustration of this rise is the work, Zebra Crossing 2. It sold at Sotheby's in 2013 just as the Brooklyn Museum show was opening for a healthy $772,245. Six years later, the owner consigned the work back to Sotheby's where it made $1,437,400. That price would have nearly matched the previous record except for the fact that the record had been advanced slightly three months before to $1.5 million.
Three years later, in the recent November sales, the record price for an El Anatsui moved up again. This time $1.95 million was paid at Christie's. Since 2020, the market seems to have established a new lower bound for these works at around $1.2 million with prices continuing to fill in between $1.3 and $1.5 million. Of course, anything could happen in the future. Nevertheless, the steady sale of 1-3 of El Anatsui's works each year seems to both fortify the market and feed it.